Story Progress
Back to home
Sunrisers Hyderabad vs Gujarat Titans: IPL 2022 Live Cricket Score, Live Score Of Today's Match on NDTV Sports
Live Updates of Today Match between Sunrisers Hyderabad vs Gujarat Titans from Dr. DY Patil Sports Academy, Navi Mumbai. Check commentary and full scoreboard of the match.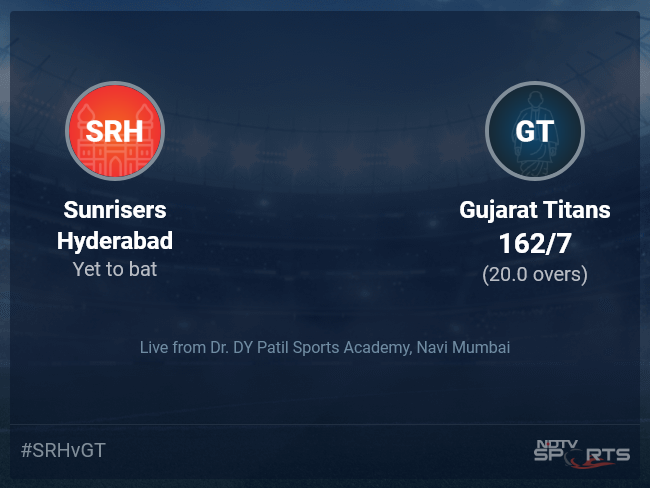 SRH vs GT Latest Score
A dedicated team of experts bring you live score, live cricket score, live match update on Sports.NDTV.com. After 20.0 overs, Gujarat Titans are 162/7. The live updates of Sunrisers Hyderabad vs Gujarat Titans scorecard is also available. It is the perfect platform to follow your favourite teams in Indian Premier League 2022. Keep a track on your favourite batsmen and bowlers through Indian Premier League 2022 today match, ball by ball commentary, Sunrisers Hyderabad vs Gujarat Titans, Sunrisers Hyderabad vs Gujarat Titans live score, Sunrisers Hyderabad vs Gujarat Titans scorecard. Follow the excitement of the Indian Premier League 2022 on Sports.NDTV.com as you can follow live match updates and live cricket score through our platform.
Now, the question is, is there dew? We do not know as of now but that could be an important factor. The wicket is gripping a touch but if dew does come in, it is going to become belter to bat on. The Powerplay is going to be important. Stay tuned for the second half.
Abhinav Manohar is down for a chat. Manohar says that the stars aligned for him tonight as he got three chances, something that won't again and again. Adds that they tried to play till the 17th over and then go after the bowling. Informs that Hardik was set and hence he himself went after the bowling. Mentions that the pitch is good but they have a good pace attack and it all depends on the Powerplay.
Gujarat's innings just never got going. They could not string long partnerships and hence, the acceleration came late. Hardik Pandya played responsibly, he batted till the end and the others played around him. Pandya though could not give his side the finish they would have wanted but they do have a good score on the board.
Gujarat got off to a flier, thanks to a lot of extras from the Hyderabad bowlers. However, they came back strongly post the 2nd over as they got two wickets in the Powerplay. The good work continued as they did not allow Gujarat to score freely and got timely wickets. That was the story of this innings, whenever Gujarat tried to accelerate, Hyderabad managed to get wickets at regular intervals. Marco Jansen and Washington Sundar kept it tidy and Bhuvneshwar Kumar and T Natarajan were also good. Umran Malik was slightly expensive but he was also unlucky.
Have to say, the game is quite even at the moment! 162 is a fighting total and with the bowling Gujarat have, they will back themselves to defend this. Hyderabad on the other hand, have come off chasing a similar score in their last game so they too will be confident.
19.6 overs (0 Run) OUT! TIMBER! Cleaned up! T Natarajan gets the yorker in this time and its right at the base of the leg stump. Rashid Khan tries to get inside the line of the ball and paddle it fine but is beaten for pace. The ball crashes into the leg stump and Gujarat end with 162/7!
19.5 overs (1 Run) A yorker on the toes and Hardik Pandya just about gets his bat on it. He scampers through for one and brings up his fifty. Another brilliant innings from the Gujarat skipper.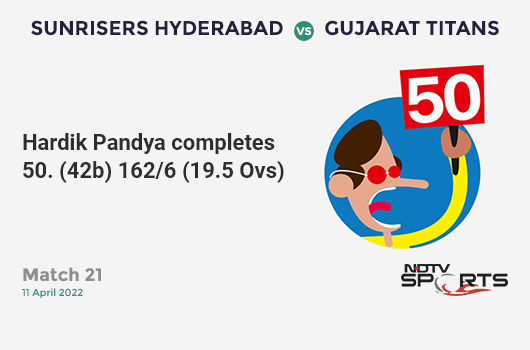 19.4 overs (0 Run) OUT! RUN OUT! Rahul Tewatia sacrifices himself for the skipper and good awareness shown by T Natarajan here. Back of a length, around off and Tewatia gets taken aback as he swings and misses. Hardik Pandya calls him for the bye but Tewatia is a bit slow to get out of the blocks. Nicholas Pooran does well to underarm the ball towards the bowler and Natarajan hits the stumps from a few yards out as Tewatia is not even in the frame. Rashid Khan is the new batter.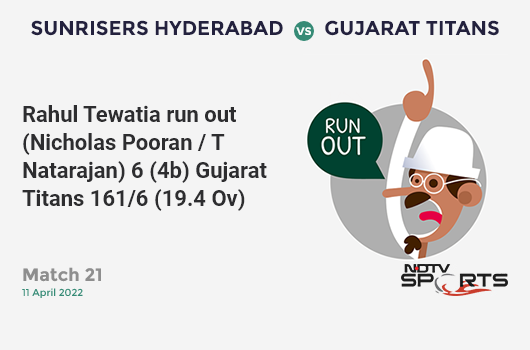 19.3 overs (4 Runs) FOUR! Swung away! T Natarajan serves a juicy full toss on middle and Rahul Tewatia obliges as he swats it behind square on the leg side for a boundary.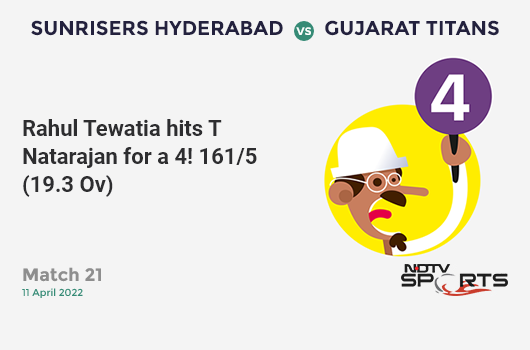 19.2 overs (1 Run) Full again, angled across off and Hardik Pandya attempts the cheeky paddle past short fine leg but doesn't get a good connection. Just a single taken.
19.1 overs (1 Run) Very full, on off and this is squeezed out on the off side for a single.
18.6 overs (1 Run) Short and wide, Tewatia slashes at it and gets it towards deep backward point for one.
18.5 overs (0 Run) OUT! TAKEN! Rahul Tripathi makes amends as he takes a ripper of a catch and finally, Abhinav Manohar runs out of luck. Slower ball, bowled wide of the off stump. Manohar stays leg side and throws the kitchen sink at it. One hand comes off the handle and the ball is skied straight over the bowler's head. Tripathi runs around from long off and dives to his right to take a brilliant catch and Bhuvi has his man. Rahul Tewatia is the new man in.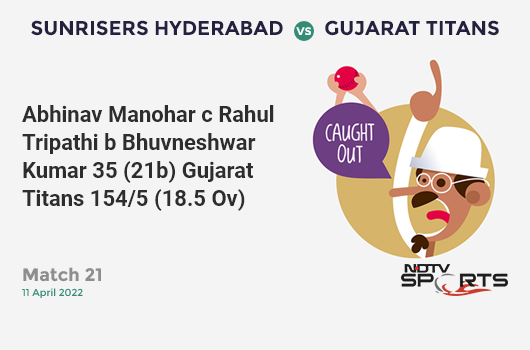 18.4 overs (2 Runs) Abhinav Manohar has luck on his side tonight! Short of a length, outside off. Manohar looks to drag the pull shot but ends up getting a top edge. The ball is skied around the vacant square leg region and three fielders converge towards it but Bhuvneshwar Kumar goes for it and ends up missing it completely. Two taken.
18.3 overs (1 Run) Full and tailing into leg stump. Hardik whips it towards deep square leg for a single.
18.3 overs (1 Run) WIDE! Attempted slower bounce, a bit too high. Wided.
18.2 overs (1 Run) DROPPED! Another chance goes abegging! Slower one from Bhuvi, wide of off stump. Manohar lifts it high and around the long off fence. Rahul Tripathi over there settles under it quickly but ends up spilling it as well. Single taken and Hyderabad are just letting Manohar off the hook.
18.1 overs (1 Run) Leg bye! Half an appeal from the bowler but nothing given. Full and swinging into the pads. Pandya misses the flick and gets hit on the pads. They get a leg bye.
17.6 overs (4 Runs) FOUR! Abhinav Manohar is playing a game-changing innings here. Full and outside off. Manohar manages to get under it and thump it over extra cover for another boundary.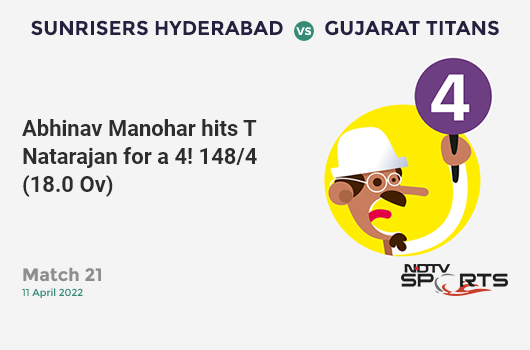 17.5 overs (0 Run) Good comeback from T Natarajan! This is pushed wider and Manohar misses it completely.
17.4 overs (6 Runs) SIX! Catch dropped and now Abhinav Manohar is just adding insult to injury. Natarajan misses the yorker on leg stump and serves a full toss. Manohar launches it high and handsome over the cow corner fence for a biggie.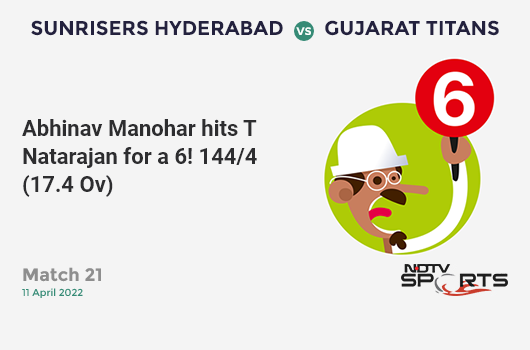 17.3 overs (1 Run) On off, Hardik gets an inside edge onto the pads and the ball goes nowhere. The batters though scamper through for one.
17.2 overs (1 Run) DROPPED! Aiden Markram has dropped a sitter! A low full toss from T Natarajan around off. Abhinav Manohar makes room leg side and hence has to reach for it a bit. Manohar ends up lifting it over mid off and Markram comes in from the long on fence but ends up spilling it.
17.1 overs (1 Run) Just short! Full, on leg stump. Hardik Pandya tries to club it but gets it off the bottom of the bat and on the bounce to the man at long on. Single taken.
16.6 overs (1 Run) Length ball, outside off. This is played towards deep cover for a single.
16.5 overs (2 Runs) Excellent running! Early call for two from Hardik and they get it with ease. Short of a length, at the body and this is wristed away through mid-wicket for a couple of runs.
16.4 overs (1 Run) Slower again, on off. Manohar opens the face of the bat and works it towards short third man for one.
16.3 overs (0 Run) Slower one, full and outside off. This is driven straight to the man at extra cover.
16.2 overs (4 Runs) FOUR! Abhinav Manohar is taking on the attack now and he is riding his luck as well. Short ball on middle, Manohar swings hard at it but gets it off the top edge and into the fine leg fence.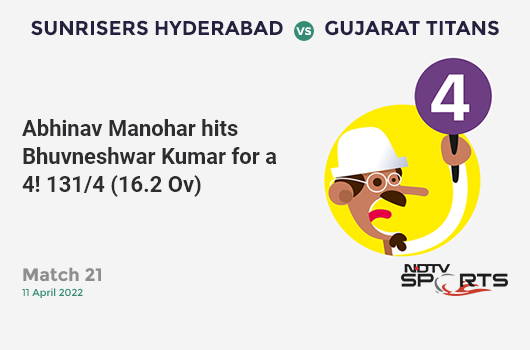 16.1 overs (1 Run) Good-length, on off. Pandya drives it towards wide long on for a single.
15.6 overs (4 Runs) FOUR! Boundary to end the over and Jansen will not be happy with that. Length again but there's width on offer. Abhinav Manohar backs away and carves it behind point for a boundary.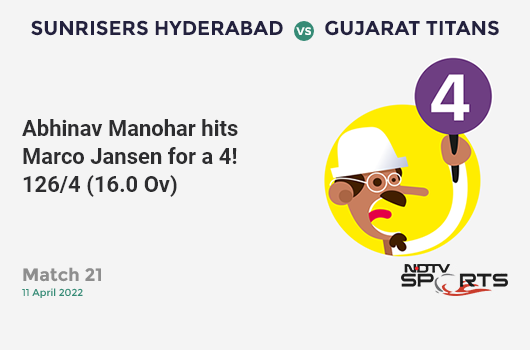 15.5 overs (1 Run) This is pitched up, around off. Hardik drives it through mid off for a run.
15.4 overs (1 Run) Around the top of off, bunted out on the off side for a quick single.
15.3 overs (0 Run) Jansen angles it full and wide, across the right-hander. Manohar goes chasing and only manages to toe-end it towards cover.
15.3 overs (1 Run) WIDE! Attempted bumper but goes well over the batter's head. Wide called.
15.2 overs (0 Run) Jansen bowls it on a shorter length this time, on middle. Manohar keeps it down towards backward point.
15.1 overs (1 Run) On a hard length, over off stump. Hardik hangs deep in his crease and squeezes it out to the cover region for a single.
Match Reports
Topics mentioned in this article