Story Progress
Back to home
Rajasthan Royals vs Delhi Capitals Live Score Ball by Ball, IPL 2022 Live Cricket Score Of Today's Match on NDTV Sports
Live Updates of Today Match between Rajasthan Royals vs Delhi Capitals from Dr. DY Patil Sports Academy, Navi Mumbai. Check commentary and full scoreboard of the match.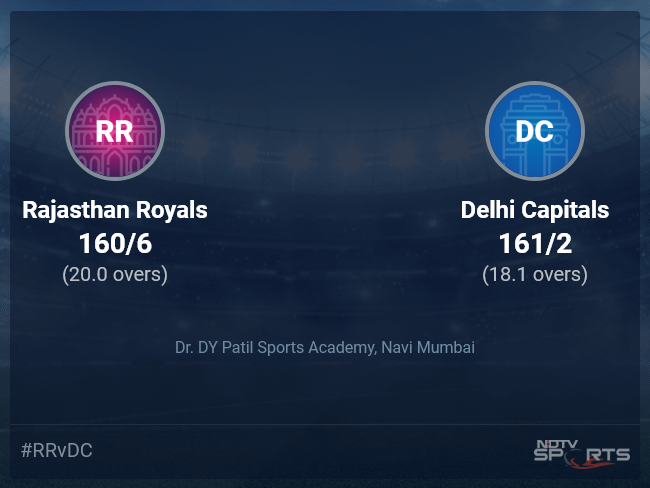 DC vs RR Latest Score
Follow the Indian Premier League 2022 live cricket score on Sports.NDTV.com. After 18.1 overs, Delhi Capitals, chasing a target of 161, are 161/2. Get live score, ball by ball commentary and much more. Keep track of Indian Premier League 2022 today match between Rajasthan Royals and Delhi Capitals. Everything related to Rajasthan Royals and Delhi Capitals match will be available on Sports.NDTV.com. Stay updated with Rajasthan Royals vs Delhi Capitals live score. Do check for Rajasthan Royals vs Delhi Capitals scorecard. You can get scorecard updates, match related facts. Get quick live updates with ads, Sports.NDTV.com, which is the perfect destination for live cricket score.
Right then, that is all we have from this game. The action in the Indian T20 League continues and it will be El-Clasico on Thursday, 12th May as Chennai take on Mumbai at the Wankhede Stadium. That game starts at 7.30 pm IST (2 pm GMT). Our coverage, though, will start in advance. Do join us for the same. Till then, goodbye and cheers!
Mitchell Marsh is the PLAYER OF THE MATCH for his all-round performance. He took two wickets with the ball in hand and then scored a brilliant knock of 89 from 62 balls. He says it was a tough game. Adds the wicket was difficult as the slower balls were sticking. He felt 160 was par but they needed one stand and they got it. Mentions the first few overs were very tough, it was swinging and there was extra bounce and once they got through that, it got easier. Informs he is very happy, they need to win all their games now, he is finding form and he is pleased with the win. Ends by saying he actually thought he had hit the ball so he wasn't worried but you need luck in this game.
Rishabh Pant, the skipper of Delhi, says it was very close to a perfect game but there is always room for improvement. Mentions you can bowl and bat first on such wickets but bowling first suits them. Adds 140 to 160 would have been a good score for them and they kept them around that. Mentions they will look to give their 100 percent and look to win all the games. Mentions they need to be better in fielding. He is hopeful of Shaw returning but for now he is quite sick.
Time for the presentation.
David Warner is down for a chat. He says that it it feels great to get across the line. Credits Marsh for the way he played and they knew if he stayed there, they would win. Also credits the bowlers for the way they bowled. Informs it was a challenging wicket. Adds they hope to build from this game and win the next game. Says it was hard for Khaleel to miss out but the atmosphere in the camp is great.
Sanju Samson, the skipper of Rajasthan, says it was a disappointing night. Adds they were a few runs short. States the wicket was a little too paced in the first innings and they ended 15 to 20 runs short and in the second innings, luck just did not go their way. States he never thought that hit Mitchell's pad and he thought it was bat. Mentions it is important to comeback stronger, they believe in themselves and hope to come back stronger.
Time for some interviews!
Rajasthan will think they were just one wicket away from getting on top in this game but that wicket came a little too late and the game was gone by the time Chahal got that wicket in the 18th over. They bowled brilliantly at the start though and were a bit unlucky too, but it was Delhi who were more clinical in their execution and got a crucial victory in the end.
Delhi came out with a plan with the ball and executed it quite well as though they did not take many wickets in the first half of their bowling innings, they managed to keep things tight. Marsh took two important wickets with the ball but overall it was their brilliant death bowling that helped them restrict Rajasthan to a par score. The start for them though was not good with the bat as Srikar Bharat departed in the first over. However, the Aussie duo of Warner and Marsh stitched together a 144-run stand with Marsh being an aggressor. He departed for a score of 89 but by that time, Delhi needed just 17 and the formalities were completed by Pant and Warner.
A very comfortable victory for Delhi in the end and an important one too as this keeps their season alive. It was Mitchell Marsh who finally came to the party and dished out a brilliant all-round performance to hand a more fancied Rajasthan lineup a defeat here.
18.1 overs (3 Runs) THAT IS OUTSTANDING COMMITMENT BY PARAG! Does not matter though as the batters run three! DELHI WIN BY 8 WICKETS! This is short and on middle, it is pulled hard towards mid-wicket. The fielder misfields. Parag runs after it, dives and pushes it back in. He does save the boundary but can't stop the batters from taking three.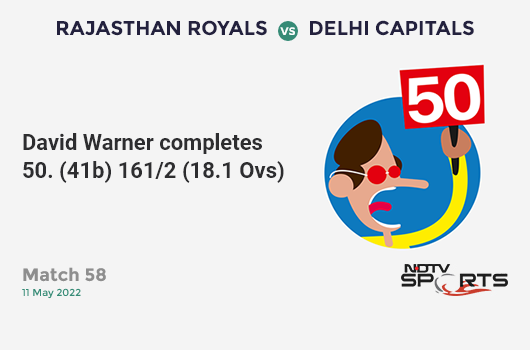 17.6 overs (6 Runs) SIX! Over the fence again now! Just the three needed. Almost an action replay of the last biggie! Pant steps out yet again, he gets to the pitch of it and smokes it over the cover fence.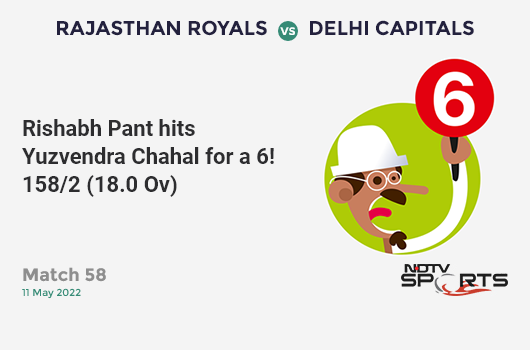 17.5 overs (0 Run) Just inside the tramline! Slows it up and bowls it well wide outside off. Left alone.
17.4 overs (6 Runs) SIX! Under 10 needed now! Superb stroke! Pant steps out, this is tossed up wide. Pant was made to reach for it, he still manages to connect and it sails over the cover fence for a biggie.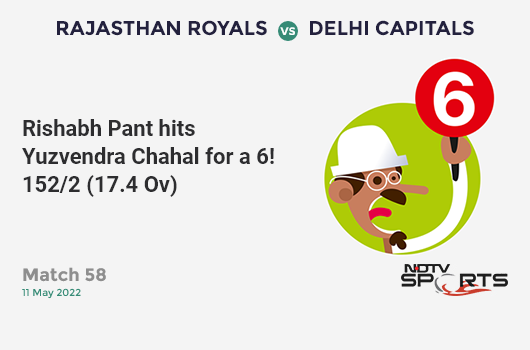 17.3 overs (1 Run) Outside off, this is hit through covers for one.
17.2 overs (1 Run) Straightaway Pant goes for a slog sweep, a little too full this one to play that shot. It goes off the inner half through mid-wicket for one.
Rishabh Pant is the next man in.
17.1 overs (0 Run) OUT! TAKEN! Marsh falls! A little too late for Rajasthan. End of an outstanding knock from him. He though would have loved a ton, deserved one but falls eleven short. However, he has surely done his job. He was going for a biggie here! Chahal slows it up, it lands around leg. Marsh goes for the big slog sweep, the ball grips in the surface and there is also extra bounce. It goes off the top edge and Sen at short fine leg takes an easy catch.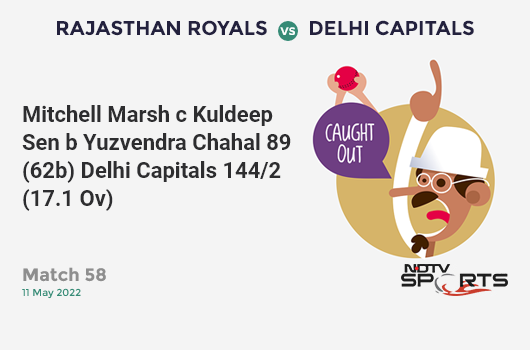 16.6 overs (0 Run) A dot to end which means Marsh will be on strike! He needs 11 for a ton and Delhi need 17 to win. Outside off, fuller, this is guided to point.
16.5 overs (4 Runs) FOUR! Another boundary for Warner and he gets to his half ton! He has not been at his fluent best but the important thing was, he hung around when Marsh was going great guns. Eventually he has hit top gear and it is yet another fine knock from him. Gets there with a cracking pull shot. Short and on the body, this is hit through square leg for a boundary.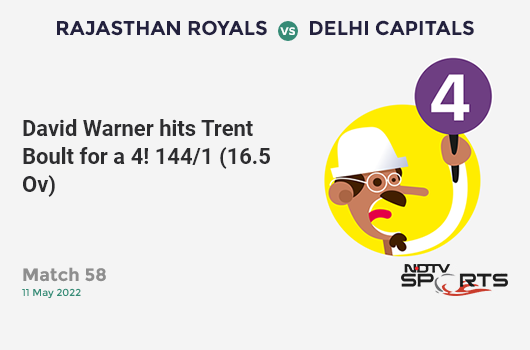 16.4 overs (1 Run) Effort delivery from Boult! Short and on the body, Marsh is hurried into the pull, it goes off the splice through square leg for one. He is 11 short of a ton now.
16.3 overs (6 Runs) SIX! That is huge! It is a monster! What a cracking sound it made off the bat too. DElhi now are in a hurry to end it. Shorter and on middle, this is thumped over the mid-wicket fence.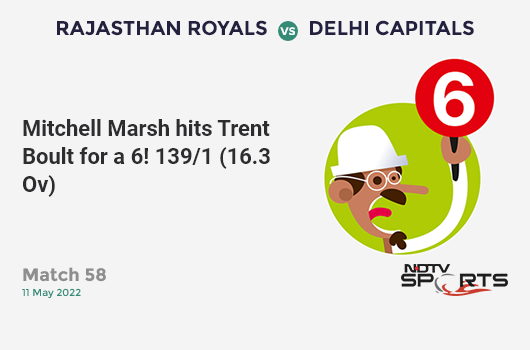 16.2 overs (4 Runs) FOUR! Brute of a stroke! That has raced away to the fence! Shorter and on middle, Marsh smashes it through square leg and it races away to the fence.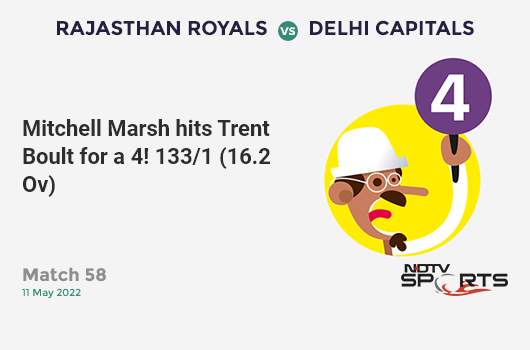 16.1 overs (0 Run) Swnig and a miss! Shorter and outside off, Marsh looks to smash it over mid-wicket but misses.
15.6 overs (1 Run) Fuller and angled into the pads, this is worked through square leg for one.
15.6 overs (1 Run) WIDE! Down the leg side! Wided.
15.5 overs (1 Run) Yet another single! On the stumps, Warner nudges it around the corner and gets to the other end.
15.4 overs (1 Run) Angled into the pads, Marsh works it through mid-wicket and takes one.
15.3 overs (6 Runs) SIX! Over the fence! This is probably the over which completely turns the game into Delhi's favor! Shorter and on middle, this is pulled over the mid-wicket fence. 11 from the first three balls.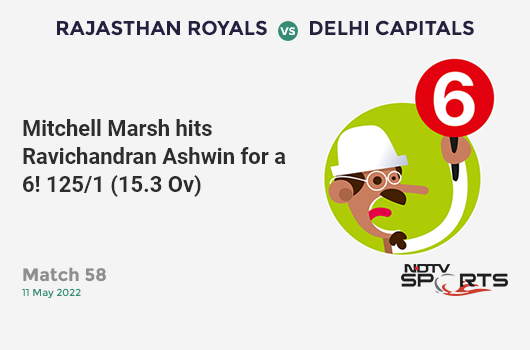 15.2 overs (1 Run) A quick single now! Angled into the pads, this is worked through square leg for one.
15.1 overs (4 Runs) FOUR! Smashed! What a shot that is! Not a bad ball but Warner has put it away! also, he has now got going too. Shorter and on middle, slightly shorter actually. Warner rocks back and pulls it hard through mid-wicket for a boundary.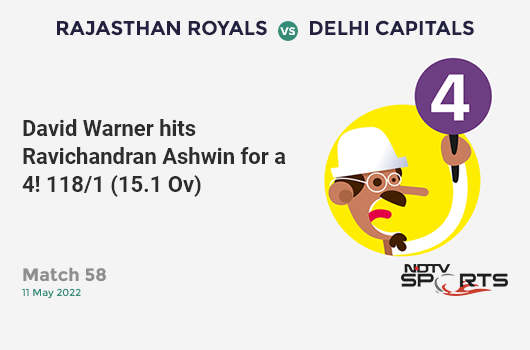 Match Reports
Topics mentioned in this article