Story Progress
Back to home
Punjab Kings vs Delhi Capitals: IPL 2022 Live Cricket Score, Live Score Of Today's Match on NDTV Sports
Live Updates of Today Match between Punjab Kings vs Delhi Capitals from Dr. DY Patil Sports Academy, Navi Mumbai. Check commentary and full scoreboard of the match.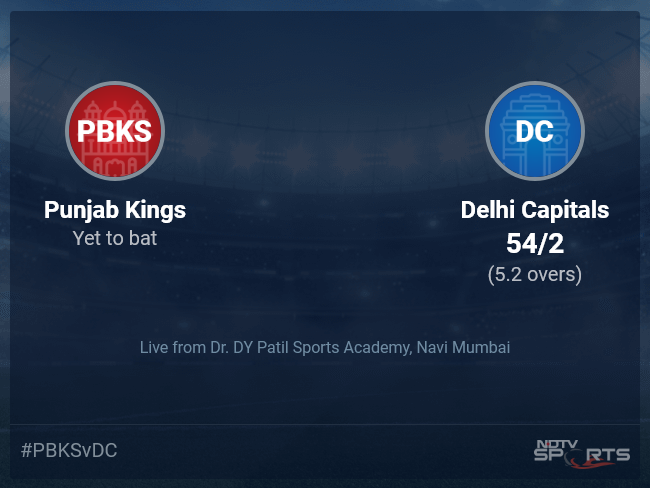 PBKS vs DC Latest Score
A dedicated team of experts bring you live score, live cricket score, live match update on Sports.NDTV.com. After 5.2 overs, Delhi Capitals are 54/2. The live updates of Punjab Kings vs Delhi Capitals scorecard is also available. It is the perfect platform to follow your favourite teams in Indian Premier League 2022. Keep a track on your favourite batsmen and bowlers through Indian Premier League 2022 today match, ball by ball commentary, Punjab Kings vs Delhi Capitals, Punjab Kings vs Delhi Capitals live score, Punjab Kings vs Delhi Capitals scorecard. Follow the excitement of the Indian Premier League 2022 on Sports.NDTV.com as you can follow live match updates and live cricket score through our platform.
4.6 overs (1 Run) Just a single off the Free hit! Singh comes 'round the wicket and bowls it very full on leg. Yadav flicks it to mid-wicket and takes a single. End of an eventful first over from Arshdeep Singh!
4.6 overs (1 Run) NO BALL! Ohh dear, Arshdeep Singh what have you done! He almost got two in two but has overstepped here! What a let-off! Shorter and on middle. Yadav looks to pull but gets a top edge to fine leg where Jonny Bairstow runs to his right, slides and takes a superb catch. The Punjab players gather around and celebrate but the siren screams, indicating Singh has overstepped. A free hit coming up.
Lalit Yadav is the next man in.
4.5 overs (0 Run) OUT! CAUGHT! The excitement is over as Sarfaraz holes out! He was struggling a bit against Arshdeep Singh! Touch fuller and around middle. Sarfaraz Khan looks to loft it straight down the ground but mistimes it and the ball goes towards long off. Rahul Chahar from mid off, tracks back and catches it. A short but fiery innings come to an end.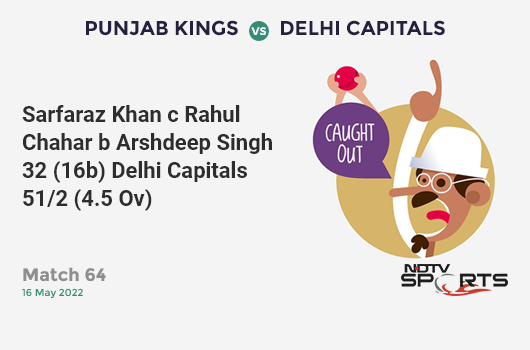 4.4 overs (0 Run) Length and outside off. Khan swings and misses.
4.3 overs (2 Runs) IN THE AIR AND FALLS SAFELY! Bangs a short ball, around off. It got big on Sarfaraz Khan who tries to pull it. The ball goes off the top edge and over mid-wicket. The fielder from mid on runs across and divevs but to no avail. Two runs.
4.2 overs (0 Run) Edged and just short! Singh comes over the wicket and serves a length ball, slower and outside off. Khan again tries the late cut but gets an outside edge to the keeper, who collects in front of him.
4.1 overs (4 Runs) FOUR! Sarfaraz Khan is dealing in boundaries here! A low full toss to start with, around off. Khan sweeps it through mid-wicket for a boundary. In no time he has raced to 30 runs.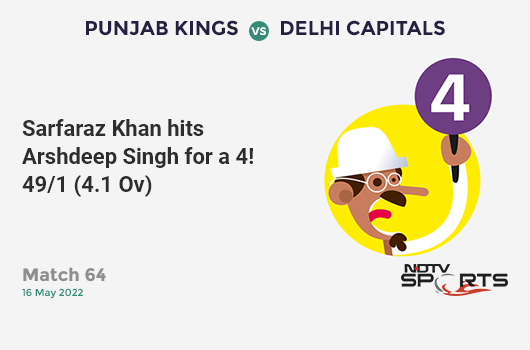 Arshdeep Singh is into the attack now. Can he stem the run-flow?
3.6 overs (0 Run) Length ball, around off. Marsh knocks it to covers.
3.5 overs (1 Run) A length ball, outside off. Khan plays it to short third man where Arshdeep Singh dives to his left to stop it. The ball hits his left boot. A single.
3.4 overs (4 Runs) FOUR! Two in a row! Khan tried it before but this time hits with perfection! He loves to hit this kind of shot! Length and outside off. Khan scoops it well over the keeper's head for a boundary.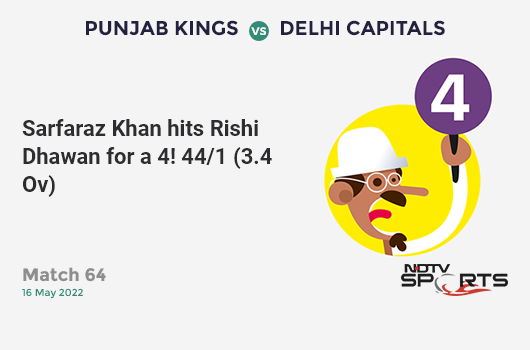 3.3 overs (4 Runs) FOUR! In the air and into the boundary! A length ball, outside off, slower this one. Khan gets low and cuts it late, it goes aerially but in between backward point and point for a boundary.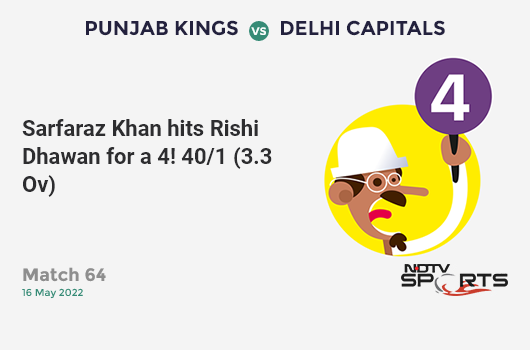 3.2 overs (1 Run) Length ball, outside off. Marsh punches it aerially and to deep cover for a single. Mistimed it there but it falls well wide of the player.
3.1 overs (0 Run) Dhawan fires a length ball, on off. Mitchell blocks it.
2.6 overs (4 Runs) FOUR! Delhi are going really well after losing that wicket! Not a good ball from Brar! Serves it full and down the leg side. Khan shuffles across and paddles it past short fine leg for a boundary. 15 runs off this over as well.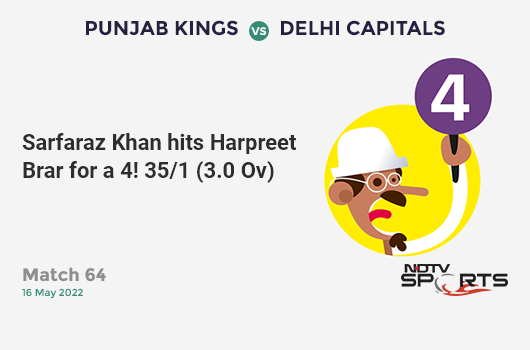 2.5 overs (4 Runs) FOUR! Good shot! Too short and outside off. Khan goes on the back foot and punches it through covers for a boundary.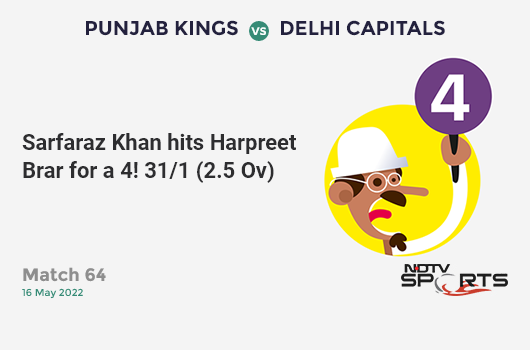 2.4 overs (6 Runs) SIX! HAMMERED! This is in the slot and fuller as well. Khan kneels and slog-sweeps it over deep mid-wicket for a biggie. Three sixes already by Delhi in the Powerplay.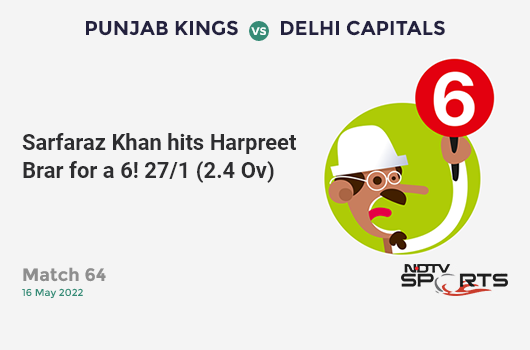 2.3 overs (0 Run) Tad short and an arm ball as well. Khan punches it but straight to cover.
2.2 overs (0 Run) Around off, full, pushed to covers.
2.1 overs (1 Run) Tossed up, quicker and on middle. Marsh turns it in front of square on the leg side for one.
Will Liam Livingstone continue? No, it is time for some left-arm spin now as Harpreet Brar comes on to bowl against two right-handers. Good thinking this by Mayank Agarwal.
1.6 overs (0 Run) Rabada sees Khan shaping to paddle it and serves it outside off. Sarfaraz gets low and tries to scoop but misses. Good end to the over but still it goes for 15 runs.
1.5 overs (1 Run) Length and on off. Marsh taps it through backward point for a run.
1.4 overs (0 Run) Drags his length ball, around off. Marsh keeps it out on the off side.
1.3 overs (6 Runs) SIX! BANG! Pitched up, in the slot. Marsh shuffles a bit and heaves it over cow corner for consecutive sixes.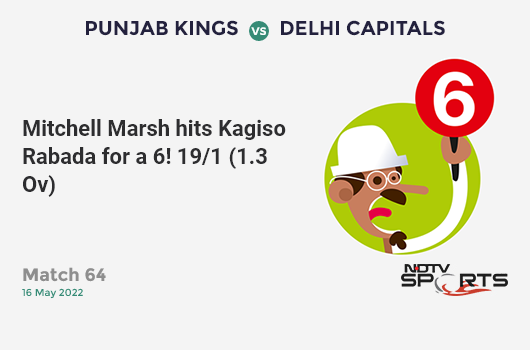 1.2 overs (6 Runs) SIX! Marsh is in the red-hot form! This is confidence! Full ball, on middle. Marsh lofts it through the line and straight down the ground for a biggie.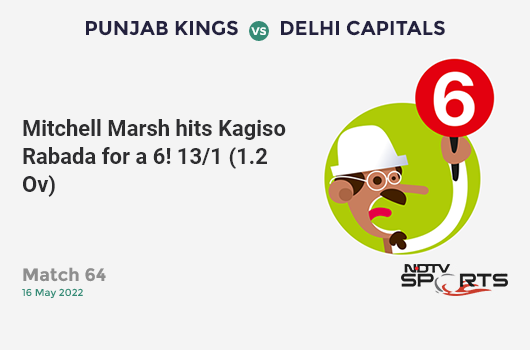 1.1 overs (2 Runs) On a length and angling on the pads. Marsh flicks it through mid-wicket and collects a brace.
Kagiso Rabada to start from the other end.
0.6 over (2 Runs) On middle, fuller, swept to square leg where the fielder fumbles and the batters steal another run. Two runs taken. Spinners would be key to this game and we have already found that out.
0.5 over (1 Run) Flighted ball, full and outside off, bit of turn. Marsh opens the face of the bat and dabs it past short third man for a single.
0.4 over (0 Run) Flatter ball, outside off, Marsh blocks off the back foot.
0.3 over (1 Run) Fuller ball on middle. Khan nudges it to deep mid-wicket for a single.
0.2 over (1 Run) Tossed up, on middle. Marsh tucks it to square leg for a single.
Mitchell Marsh walks out at number 3.
0.1 over (0 Run) OUT! CAUGHT! What a start this is for Punjab! First delivery and the dangerous David Warner is gone! Livingstone floats this one, outside off, it bounces a bit as well. Warner tries to drive it but gets a thick outside edge and Rahul Chahar at point takes the simplest of catches. An electric start to an electric game. Actually, it was Sarfaraz Khan who was all set to take the strike but Warner decided at the last moment that he will take the strike and pays a heavy price here. Punjab are not complaining here though and the smiles on their faces show how big a wicket this is!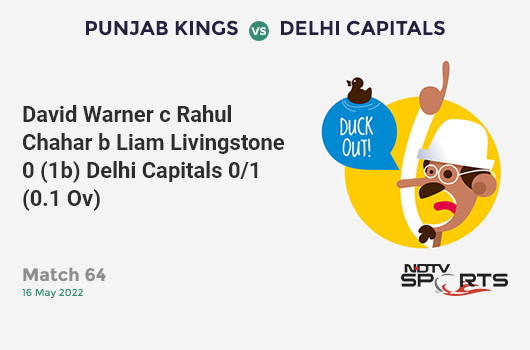 We are all set to begin! Punjab players make their way out to the middle. Sarfaraz Khan and David Warner are the openers for Delhi. It is the fifth opening pair they have used this season. Spin to start for Punjab. Liam Livingstone will start the proceedings. Here we go...
So, Punjab feel they have found their best XI while Prithvi Shaw's absence is hurting Delhi a bit. Khaleel Ahmed is back and that will give a huge boost to Delhi.
Rovman Powell is down for a chat. He says they'll try to bring the best game knowing what is at stake. Adds that it's their 4th game here, it's not been a happy hunting ground for them but they'll try to change. Admits he doesn't like one side with a bigger boundary, he likes it when the circumference and everything is roughly around the same so the bowlers can bowl from any end but now they know what the bowlers will come up with.
Rishabh Pant, the skipper of Delhi, says that they were looking to bowl first but that is not in their control. Informs they have made two changes as Khaleel Ahmed comes in for Chetan Sakariya and Sarfaraz Khan for Srikar Bharat. Mentions that they were focusing on how they can prepare for the match and as a captain he was talking to his team about just concentrating on the game and that is all that matters.
Mayank Agarwal, the skipper of Punjab, says they will bowl first. Feels like the wicket won't change much and dew can come into play. Informs they are playing the same team. Mentions that they have found the right combination and it is going well from the last few games. Shares that they'll take as another game, it is important to win but they'll follow the process.
Delhi (Playing XI) - Sarfaraz Khan (In place of Srikar Bharat), David Warner, Mitchell Marsh, Rishabh Pant (C) (WK), Rovman Powell, Lalit Yadav, Axar Patel, Shardul Thakur, Kuldeep Yadav, Anrich Nortje, Khaleel Ahmed (In place of Chetan Sakariya).
Punjab (Unchanged Playing XI) - Jonny Bairstow, Shikhar Dhawan, Bhanuka Rajapaksa, Liam Livingstone, Mayank Agarwal (C), Jitesh Sharma (WK), Harpreet Brar, Rishi Dhawan, Rahul Chahar, Kagiso Rabada, Arshdeep Singh.
TOSS - The coin goes up and lands in favour of Punjab. They have elected to BOWL first.
Pitch Report - Graeme Smith is near the pitch. He says the dimension will play a key role as it is short on one side. Adds that there is a lively grass covering but underneath it is very dry, spin can come into play. Mentions that the captain winning the toss will look to chase here and 165 looks a par score.
Delhi and Punjab both have not won two consecutive games this season, so surely one of them will stitch a winning streak here. Both teams have found their balance after mixing and shuffling early on and it's very hard to pick one team with the upper hand right now. It's easy for you, cheer your favorite team, lay back, and enjoy the action. Stay tuned for the toss and other updates.
Hello everyone and welcome to the final week of action in the group stages. It's Punjab vs Delhi in match number 64. Both the teams are relishing out of the top four and their fate to make the next round relies upon themselves. A slight hiccup now and they could lose a shot forward. On that note, welcome to the coverage.
Topics mentioned in this article