Story Progress
Back to home
Mumbai Indians vs Kolkata Knight Riders: IPL 2022 Live Cricket Score, Live Score Of Today's Match on NDTV Sports
Live Updates of Today Match between Mumbai Indians vs Kolkata Knight Riders from Dr. DY Patil Sports Academy, Navi Mumbai. Check commentary and full scoreboard of the match.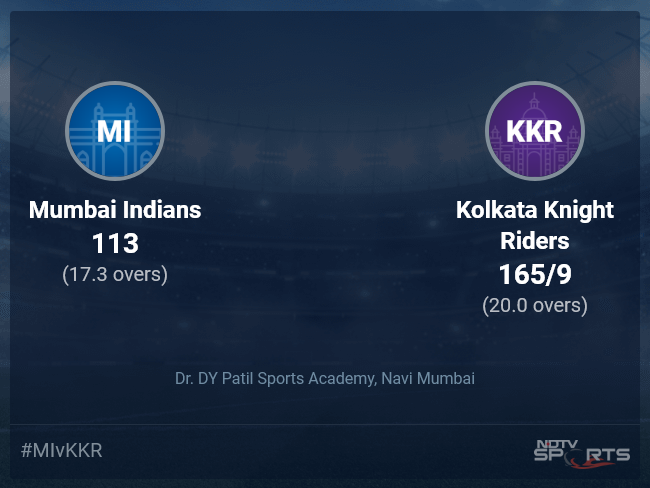 MI vs KKR Latest Score
A dedicated team of experts bring you live score, live cricket score, live match update on Sports.NDTV.com. After 17.3 overs, Mumbai Indians, chasing a target of 166, are 113. The live updates of Mumbai Indians vs Kolkata Knight Riders scorecard is also available. It is the perfect platform to follow your favourite teams in Indian Premier League 2022. Keep a track on your favourite batsmen and bowlers through Indian Premier League 2022 today match, ball by ball commentary, Mumbai Indians vs Kolkata Knight Riders, Mumbai Indians vs Kolkata Knight Riders live score, Mumbai Indians vs Kolkata Knight Riders scorecard. Follow the excitement of the Indian Premier League 2022 on Sports.NDTV.com as you can follow live match updates and live cricket score through our platform.
That is all we have from this game and after a clash between the bottom two sides, comes a mighty clash between the top two. On Tuesday, the 10th of May, Lucknow will take on Gujarat at the MCA Stadium in Pune in a battle to solidify the top position. That match starts at 7.30 pm IST (2 pm GMT) but our build-up will begin much sooner. Do join us then, take care and goodbye!
Jasprit Bumrah (4-1-10-5) is the PLAYER OF THE MATCH and you've got to feel for the guy as even after taking a fifer, he ended up on the losing side and it is a rare occasion where we see the player from the losing team getting the award. He comes on for a quick chat. Bumrah says it was a good feeling to take wickets but not a good one when your team doesn't win. Mentions that they were in a good position while batting but the pressure piled up as wickets fell quickly and they lost. Adds that he was in good rhythm before the competition and he just trusts the process and admits you can't get desperate at times when you are losing the match. Tells that they came close in a lot of games, you just take the learning and rectify it and come back stronger in the next season.
Shreyas Iyer, the captain of Kolkata says that it is indeed a relief to get the win, especially given how they lost the last game by a big margin. Adds that they got a great start in the Powerplay and Rana was pretty good as well and the way he hit Pollard got him going. Mentions that in general, it was difficult for the new batter to get going right away and that was the chat when they came out to bowl as well. On being asked about Venkatesh Iyer coming back into the side, he says that it is really difficult to come back after being dropped and mentions that he has been in a similar position himself. Goes on to applaud McCullum and the support staff to back the players and is very happy with how things played out. Mentions that the players are charged up and knows that they have faltered earlier but to get the win is massive. Also adds that he is happy but not completely and wants to keep up the good work.
The presentation ceremony to follow...
Venkatesh Iyer says it was good to be back and more importantly, they won the game. Adds that its important to contribute to the team, with the bat or ball and he ensures to do the job in all departments. Tells that his intent was to be aggressive but sometimes it doesn't come off. He just ensures to give a good start and then let the middle order contribute. Stay tuned for the presentation ceremony...
Mumbai skipper, Rohit Sharma says that they were happy to chase 165 and they would take that any day. He then goes on to applaud the bowlers and mentions that Jasprit Bumrah was sensational tonight but the batting let them down. Mentions that it was their fourth game here and it can be a bit up and down and there's something for the pacers here, it's just that they didn't bat well. On being asked about restricting the opposition to a lower score, he says that he doesn't think so and it was a good bowling performance and mentions that consistency in all departments in the same game is lacking a bit. And now let's hear from Venkatesh Iyer...
Earlier in the day, after being inserted, Kolkata courtesy, Venkatesh Iyer and Nitish Rana looked all set to get to something around 200. However, Jasprit Bumrah's fifer saw them end with something below 170 which seemed under par at that stage. However, the Kolkata bowlers rose to the occasion and managed to defend it brilliantly. Stay tuned for a few interviews...
For Mumbai, except for Ishan Kishan, no other batter played an innings of substance. He got to a half-ton but nobody except him even managed to cross the 20-run mark. They needed Kishan to go big and the others to play around him but that was not the case. Kishan too fell when his side needed him to continue. The onus then totally came onto Pollard but it was too much of an ask.
What an excellent bowling performance then from Kolkata! 165 seemed a little under par but they have done brilliantly to defend this and they have kept their hopes alive of qualifying. Right from the first over their bowlers were on the money. They did not let Mumbai score freely in the Powerplay and also got a couple of wickets. After the first 6 too, they continued the squeeze. Whenever Mumbai looked to accelerate, they lost a wicket. It was a combined bowling effort from Kolkata. Have to say, each and every bowler played their role but Cummins was probably the stand-out with three wickets in his 4 overs.
17.3 overs (0 Run) OUT! RUN OUT! Sensational stuff from Rinku Singh and Kolkata finish things off with three run-outs! Have you ever seen that? Andre Russell angles in a pacy delivery onto leg stump and Riley Meredith awkwardly tucks it away towards square leg. The batters look to scamper through for a run but Rinku is quick to get on to the ball and in a single fluid motion throws it back onto the stumps at the batter's end. The third umpire checks the review and Jasprit Bumrah is short of his crease. KOLKATA WIN BY 52 RUNS!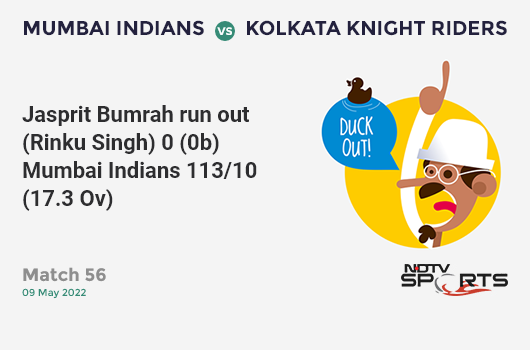 Riley Meredith is the last man in for Mumbai.
17.2 overs (1 Run) OUT! Kieron Pollard IS RUN OUT! Pollard goes now. Gets a reprieve from a dropped catch but gets run out and with that Kolkata might feel they have the game now. Russell angles a short ball, directed onto the body. Kieron Pollard backs away and tries to pull but gets a top edge and the ball goes way, way high in the air. It goes to the left of the keeper and takes miles to come down. Sheldon Jackson, the keeper, calls for it and shuffles around but he was never comfortable there. He fails to catch it and Varun Chakaravarthy hanging across, collects the ball. Meanwhile, Pollard takes the advantage and calls for a quick second run but the throw comes in to the keeper's end where Shreyas Iyer does the job. Kieron Pollard was well short as the replay confirms and he has to walk back.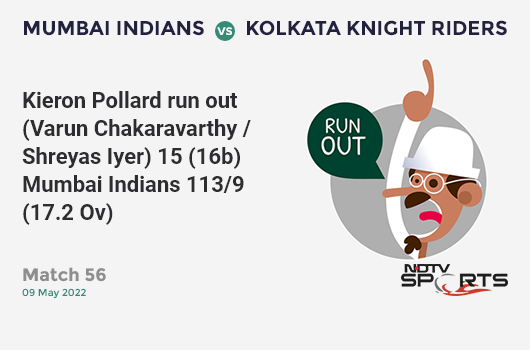 17.1 overs (0 Run) This is on a length, slow and down the leg side. Pollard misses his flick and the ball brushes his thigh pad on its way.
16.6 overs (1 Run) OUT! RUN OUT! That is a very poorly judged second run and Kumar Kartikeya has to depart. Cummins angles it on the pads and Kumar Kartikeya heaves it off the inner half of the bat towards deep backward square leg. Kieron Pollard calls him for the second run in order to keep strike for the next over but it was never on. Ajinkya Rahane with a strong throw into Sheldon Jackson's mitts and the keeper does the rest.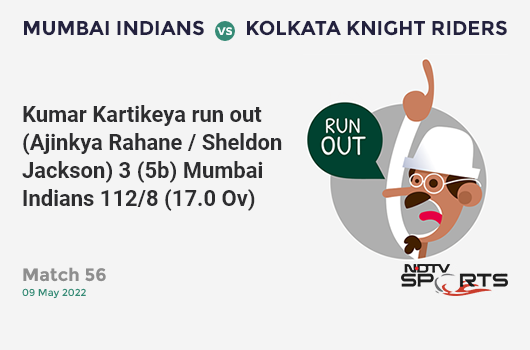 16.5 overs (1 Run) Around the hips, tucked away behind square on the leg side for just another single. Mumbai need boundaries and need plenty of them.
16.4 overs (1 Run) SAFE! Pat Cummins angles it at the body of Kumar Kartikeya and the batter just about manages to chip it on the bounce towards mid on. The batters scamper through for a run but Shreyas Iyer gets in the direct hit at the bowler's end. It is taken upstairs and the replay shows that Kartikeya is well in.
Is that run out? Kumar Kartikeya is well in his crease when the stumps light up and he survives.
16.4 overs (1 Run) WIDE! Quick bumper, around off and this one shoots off the surface. The umpire deems it as a bit too high and a wide is called.
16.3 overs (1 Run) Excellent bowling from Cummins! At the stumps and flicked away towards deep mid-wicket for a single.
16.2 overs (0 Run) Another dot and the pressure keeps on mounting. Cummins goes short over middle. Pollard backs away looking to upper cut it but misses.
16.1 overs (0 Run) Full and quick, slanted into the pads. Pollard looks to flick it away but misses and gets hit on the pads.
Drinks! Kolkata are nearing towards the win but Kieron Pollard is standing in between. We all know his potential and he can single-handedly take the game away but there is a whole lot of pressure on him right now as he has a job in his hand. 59 runs needed in 24 balls. Can Kieron Pollard take his team over the line?
15.6 overs (0 Run) Just 5 runs off it, another good over for Kolkata. Kumar Kartikeya makes a bit of room for himself by moving past the leg stump and Southee follows him. Kartikeya pushes it out on the off side. 59 needed now off 24 balls.
15.5 overs (0 Run) Fuller in length and on off, Kartikeya defends it out.
15.4 overs (1 Run) Leg bye! This is angling down leg, Pollard gets a tickle off the pads towards short fine leg and picks up a leg bye.
15.3 overs (1 Run) On the pads, flicked away aerially over mid-wicket for one more.
15.2 overs (1 Run) Southee goes full and tries to attack the pads. Pollard looks to flick but misses and gets it off the pads. The ball rolls towards backward square leg and they get a leg bye.
15.1 overs (2 Runs) A length ball, angled into middle. Pollard works it past square leg and comes back easily for the second.
Match Reports
Topics mentioned in this article