Story Progress
Back to home
Kolkata Knight Riders vs Gujarat Titans: IPL 2022 Live Cricket Score, Live Score Of Today's Match on NDTV Sports
Live Updates of Today Match between Kolkata Knight Riders vs Gujarat Titans from Dr. DY Patil Sports Academy, Navi Mumbai. Check commentary and full scoreboard of the match.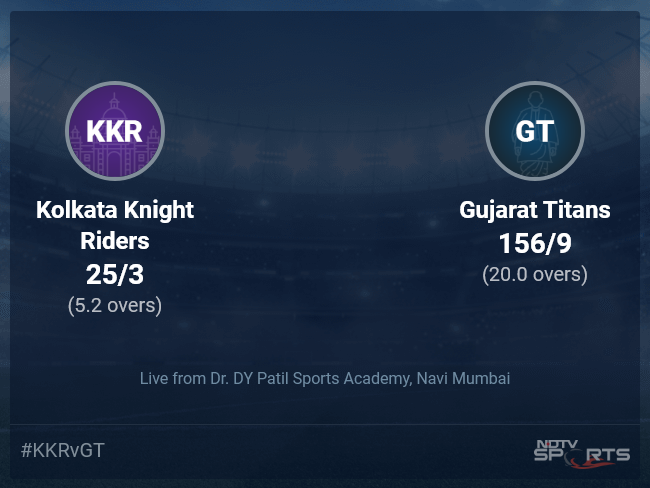 KKR vs GT Latest Score
A dedicated team of experts bring you live score, live cricket score, live match update on Sports.NDTV.com. After 5.2 overs, Kolkata Knight Riders, chasing a target of 157, are 25/3. The live updates of Kolkata Knight Riders vs Gujarat Titans scorecard is also available. It is the perfect platform to follow your favourite teams in Indian Premier League 2022. Keep a track on your favourite batsmen and bowlers through Indian Premier League 2022 today match, ball by ball commentary, Kolkata Knight Riders vs Gujarat Titans, Kolkata Knight Riders vs Gujarat Titans live score, Kolkata Knight Riders vs Gujarat Titans scorecard. Follow the excitement of the Indian Premier League 2022 on Sports.NDTV.com as you can follow live match updates and live cricket score through our platform.
4.6 overs (1 Run) Full and angled into leg stump, Iyer works it towards extra cover for a quick run.
4.5 overs (6 Runs) SIX! That is some shot from Shreyas Iyer! Pacy delivery, short and outside off. Iyer makes a bit of room and just whacks it over the point fence for a biggie.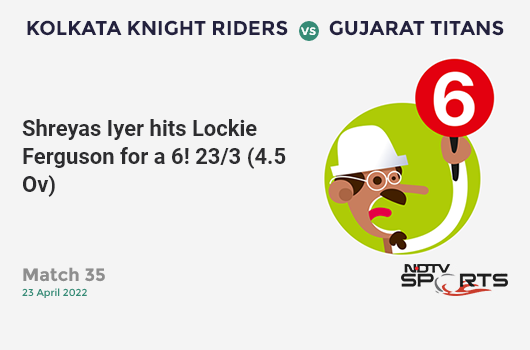 4.4 overs (0 Run) On middle, pushed away towards mid on.
4.3 overs (1 Run) On the pads, Rinku Singh tucks it 'round the corner for a single.
4.2 overs (0 Run) OUT! CAUGHT BEHIND! Another wicket goes down and the asking rate keeps on climbing. Fullish delivery, into the channel around off and the ball just comes in with the angle. Nitish Rana has a poke at it as he is pushed back but the ball whizzes past the outside edge. There is a noise and Gujarat do go upstairs. UltraEdge shows that there is a faint edge on it and Lockie Ferguson strikes in his first over.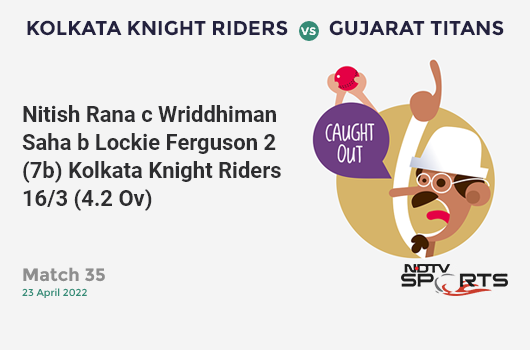 4.1 overs (0 Run) Full and straight, at the base of middle stump. Nitish Rana makes room and jams it out on the off side.
3.6 overs (0 Run) Length ball, angled into middle and leg. Iyer keeps it out on the leg side.
3.5 overs (4 Runs) FOUR! A welcome boundary for Kolkata. Full and straight, Iyer makes room and goes over covers and the ball just bounces inside the ropes.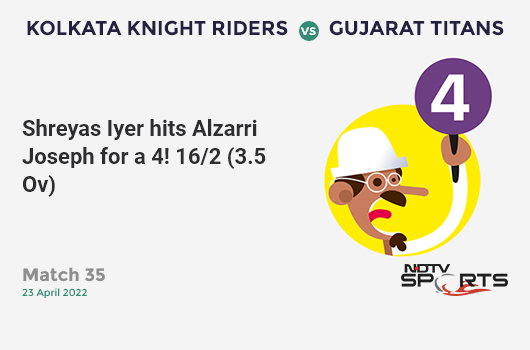 3.4 overs (0 Run) Banged in short, around off. Shreyas Iyer backs away looking to smash it through point but misses.
3.3 overs (0 Run) A touch fuller, on off. Iyer looks to push at it but the ball bounces a bit extra. Iyer does well to fend it away though.
3.2 overs (1 Run) Just over! A well-directed short ball from Alzarri Joseph. This is on leg stump and Nitish Rana takes his eyes off the ball as he looks to hook. The ball goes off the top edge and flies over the man at square leg. Single taken.
3.1 overs (0 Run) On a good length, on off. Rana defends it off the back foot.
Alzarri Joseph is into the attack.
2.6 overs (0 Run) Pitched up on middle, flicked away to the right of mid on for no run.
2.5 overs (1 Run) Short of a length this time, Rana works it towards mid-wicket and gets off the mark with a single.
2.4 overs (0 Run) Length again, on middle and Rana can only defend it out.
2.3 overs (0 Run) Shami zones in on the off stump and Nitish Rana solidly blocks it off.
Nitish Rana walks out to the middle.
2.2 overs (0 Run) OUT! TAKEN! Brilliant catch from Lockie Ferguson and it's a disastrous start for Kolkata. Length ball, on the pads and Sunil Narine flicks it away just a bit uppishly though. The ball goes to the right of the fielder at short fine leg and Ferguson takes a good low catch. A couple of inches on either side and it would have been a boundary but it is another wicket for Mohammad Shami and Gujarat.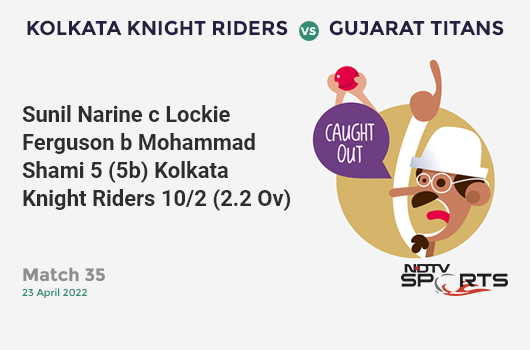 2.1 overs (0 Run) A bumper this time, outside off. Sunil Narine moves leg side trying to go downtown but is well beaten.
1.6 overs (0 Run) Three dots in a row to end the over. Length ball, slanted across the right-hander and Shreyas Iyer can't get it past the point fielder.
1.5 overs (0 Run) Full again, on off and holding a bit in the surface. Iyer looks to flick it away but gets a leading edge towards mid off.
1.4 overs (0 Run) Fuller in length, on middle. Iyer drives it straight towards mid on.
1.3 overs (1 Run) Short again, pulled away behind square on the leg side for one.
1.2 overs (0 Run) In the air...safe! Good short ball from Dayal, on the body and Narine looks to take it on. Narine gets no timing whatsoever and the ball loops up in front of the charging man from square leg.
1.1 overs (4 Runs) FOUR! Sunil Narine opens his account in fine fashion. Around the top of off from Yash Dayal and slapped away past the cover-point fielder for a cracking boundary.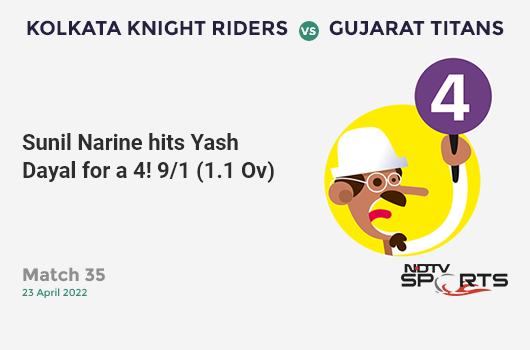 Who will start from the other end? It is Yash Dayal.
0.6 over (0 Run) Right on the money! Length again, angled into middle. Iyer gets right behind the line to block. An eventful first over comes to an end, five runs and a wicket off it.
0.5 over (0 Run) Good-length, angled into the pads. Shreyas Iyer hangs back and pushes it out towards mid on.
Shreyas Iyer walks out at number 3.
0.4 over (0 Run) OUT! TAKEN! Just the start Gujarat were looking for and Mohammad Shami has provided it for them. This is banged into the deck and around off. Sam Billings drags it across the line but gets a top edge which goes high and towards the leg gully region. Wriddhiman Saha calls early and takes a very well-judged catch.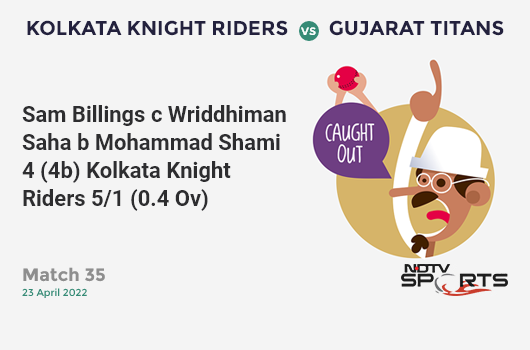 0.3 over (0 Run) Just a bit of shape away this time. Fuller and wider, Billings drives but straight towards cover.
0.2 over (4 Runs) FOUR! Lovely shot to get off the mark from Sam Billings! Pitched up, on off. Billings drives it on the up and through the line of the ball, back past the bowler for a boundary.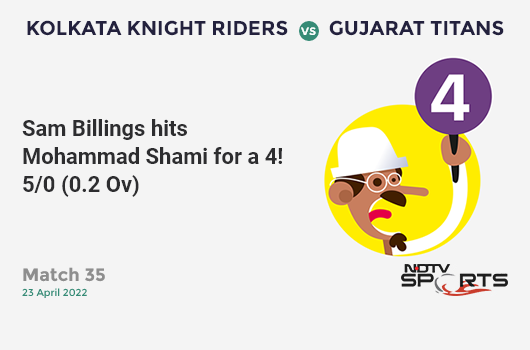 0.2 over (1 Run) WIDE! Length again but this time slides it down the leg side. Wided.
0.1 over (0 Run) Nice start from Mohammad Shami! Length, close to the off pole and zipping through. Sam Billings makes a watchful leave.
Topics mentioned in this article