Story Progress
Back to home
Gujarat Titans vs Punjab Kings: IPL 2022 Live Cricket Score, Live Score Of Today's Match on NDTV Sports
Live Updates of Today Match between Gujarat Titans vs Punjab Kings from Dr. DY Patil Sports Academy, Navi Mumbai. Check commentary and full scoreboard of the match.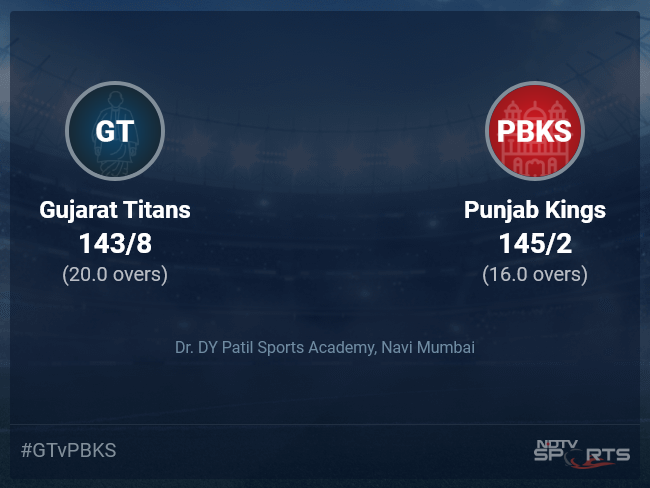 GT vs PBKS Latest Score
A dedicated team of experts bring you live score, live cricket score, live match update on Sports.NDTV.com. After 16.0 overs, Punjab Kings, chasing a target of 144, are 145/2. The live updates of Gujarat Titans vs Punjab Kings scorecard is also available. It is the perfect platform to follow your favourite teams in Indian Premier League 2022. Keep a track on your favourite batsmen and bowlers through Indian Premier League 2022 today match, ball by ball commentary, Gujarat Titans vs Punjab Kings, Gujarat Titans vs Punjab Kings live score, Gujarat Titans vs Punjab Kings scorecard. Follow the excitement of the Indian Premier League 2022 on Sports.NDTV.com as you can follow live match updates and live cricket score through our platform.
Right then, that is all we have from this game. Punjab have made things very interesting with a rollicking win. They move to the fifth position in the points table now. We have another cracking game waiting for us on Wednesday, 4th May where Bangalore will go head-to-head against Chennai. That game will begin at 7.30 pm IST (2.00 pm GMT) but as you know, our build-up will begin well in advance. So do join us for the same. Till then, goodbye and cheers!
Kagiso Rabada is the Player of the Match for his brilliant spell of 4-0-33-4! The speedster says that finally they got the win and admits that they have been a bit inconsistent in the tournament. Adds that they want to string a few wins and he feels that as a bowling group they did well and praises the batters as well. Calls it a good outing for Punjab. Rabada wants to stick to the process and not get too greedy. He lauds the death-bowling skills of Arshdeep Singh who has been doing it well day in and day out. Shares that he is not advising too much to Arshdeep who already knows what he wants to work on. States that as a bowler, you have to bowl at all the stages of the game and have to figure out how to be effective.
Mayank Agarwal, the winning skipper of Punjab, says that they would like to string a few wins from hereon. Adds that they are trying to get the best out of Jonny Bairstow and that's why Mayank decided to bat in the middle order. Calls it nice the way they overhauled the target. Shares that after getting in a comfortable position, they decided to finish the chase quickly and address the NRR. Mentions that they bowled extremely well and restricted Gujarat to a below-par score. Praises the stand between Shikhar Dhawan and Bhanuka Rajapaksa before signing off.
Liam Livingstone (30 off 10 balls) is down for a chat. He smiles and talks about the 'monster six' by saying that he swung really hard at that one. Praises the knock of Shikhar Dhawan and his partnership with Bhanuka Rajapaksa. Tells that they needed this win. Adds that the conversation was not about NRR. Shares that he came before Mayank Agarwal and the talk was that if Dhawan gets out, Mayank will go in otherwise he (Liam) will go in next. Further says that batting ahead of Agarwal gave him the license to bat fearlessly as there was Mayank who can stabilize the innings if something goes wrong. States that it's all about learning and as a new team, it was always going to be tough. Again says that Dhawan batted beautifully and did well to nullify Rashid Khan.
Hardik Pandya, the captain of Gujarat, says that they didn't put even a par score and feels 170 could have been an ideal score. Adds that they kept losing wickets. He backs his decision to bat first as he wants his team to come out of its comfort zone. Tells that it was an exercise that they wanted to try. Feels that they kept losing wickets and didn't find the rhythm. Wants to take this loss as a learning curve. Mentions that the talk is always about getting better even when they win. States that they will regroup and they need not worry about this loss.
Time for some interviews!
Chasing a low total, Punjab decided to send Jonny Bairstow at the top of the order with Shikhar Dhawan. However, the move did not work as Bairstow departed early. Bhanuka Rajapaksa came in at number 3 and he and Shikhar Dhawan mixed caution with aggression to great effect as they stitched together an 87-run partnership. Punjab needed almost run-a-ball when Rajapaksa departed and after that, Dhawan and Livingstone finished it off in the 16th over as Liam Livingstone showed all his might towards the end.
Earlier, Hardik Pandya decided to do the hard job and decided to defend the total after winning the toss. However, the batting group did not deliver to his expectations as Punjab bowlers bowled with good lines and lengths. It was the innings from young Sai Sudharsan that took Gujarat to a respectable total but it was still below-par. Kagiso Rabada was exceptional yet again, picking one more 4-wicket haul this season.
WOW! Some mighty hitting and entertainment from Livingstone to cap off a clinical display from Punjab! Punjab will be pretty pleased with their overall effort today, smiles all around in their camp and rightly so. They were under real pressure coming into this game with only one win from the last four games and against a team that was just unstoppable. However, they have made a strong statement this evening and would be looking to go from strength to strength from hereon. Gujarat, on the other hand, had an off day in the office and it might not be a bad thing for them, as it gives them some motivation to further improve themselves.
15.6 overs (4 Runs) FOUR! Liam Livingstone has killed the chase in this over itself! What an extraordinary show of scintillating hitting by the Englishman. Shami lands it full and close to off, Livingstone attempts to heave it over the leg side with all his power but edges it over short third man. It drops once before crossing the fence. Punjab win by 8 wickets with 24 balls to spare!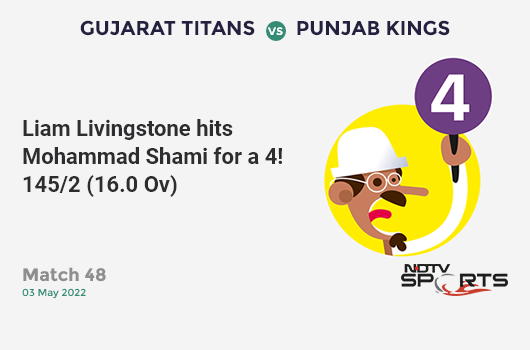 15.5 overs (2 Runs) Very full, around middle. Liam Livingstone drills it through mid-wicket for a brace. Just 3 to get now!
15.4 overs (4 Runs) FOUR! Pulled away! Another back-of-a-length delivery, around middle, Liam Livingstone swivels and pulls it in the gap between deep square leg and deep mid-wicket for a boundary.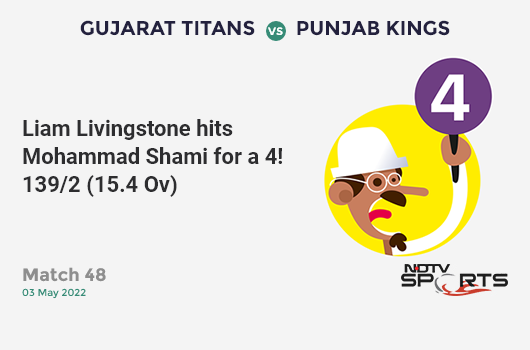 15.3 overs (6 Runs) SIX! Make that three in a row! Mohammad Shami goes 'round the wicket now, serves a shorter ball, around off. Liam Livingstone looks to pull this but the ball goes off the top edge high over third man for a biggie. Can he finish it in this over?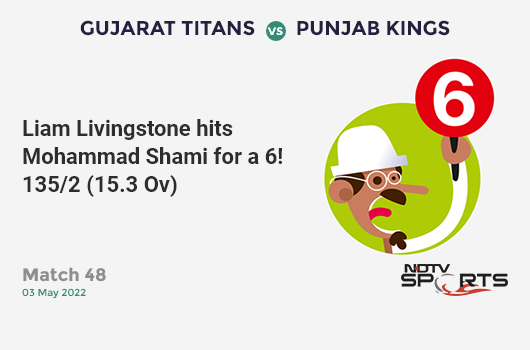 15.2 overs (6 Runs) SIX! Back-to-back sixes! Liam Livingstone is in a hurry! A low full toss, around middle. Liam Livingstone smokes this over deep mid-wicket this time for another maximum.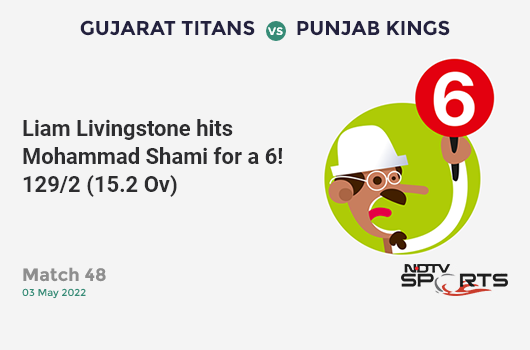 15.1 overs (6 Runs) SIX! That's a monster! 117m on the radar! Liam smiles, Shami also has a smile. Mayank, in the dugout, is shocked by seeing the ball disappear outside the stadium. This one is a bit short and on middle, Liam Livingstone launches this high over deep square leg for a biggie.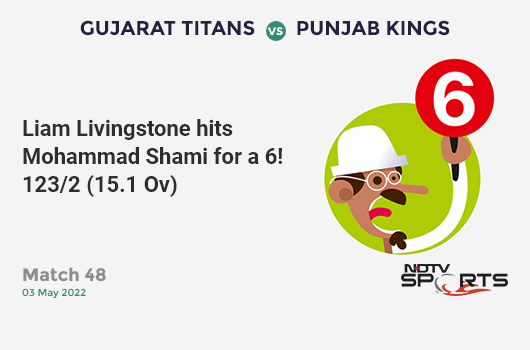 Match Reports
Topics mentioned in this article