Story Progress
Back to home
Chennai Super Kings vs Delhi Capitals Live Score Ball by Ball, IPL 2022 Live Cricket Score Of Today's Match on NDTV Sports
Live Updates of Today Match between Chennai Super Kings vs Delhi Capitals from Dr. DY Patil Sports Academy, Navi Mumbai. Check commentary and full scoreboard of the match.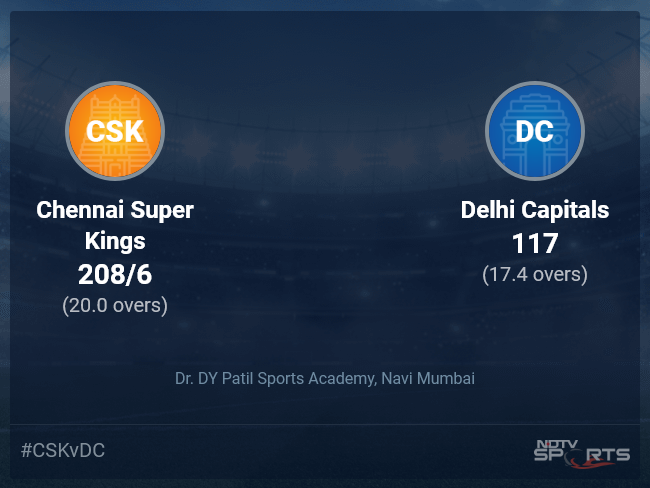 DC vs CSK Latest Score
Follow the Indian Premier League 2022 live cricket score on Sports.NDTV.com. After 17.4 overs, Delhi Capitals, chasing a target of 209, are 117. Get live score, ball by ball commentary and much more. Keep track of Indian Premier League 2022 today match between Chennai Super Kings and Delhi Capitals. Everything related to Chennai Super Kings and Delhi Capitals match will be available on Sports.NDTV.com. Stay updated with Chennai Super Kings vs Delhi Capitals live score. Do check for Chennai Super Kings vs Delhi Capitals scorecard. You can get scorecard updates, match related facts. Get quick live updates with ads, Sports.NDTV.com, which is the perfect destination for live cricket score.
That is all we have from this game but the action continues on Monday, the 9th of May. It is a clash between Mumbai and Kolkata at the DY Patil Stadium and with Mumbai's season all over, it could be a decisive game for Kolkata as well. That match will begin at 7.30 pm IST (2 pm GMT) but our build-up will begin much sooner. Do join us then, goodbye and cheers!
Devon Conway is the PLAYER OF THE MATCH for his sensational knock of 87 runs off 49 balls. Conway says that the thought process was to keep things simple, and just to keep communicating with Rutu. With Michael Hussey, he had discussed how the surface would be and which bowlers he could target. Mentions that he is happy to build that partnership with Rutu, this is the second time they have put 100 runs together and he is happy to bat with him. Informs that in his previous game he swept a lot and got out, but Dhoni told him to sweep less since the opposition bowlers will be bowling full deliveries, so he had to take them on.
MS Dhoni, the skipper of Chennai says that a big victory helps and hopes it came a bit sooner but it's never too late. Adds that the batters did well and it was a toss where you wanted to chase but you also felt like to just get out there and get runs and mentions that everyone contributed and the runs on the board always help. Mentions that both Simarjeet Singh and Mukesh Choudhary have matured a bit and sometimes it takes a few games and what is important is the ability but it all comes down to game sense and choosing which delivery to bowl when. Adds that he had a look at the first ball and doesn't like to go big from the start with just a few deliveries left, he decided to go big after ball one and adds that they have failed to accumulate quick runs down the order but it did happen tonight. On being asked about still having a chance to qualify, MS says that he isn't a fan of maths but admits that they do have a chance but the most important thing is to enjoy and get their combination right and prepare for the next season, if they do qualify then all well and good.
Delhi skipper, Rishabh Pant says the opposition outplayed them in all the departments, and the only way is to look forward, they have three games remaining and if they win they have chances of qualifying. Mentions that there are covid cases in their camp but they are not using that as an excuse and they want to give their 100 percent. Adds that the only thing they can do is be positive and that will be the chat in the dressing room as well, that they need to be in a good frame of mind.
Moeen Ali is down for a chat. He says it's a great win for them and to win against a very good side feels good. Mentions that it was a good score and at one point they were looking for 210 and 215 but in the end, they got over the 200-run mark which was good and also the pitch assisted spin which was good as well. States that he has changed his action a bit which seems to be working, he is trying to turn the ball more, and even if he gets hit that's okay. Concludes by saying that they have an amazing fanbase and he is thrilled to see that.
Chennai might have had a poor season but the reigning champions have shown signs of a champion side and tonight was a testament that they have enough match-winners in the side. Simarjeet Singh gave them the perfect start with the ball and Maheesh Theekshana yet again in the Powerplay provided a breakthrough that too of David Warner. But it was the introduction of Moeen Ali that changed the game completely as the Delhi batters tried to take him on but they just kept on perishing. Once the experienced batters fell, Chennai just never let the opposition change gears and ended up winning the match comprehensively. Stay tuned for a few interviews...
Oh, Delhi! What a day they have had! They had to deal with the covid crisis yet again but were able to get out and play but it sure is difficult for any side to deal with the pressure of winning matches and with off-field issues at the same time. They were below par with the ball but even after losing Warner early in the chase, they were in a promising position at 71/2 at the end of 7 overs with experienced players like Rishabh Pant and Mitchell Marsh at the crease. Marsh fell and after that it was just a slump as the score soon became 99/8. Shardul Thakur and Kuldeep Yadav did play out a few overs but it all ended pretty quickly and Delhi now have a mountain to climb if they want to make it through to the playoffs.
Chennai with a big-time performance and they have put a huge dent in Delhi's hopes for a spot in the playoffs. This has been a phenomenal all-round performance from Chennai and they get their fourth win of the tournament as they also drag themselves out of the bottom two. Now, it is a long shot but Chennai are mathematically still in the competition.
17.4 overs (0 Run) OUT! KNOCKED HIM OVER! A beauty of a delivery by Dwayne Bravo! He finishes things off in style! A slower dipping yorker, around middle. Khaleel Ahmed hangs back and tries to block this but he fails to get his bat down in time and the ball sneaks under his bat and knocks the stumps. Chennai win by 91 runs!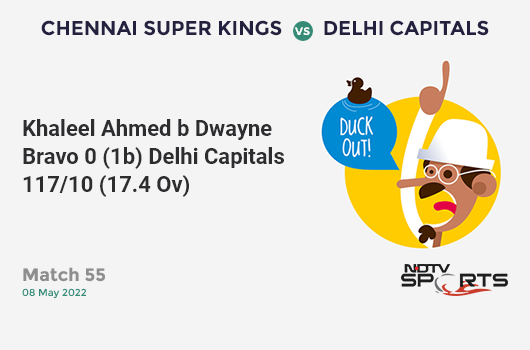 Khaleel Ahmed is the last man in for Delhi.
17.3 overs (0 Run) OUT! CAUGHT BEHIND! Shardul Thakur departs after a cameo. Dwayne Bravo picks up a wicket in the game as well. A bit unlucky for Shardul Thakur here! A length ball, down the leg side. Shardul Thakur looks to flick this but he gets an inside edge back to the keeper. MS Dhoni grabs it safely diving to his left and Chennai are one wicket away from victory.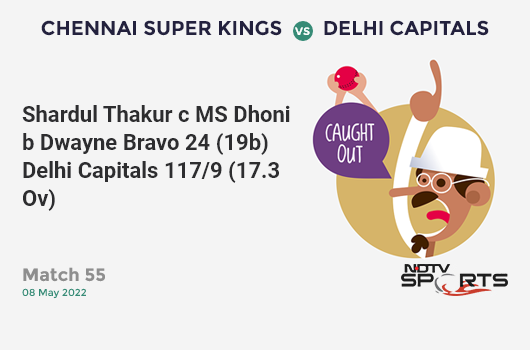 17.2 overs (4 Runs) FOUR! This is much better! A length ball, outside off. Shardul Thakur slaps this over cover-point for a boundary.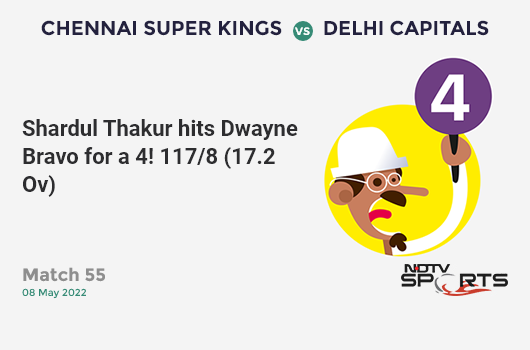 17.1 overs (4 Runs) FOUR! Wow! Wonderful shot! A shorter ball, outside off. Shardul Thakur leans back and guides it towards deep point for a boundary.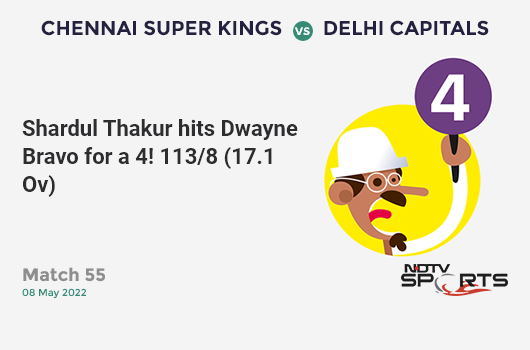 Dwayne Bravo comes back in to replace Simarjeet Singh.
16.6 overs (0 Run) Back of a length, around off. Anrich Nortje blocks it out solidly.
16.5 overs (0 Run) Tad shorter ball, around middle. Anrich Nortje manages to get an inside edge back onto his pads.
16.4 overs (0 Run) Shorter ball, around middle and off. Anrich Nortje blocks it towards cover off the back foot.
16.3 overs (1 Run) Full, outside off. Shardul Thakur knocks it to long off and takes a single.
16.2 overs (6 Runs) SIX! BANG! A loopy ball, fuller, outside off. Shardul Thakur gets down on his knee and smashes it high over long on for a biggie.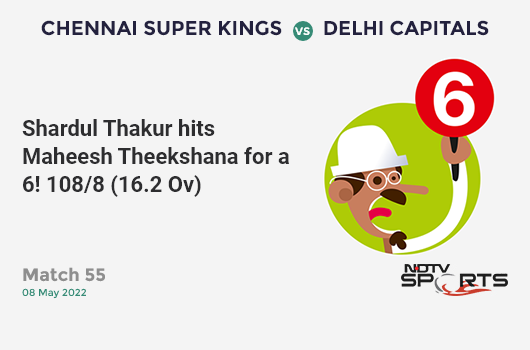 16.1 overs (0 Run) Shorter, flatter, around middle and leg. Shardul Thakur flicks it towards mid-wicket.
15.6 overs (0 Run) On a length, around middle. Anrich Nortje pushes it back to the bowler.
15.5 overs (1 Run) Fuller now, outside off. Shardul Thakur strokes it down to long off and takes a single.
15.4 overs (1 Run) Direct-hit, and Anrich Nortje would have been on his way back! Another shorter ball, around off. Anrich Nortje taps is towards point. He leaves his crease late. Robin Uthappa collects the ball and has a shy at the non-striker's end but he misses. Single taken a the end
15.3 overs (0 Run) Back of a length, outside off. Anrich Nortje taps it towards point.
15.3 overs (1 Run) Wide! Very short on this occasion, around middle and leg. Anrich Nortje ducks under it and leaves it alone. Wide called for height!
Strategic break! Well, the middle phase was a crucial one and Chennai have dominated it completely. Delhi have been ousted and will be very disappointed with this batting display. Chennai now need a couple of wickets to seal a big victory and hand Delhi their sixth defeat of the campaign. Also, Anrich Nortje comes out to bat at number 10.
15.2 overs (0 Run) OUT! TAKEN! Kuldeep Yadav finally decides to go for it but he perishes. Simarjeet Singh picks up his second wicket of the match and Delhi are eight down. Simarjeet Singh drops it short, outside off. Kuldeep Yadav looks to pull this but the ball goes off the splice of the bat towards point. Robin Uthappa is perfectly stationed there and he takes a dolly.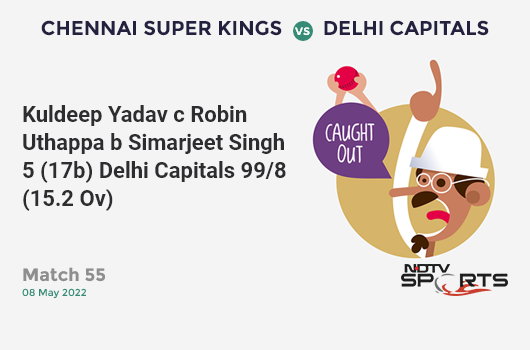 15.1 overs (0 Run) A shorter ball, width on offer. Kuldeep Yadav pushes it towards the fielder at cover.
Match Reports
Topics mentioned in this article