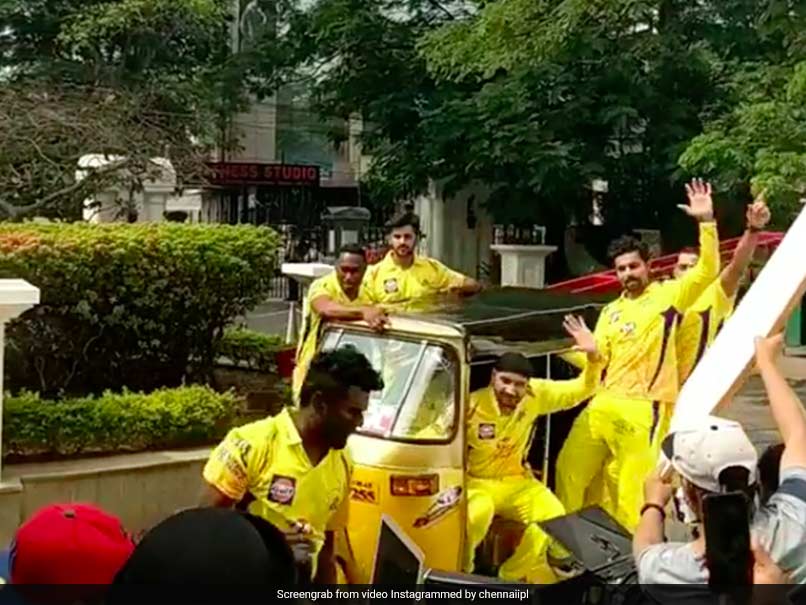 Presence of Harbhajan is definitely going to add the zing of 'bhangra' to the team.
© Instagram
The 2018 Indian Premier League (IPL) will witness the much-awaited return of one of the most celebrated teams in the league, Chennai Super Kings (CSK). Fans are excited to see a brand new CSK team in the 11th edition of the league, boasting of veterans of the game -- MS Dhoni, Shane Watson and Harbhajan Singh among others. While the league and fans are awaiting the well-known 'whistle-podu' anthem, the presence of Harbhajan is definitely going to add the zing of 'bhangra' to the team.
In a series of videos uploaded by CSK on their Instagram account, the Dhoni-led team can be seen shooting for a promotional video of their team for the cash-rich league, which commences on April 7.
However, one video that has been uploaded in form of a boomerang video shows Harbhajan performing bhangra while sitting in an auto. It will be interesting to see the addition of bhangra to the team.
Dwayne Bravo, who played for Gujarat Lions in the previous season, was included in the Chennai-based team by using Right to Match (RTM) card.
While Bravo's on-field celebration is the one thing that fans will be looking forward to, Harbhajan's own style of celebration will double the fan's delight.
The 37-year-old India spinner, who was bought by CSK, had said that he is looking forward to exciting times in the yellow brigade.
"It's great to be a part of two strong teams. 10 years with Mumbai Indians was absolutely brilliant, and now to be a part of another brilliant team. Here I come, Chennai! Let's do it together for Yellow," Harbhajan had said.
The opening match of the tournament will see defending champions Mumbai Indians take on Chennai Super Kings at the Wankhede Stadium, while the second match will see Delhi Daredevils take on Kings XI Punjab at the Feroz Shah Kotla Ground in Delhi.