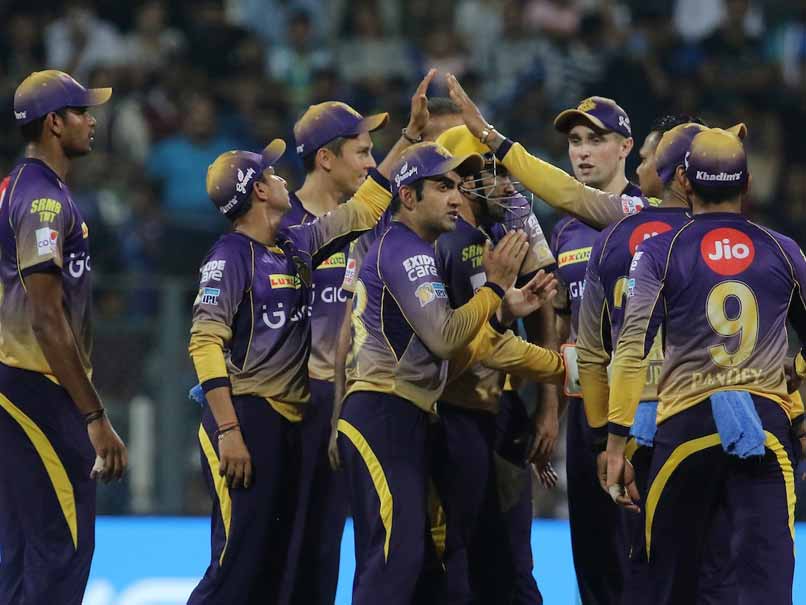 IPL Highlights, KKR vs SRH: Kolkata eased to a 17-run win over Hyderabad.
© BCCI
Kolkata Knight Riders (KKR) registered their second consecutive home win by beating Sunrisers Hyderabad by 17 runs in the match 14 of the Indian Premier League (IPL). Despite a solid start from the SRH openers -- David Warner and Shikhar Dhawan -- KKR bowlers fought their way back with wickets at regular intervals. The middle-order batsmen played too slow to cope up with the required run rate as it kept on climbing over by over. For Sunrisers Hyderabad, Warner and Yuvraj Singh scored the highest 26 and for Kolkata, Sunil Narine registered the best bowling figure 18/1 in four overs. Supporting Narine, Boult and Woakes chipped in with wickets regularly for KKR. (SCORECARD)
Catch all the highlights of the match between KKR and SRH straight from Eden Gardens.
19:37 IST: Join us for the second match of the day - Delhi Daredevils vs Kings XI Punjab in Delhi here.
19:35 IST: This is the second consecutive home win for KKR!
​19:34 IST: Tremendous bowling display by KKR after a blistering start from Warner and Dhawan. 
19:33 IST: And it's over, Trent Boult does the job for KRR as the hosts beat the visitors by 17 runs.
19:32 IST: With 20 needed off 2 balls KKR have sealed the match.
19:31 IST: SRH need 22 off 3 balls.
19:30 IST: Four! Top edge off Bipul and the ball flies down behind Uthappa.
19:29 IST: Trent Boults bowls a first dot ball.
19:28 IST: Hyderabad need 30 off the last over. The game is clearly on!
19:25 IST: Six! Bipul Sharma blasts Woakes to clear rope easily.
19:24 IST: With the required rate of 20, the job seems difficult for Hyderabad.
19:20 IST: Cutting sends the ball straight down to Grandhomme at Long off.
19:19 IST: Trent Boult gets his first wicket of the match in form of Ben Cutting.
19:17 IST: Six! Cutting dispatches Woakes for a maximum.
19:16 IST: Required rate 15.30, it seems Hyderabad need a miracle.
19:15 IST: Ben Cutting gets a life as the ball hit falls short of PIyush Chawla at mid on.
19:12 IST: With just four overs left, it could be a Herculean task for the Hyderabad team to win it from here.
19:10 IST: Narine completes his spell, three runs from the last over. SRH 116/5, 16 overs.
19:09 IST: Pressure slowly building on the visitors as required run rate climbs to 12.
19:07 IST: Hyderabad now need 60 runs from 30 runs!!!
19:06 IST: Out! Short from Woakes, Yuvraj went through with the pull and substitute Rishi Dhawan completed the catch with ease.
19:01 IST: Six! Short and wide from Woakes, Yuvraj doesn't miss much!
19:00 IST: Chris Woakes starts with a wide delivery.
18:59 IST: Ben Cutting joins Yuvraj out in the middle.
18:57 IST: Out! Narine traps Hooda with a quicker delivery, Uthappa doesn't miss to take the bails off.
18:57 IST: Hyderabad now need 78 off 42 balls. The game is on!
18:56 IST: Four! Hooda cuts Yadav handsomely for a boundary.
18:53 IST: Four! Yuvraj guides the ball towards fine leg.
18:52 IST: Six! Yuvraj times the ball well enough for a maximum straight down the ground. Beauty at its best!
18:50 IST: Trouble for Hyderabad as the required rate crosses 11.55!
18:48 IST: Six! Hooda slams Yadav over log off.
18:46 IST: Yuvraj Singh records his first boundary of the innings.
18:44 IST: Out! Woakes gets his first in form of Henriques as he plays it straight back at Woakes.
18:43 IST: Four! Henriques taps the ball softly towards the third man.
18:42 IST: Chris Woakes comes into the bowl his first over of the match.
18:41 IST: Hyderabad need 114 runs from 60 balls.
18:38 IST: Out! Kuldeep Yadav sends captain David Warner packing for 26.
18:33 IST: Hyderabad has scored six runs from the last 10 balls.
18:31 IST: Narine comes to bowl his second spell.
18:30 IST: With 8 overs done, it is time for Hyderabad to shift gears as required run rate has crossed the 10 mark.
18:27 IST: Uthappa misses out a stumping chance off Kuldeep Yadav
18:26 IST: Change of bowling did the trick for Gambhir.
18:23 IST: Out! Extra pace for Pathan and Dhawan hits the bowl straight down the throat of de Grandhomme.
18:22 IST: Yusuf Pathan replaces Sunil Narine.
18:20 IST: Four! Warner reverse sweeps Yadav for a boundary.
18:18 IST: Kuldeep Yadav comes in to bowl for KKR.
18:17 IST: Four! Warner adds four runs to his tally as he guides the ball past through short fine leg.
18:15 IST: Sunil Narine introduced into the bowling attack.
18:11 IST: Four! Shikhar Dhawan going berserk 20(17).
18:08 IST: Four!! This time on the leg side.
18:06 IST: Four! Dhawan smashes Yadav straight down the ground.
18:04 IST: Safe! Dhawan slashes the ball hard enough for the fielder at mid-wicket to drop the catch.
18:03 IST: Four! Dhawan slashes hard as the ball races to the third man.
18:02 IST: Trent Boult comes into bowl for the visitors.
18:01 IST: Good first over for KKR, Yadav conceded only five runs.
17:58 IST: David Warner and Shikhar Dhawan open the batting for the visitors.
17:57 IST: Umesh Yadav to start the proceedings for the home team.
17:56 IST: Welcome back to the second innings of KKR vs SRH at Eden Gardens.
​17:42 IST: Stay tuned for the second innings.
17:41 IST: And KKR complete their innings. Hyderabad restrict the hosts to 172 for 6. Brilliant death over bowling from Bhuvneshwar Kumar.
17:39 IST: Out! Class bowling from Bhuvneshwar Kumar as he gets the yorker right. Sends Grandhomme for a duck.
17:38 IST: Six! Pathan smacks the length ball over the bowlers head.
17:37 IST: Bhuvneshwar Kumar comes in to bowl the penultimate over!
17:36 IST: Colin de Grandhomme the new man in for the last over.
17:35 IST: Out! Nehra sends Yadav back to pavilion. Courtesy: Left handed catch from Naman Ojha behind the wicket.  
17:32 IST: Nehra comes in to bowl the 19th over.
17:31 IST: Brilliant 18th over from Bhuvneshwar Kumar - 4 runs and a wicket.
17:30 IST: Suryakumar Yadav joins Pathan in the middle.
17:28 IST: Out! Length ball from Bhuvneshwar Kumar, Pandey miscues the ball as Warner completes a safe catch.
17:25 IST: Three overs left, Kolkata achieve 150-run milestone.
17:22 IST: Four! Using the pace of the ball, Pandey guides the ball towards backward point.
17:21 IST: Six! Cutting dispatched by Pandeyover mid off for a huge maximum.
17:18 IST: After 16 overs, Kolkata Knight Riders stand at 136 for 3.
17:17 IST: Four! Slog sweep from Pathan over deep mid wicket.
17:15 IST: Six! What a beauty by Pandey. Reading the ball early, Pandey dances down the wicket and smokes the ball over log on.
17:12 IST: Four! Short and wide form Cutting, Pandey cuts and the ball goes past the wicket-keeper.
17:11 IST: Yusuf Pathan replaces Uthappa out in the middle.
17:10 IST: Out! Short from Cutting, Uthappa top edges ball to Rashid Khan.
17:07 IST: Four! Uthappa swings hards, outside edge past behind the wicket-keeper.
17:06 IST: Final over for Rashid Khan.
17:04 IST: Uthappa races away, 61 off 33.
17:03 IST: Four! Back-to-back boundaries for Uthappa! 
17:00 IST: SRH miss out on breakthrough as third umpire turns down caught behind appeal of Uthappa.
16:56 IST: 50-run partnership comes up for Uthappa-Pandey.
16:55 IST: Uthappa scores his 18th IPL fifty.
16:54 IST: Four! Uthappa dispatches Rashid Khan for a boundary over deep mid wicket as Dhawan misses a catch.
16:49 IST: Six! Uthappa shifts towards off-stump and guides the ball towards long leg for a maximum.
16:48 IST: Six! Not to miss again, short from Vipul and Pandey blasts the ball over deep mid wicket.
16:47 IST: Safe! Naman Ojha misses an easy stumping, Pandey gets a life.
16:46 IST: Vipul Sharma comes into the attack.
16:44 IST: With half of the innings almost over, KKR need to pull their socks up to get a competitive total on the board.
16:43 IST: After nine over KKR stand at 67 for 2.
16:40 IST: Six! Short ball from Henriques and Uthappa pulls it over deep mid wicket.
16:38 IST: Moises Henriques comes into the attack.
16:37 IST: Only six runs from the Rashid Khan over.
16:36 IST: After KKR lost two quick wickets, Pandey and Uthappa are steadying the ship for the hosts.
16:35 IST: Bowling a decent over, Cutting gives away only seven runs.
16:29 IST: Manish Pandey is the new man in for the Knights.
16:28 IST: Out! Looking to cut Rashid, Gambhir misses the ball but the ball doesn't miss the stumps. KKR now 40/2.
16:27 IST: Six! Uthappa welcomes the Afghan kid with a big maximum down the ground.
16:26 IST: Rashid Khan comes into the attack.
16:23 IST: Four!! Short and wide from Cutting and Gambhir threads it through the covers.
16:21 IST: Four!! Cutting stray onto the pads of Uthappa and the right-hander just helps himself to a boundary.
16:16 IST: Four!! Full and wide from Nehra and Gambhir throws the kitchen sink at it. KKR are 20/1 in 4 overs.
16:13 IST: Big let-off for Uthappa and KKR.
16:12 IST: Big shout for caught behind and it looks like Uthappa got a healthy edge but the umpire nods his head, much to the astonishment of Hyderabad players.
16:10 IST: Out! Bhuvneshwar Kunar gets the yorker right and the stumps are all over the place. Narine departs cheaply for 6.
16:08 IST: Six runs from the second over for Kolkata.
16:07 IST: Four! Narine slams Nehra straight down the ground.
16:06 IST: Ashish Nehra comes in to ball.
16:04 IST: After the first over, Kolkata stand at 3 runs with no loss of wicket.
16:03 IST: Short delivery outside off-stump, Narine cuts hard and finds Rashid Khan.
16:02 IST: With Narine on-strike, it seems KKR have found a new opener.
16:01 IST: Bhuvneshwar Kumar leads the bowling attack for SRH.
16:00 IST: Gautam Gambhir and Sunil Narine opens the batting for Kolkata Knight Riders.
15:57 IST: Jacques Kallis rings the bell and declares the match open. Let's go!
.@OfficialCSA legend and @KKRiders' head coach @jacqueskallis75 rang the bell at the Eden Garden today #KKRvSRH pic.twitter.com/ejq5FyKNEk

— IndianPremierLeague (@IPL) April 15, 2017
15:47 IST: Kolkata Knight Riders warming up before their second home match against Sunrisers Hyderabad.
#IPL Match 14 - The two-time champions @KKRiders are ready for #KKRvSRH #KKR pic.twitter.com/SUJWMqyiCE

— IndianPremierLeague (@IPL) April 15, 2017
15:42 IST: Defending champions Sunrisers Hyderabad warming up before the game.
#IPL Match 14 - The defending champions @SunRisers are warming up ahead of #KKRvSRH #SRH pic.twitter.com/kBYk7EKBvN

— IndianPremierLeague (@IPL) April 15, 2017
15:38 IST: Big setback for Hyderabad as Mustafizur Rahman has been dropped from the squad. Kuldeep Yadav comes in for Piyush Chawla.
​15:37 IST: Here are the playing eleven for both the teams.
#IPL Match 14 - Here are the Playing XIs for @KKRiders vs. @SunRisers #KKRvSRH pic.twitter.com/5HS5zejfWS

— IndianPremierLeague (@IPL) April 15, 2017
15:36 IST: Will be interesting to see who comes out to bat alongside skipper Gambhir.
15:30 IST: Sunrisers Hyderabad win toss and elect to bowl against Kolkata Knight Riders at Eden Gardens.
15:30 IST: Its Toss time!
15:27 IST: Hello and welcome to the IPL match number 14 straight from Eden Gardens, Kolkata.
SRH, on the other hand, would be thinking of ways to get back to winning ways. After beginning with two consecutive victories, Hyderabad suddenly find themselves in the losers' seat after going down to Mumbai Indians. However, skipper David Warner should not be unduly worried, since his side is only one win away from getting back on the rails. He would, however, be looking for more contributions from Deepak Hooda, Yuvraj Singh and Ben Cutting in the middle of the innings. He, however, would be over the moon with the manner in which his young Afghan leg-spinner Rashid Khan has come to the party.