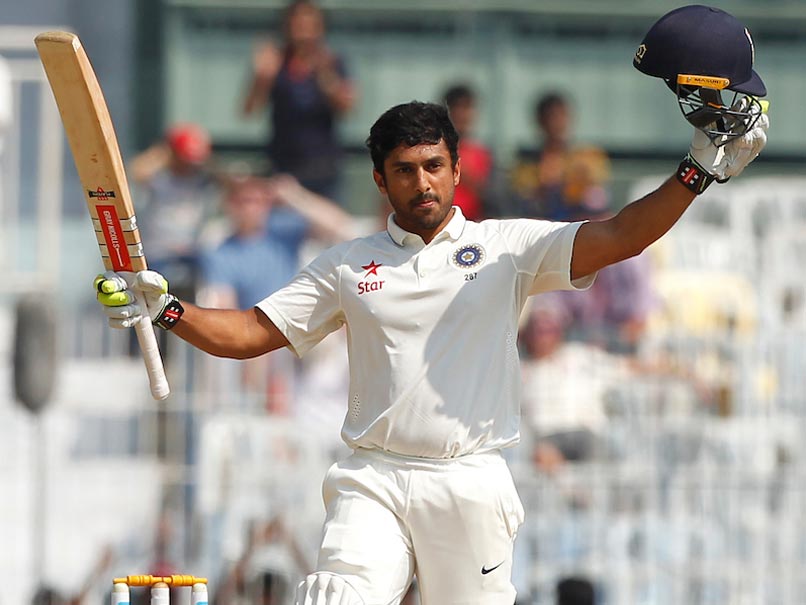 India vs England: Karun Nair leads India's charge
© BCCI
India continued their dominance in Chennai Test when Karun Nair's triple ton deflated England. R Ashwin and Ravindra Jadeja supported Nair in completing his milestone. While Nair achieved the feat of becoming the second Indian to score a triple ton, R Ashwin became the second Indian after Kapil Dev to take more than 25 wickets and score more than 250 runs in a series.With the series already in the bag, the Indian cricket team is hoping to add to England's woes with a win in Chennai. India are unbeaten in 17 Tests at the moment.
Get highlights of India vs England 5th Test here.  (SCORECARD)
17:00 IST: The limelight was all stolen by Karun Nair today and what a feat for him. India will hope to get a win from here. Join us for all the action from the India Vs England 5th Test Day 5 at Chennai tomorrow. Adios! 
16:50 IST: STUMPS! England are 12/0 at the end of Day 4. Alastair Cook 3 and Keaton Jennings 9 remain unbeaten. They trail India by 270 runs
16:45 IST: Now England come on to bat in the second innings. Trailing India by 282 runs 
16:40 IST: This is also India's highest score in Test matches 
What an effort 300 @karun126keep rocking..His first test hundred and that's 300 not out.God bless @BCCI #INDvENG looks like 4-0

— Harbhajan Turbanator (@harbhajan_singh) December 19, 2016
16:38 IST: India declare at 759/7 (K Nair 303*, KL Rahul 199), lead England (477) by 282 runs in Chennai
Yay ! Welcome to the 300 club @karun126 .
It was very lonely here for the last 12 years 8 months.
Wish you the very best Karun.Maza aa gaya!

— Virender Sehwag (@virendersehwag) December 19, 2016
16:35 IST: Yes, he has done it! Karun Nair becomes second Indian after Virender Sehwag to score triple hundred. India 759/7 vs England 477
16:32 IST: Karun Nair one short of 300 now. He tries to paddle sweep and misses it 
16:24 IST: Ravindra Jadeja scores 4th half-century
16:16 IST: Karun Nair on 290 now. Will he be the second Indian after Virender Sehwag to score a triple ton
Try something different ?
Yorkers and bouncers with a different field for 4 or 5 overs ? Spinners not good enough ! Any of them

— Darren Gough (@DGoughie) December 19, 2016
16:12 IST: India 721/6, lead England by 244 runs. Karun Nair 279*, Ravindra Jadeja 38*
16:07 IST: FOUR! Boundary again and 275-up for Nair. One bounce and over the ropes. 100-run stand between these two 
16:06 IST: SIX! Karun Nair hits it for a maximum off Adil Rashid 
16:04 IST: 700-up for India and it's a rarity
16:02 IST: SIX! India 699/6. Karun Nair 260*, Ravindra Jadeja 35*
16:01 IST: Second consecutive 600-plus score by India 
16:00 IST: That's 250 for Karun Nair. This is the 4th highest individual score by an Indian and also the third Indian to get 250-plus in Tests
15:49 IST: Karun Nair steps out to hit a big one and the ball misses everyone here. Reprieve for Nair again. He was on 246
15:43 IST: For records, Virender Sehwag had scored a triple-century at the same ground in 2008 vs South Africa. Can Karun Nair repeat that feat
15:37 IST: India 665/6 at the players will have drinks 
15:36 IST: FOUR! Reverse-sweep again by Nair and he plays it a bit finer for a boundary
15:35 IST: 77 runs scored in this session in 12.3 overs 
15:31 IST: FOUR! India in limited overs mode now. 14 runs off Stuart Broad's over
15:30 IST: SIX! Jadeja hits it and clears the fence 
15:26 IST: Nair changes his bat here. May be the Twenty-20 bat to slog 
15:25 IST: India 640/6 in 175 overs, lead by 164 runs. Karun Nair 232*, Ravindra Jadeja 8*,
15:20 IST: It seems the message is clear now to score as many runs as possible. India will try to get the lead of 200 runs. 
15:16 IST: Karun Nair goes after Stuart Broad and hits it for four 
15:12 IST: SIX! Karun Nair hits it for a maximum. Right over the keeper's head
15:11 IST: The declaration can come anytime now. India 621/6 after 172 overs. India are 144 runs ahead. Karun Nair 219*, Ravindra Jadeja 1*
15:10 IST: DROPPED! Karun Nair gets one more life. Joe Root drops it at the slips. He was on 217
15:00 IST: OUT! Brilliant catch by Jos Buttler sends R Ashwin home at 67.
14:52 IST: No sign of declaration yet. India 606/5 after 169 overs. (Nair 208*, Ashwin 65*)
200 ! @karun126 brings up his maiden double hundred in Test cricket #INDvENG pic.twitter.com/MDmFdIlmh2

— BCCI (@BCCI) December 19, 2016
14:42 IST: Karun Nair now the 3rd Indian after Dilip Sardesai and Vinod Kambli to convert their maiden Test 100 to a double century
14:41 IST: Double-century! Karun Nair hits maiden double ton. India 589/5 lead England (477) by 112 runs
14:40 IST: We are back after the break
At Tea on Day 4 of the 5th Test, #TeamIndia are 582/5 (Nair 195*, Ashwin 54*), lead #ENG(477) by 105 runs #INDvENG pic.twitter.com/Y9AjMRV9mS

— BCCI (@BCCI) December 19, 2016
14:15 IST: TEA! India 582/5  (K Nair 195*, R Ashwin 54*) lead England (477) by 105 runs 
14:11 IST: REVIEW! R Ashwin given out LBW by the on-field umpire but hawk-eye says that the ball misses the leg stump. The third umpire changes the decision. Ashwin survives!
14:07 IST: Tea is around the corner. India 582/5 in 164 overs. Karun Nair 195*, R Ashwin 54*
14:03 IST: FOUR! Very lucky there Karun Nair. The ball takes the inside edge and it missed the stumps by a whisker. Nair on 193 now
13:52 IST: R Ashwin hits 10th half-century. India 568/5 lead England (477) by 91 runs.
13:47 IST: Keaton Jennings comes into the attack. Huge LBW appeal! not-out given by the umpire. It was very close though
13:45 IST: India 563/5 in 158 overs. Karun Nair 183*, R Ashwin 47*, lead England by 86 runs
13:44 IST: FOUR! Liam Dawson looks really tired and jaded. Backfoot cover drive by Nair, wasn't short enough
13:42 IST: FOUR! Nair finds the spot to perfection and he moves on to 176. India dealing in boundaries now
13:39 IST: FOUR! 550 comes up for India with Ashwin's boundary off Adil Rashid
13:38 IST: FOUR! Karun Nair hits it against the turn, sweeps it for a boundary  
13:32 IST: Not-out given, eventually a right decision
13:31 IST: Appeal for a catch and Simon Fry goes to the third-umpire for decision
13:30 IST: FOUR! Nair sweeps it for four again and Jake Ball misfields
13:27 IST: India 535/5, lead by 58 runs. Karun Nair 162*, R Ashwin 40*
13:25 IST: 100 partnership comes up between R Ashwin and Karun Nair in 180 balls for the 6th wicket.
13:17 IST: England go super defensive in the field. 
13:11 IST: FOUR!  Nair sweeps it for a boundary. It was premeditated though.
13:10 IST: Karun Nair tries to play a reverse-sweep, misses it. India still on 525/5
13:07 IST: Beautiful delivery by Liam Dawson. Squared Ashwin up. India 525/5 lead by 48 runs. 
12:53 IST: FOUR! Indians are toiling with the attack now. Lead by 38 runs
.@karun126 reaches the 150-run mark for the 1st time in Tests @Paytm Test Cricket #INDvENG pic.twitter.com/XAMLYgSBxA

— BCCI (@BCCI) December 19, 2016
12:50 IST: Karun Nair reaches 150-run mark. India 508/5 lead England (477) by 31 runs 
12:45 IST: FOUR! Another boundary by Nair. He is on 149 now.
12:43 IST: India 497/5 in 143 overs. India lead by 20 runs. Karun Nair 141* , R Ashwin 24*
12:42 IST: FOUR! Superb drive by Nair. He is looking a different player altogether after 100
12:40 IST: It has been a tremendous series for R Ashwin, both with the bat and bowl. He has taken 28 wickets in the series and scored over 25 runs. Only Kapil Dev had done it before
12:35 IST: FOUR! Cheeky shot by Karun Nair brings up a 50 partnership between these two. He is growing in confidence 
12:32 IST: Interesting stats. India have gone past 400 in every first innings score in the series
12:30 IST: SIX! Ashwin dances down the track and hits Moeen Ali for a maximum. India go past England total in style. India lead now
12:22 IST: India 472/5 in 138 overs. India trail by 5 runs. Karun Nair 129* , R Ashwin 11*
12:15 IST: This will be an important session now. Ashwin and Nair will look to take lead 
12:10 IST: We are back after the lunch break. 
At Lunch on Day 4 of the 5th Test, #TeamIndia are 463/5 (Nair 122*, Rahul 199), trail #ENG(477) by 14 runs #INDvENG pic.twitter.com/z3bTpaV2pW

— BCCI (@BCCI) December 19, 2016
11:40 IST: Take a break and we will be back after lunch
11:33 IST: LUNCH! India 463/5 at lunch (K Nair 122*, R Ashwin 9*) trail England (477) by 14 runs
Get latest updates India vs England Live Cricket Scores 5th Test Day 4 from Chennai
11:30 IST: India 457/5 in 134 overs. Karun Nair 117, R Ashwin 8
11:28 IST: FOUR! Ashwin hits his first boundary
11:18 IST: Nair was dropped on 34 by Alastair Cook. England paying off. India 451/5
11:17 IST: Leading edge and Karun Nair is safe
11:13 IST: Even Wriddhiman Saha is injured. The stand-by keeper Parthiv Patel has done well too
11:10 IST: The question is, how Karun Nair would get into playing XI when everyone gets fit. Ajinkya Rahane, Shikhar Dhawan and Rohit Sharma all are in the injury list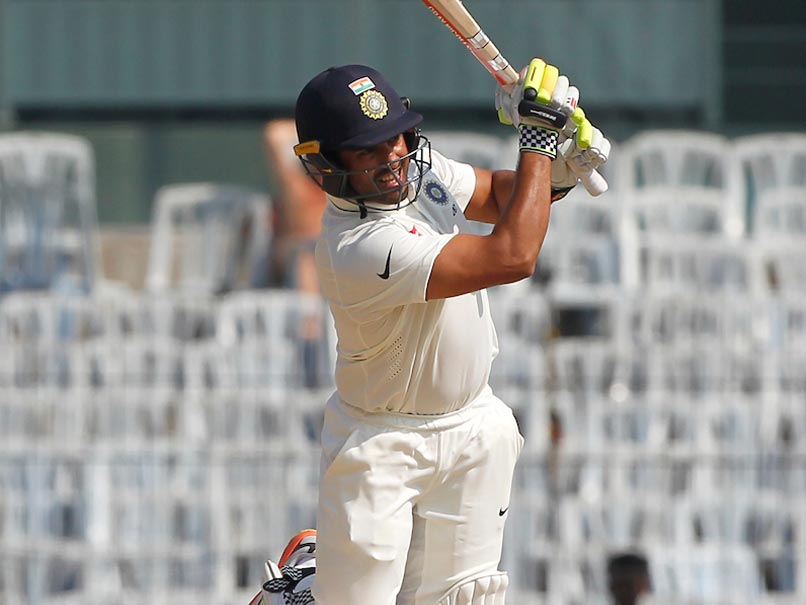 11:02 IST: FOUR! Full toss by Ben Stokes and caressed to the boundary by Nair. Back to back boundaries for him
11:00 IST: FOUR! That ball bounced and hits the shoulder of the bat of Karun Nair
10:56 IST: Ben Stokes has been the best English seamer in the series so far, says Sanjay Manjrekar
10:55 IST: R Ashwin comes at the crease now. India trail by 41 runs
10:48 IST: OUT! Murali Vijay is beaten here by the quicker delivery of Liam Dawson, caught plumb in front. India 435/5
Karun Nair's Maiden Hundred Powers India In 5th England Test
Maiden Test Hundred!

Karun Nair raises his bat in the final #IndvEng Test as India close the 1st Innings gap LIVE: https://t.co/9YvSVv36ni pic.twitter.com/hf8xnfkXvF

— ICC (@ICC) December 19, 2016
10:45 IST: Karun Nair hits his maiden Test century. India (435/4) trail England (477) by 42 runs
10:33 IST: FOUR! Half-volley for Murali Vijay and he creams it through covers. Good to have an opener batting at this point of time
10:28 IST: Now, Karun Nair is one shot away from his 100
10:18 IST: Nair plays it for two runs and he is in nervous nineties now 
10:08 IST: SIX! Karun Nair comes out of the crease and hits it out of the ground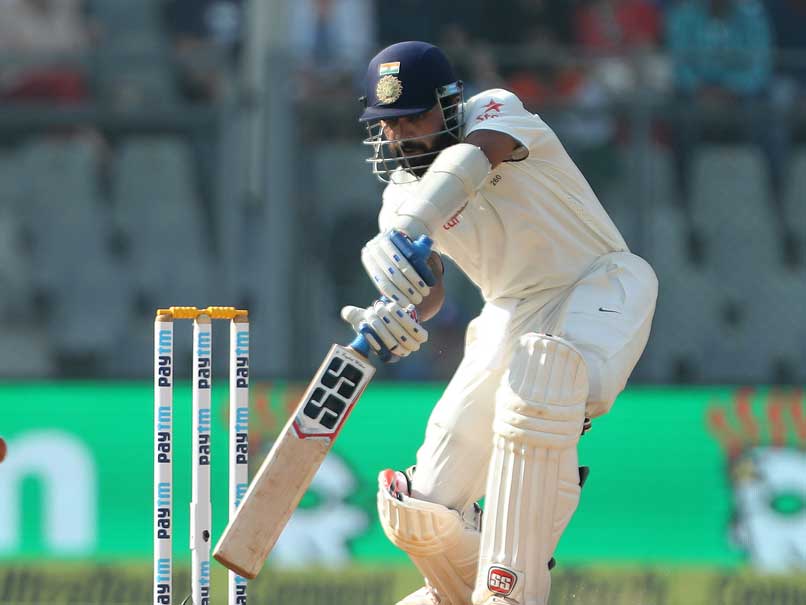 10:00 IST: India still trail by 73 runs. Karun Nair on 80 and Murali Vijay on 21
09:45 IST: Vijay flicked it through mid-wicket. Two it is and the 400 is up for India
09:35 IST: England have started with a defensive field here. Just one slip and a man at short mid-on, who is standing a bit straight
.@imjadeja and @y_umesh putting their bats to work at the nets before the start of Day 4 #TeamIndia #INDvENG @Paytm Test cricket pic.twitter.com/QPphIeY2ER

— BCCI (@BCCI) December 19, 2016
09:31 IST: Karun Nair to face the first ball off Stuart Broad and 2 runs straightaway for India
09:15 IST: It's a lovely morning in Chennai and India will look to bat well on the 4th day of the Test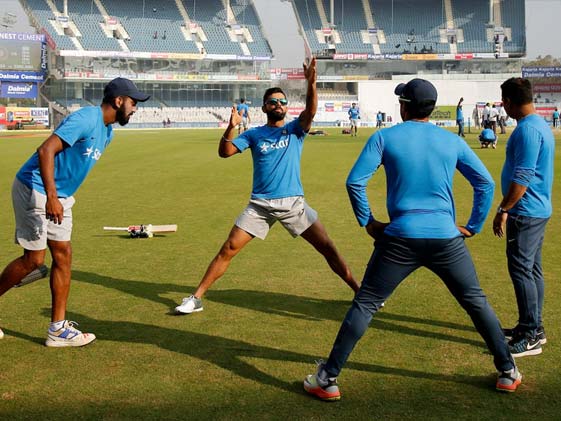 Team India practice ahead of Day 4. Photo credit: BCCI
09:08 IST: Hello and welcome to the live blog