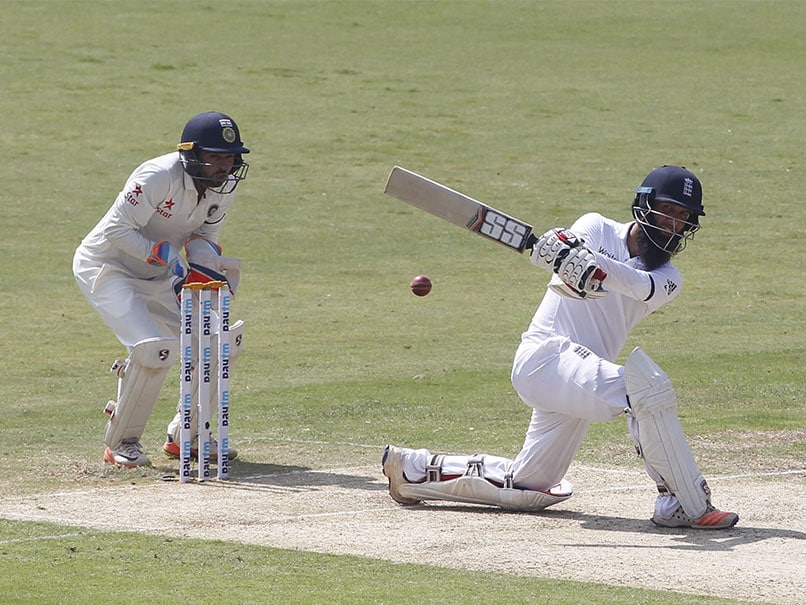 India vs England: Moeen Ali scored his fifth Test hundred on Friday.
© BCCI
India have been in rampaging form against England in the five-match Test series, already taking a 3-0 lead going into the final game in Chennai, starting on Friday. But the Alastair Cook-led team fought back strongly on Day 1 of the last Test to end the day at 284/4. Catch all the highlights of India vs England fifth Test here. (SCORECARD)
16:45 hrs IST: Hope you enjoyed our coverage. Come back tomorrow for live updates at 0930 hours on Saturday morning for India Vs England 5th Test Day 2 at Chennai
16:43 hrs IST: Friday clearly belonged to England. Though India took off well with a couple of early wickets, Joe Root and Moeen Ali made sure that the visitors dominated proceedings throughout the day.
CLOSE That's it for Day One. England are 284-4 with Mo unbeaten on 120 & Stokes 5* #INDvENG

Catch up on Day One: https://t.co/xXHOmH5N6J pic.twitter.com/nTcOJJuabk

— England Cricket (@englandcricket) December 16, 2016
16:40 hrs IST: England have ended the day at 284/4 at stumps
16:35 hrs IST: And it is stumps! 
A well contested first day of Test cricket in Chennai as England close on 284/4 having won the toss and chosen to bat first #IndvEng pic.twitter.com/afZeKSFQKv

— ICC (@ICC) December 16, 2016
16:29 hrs IST: 89 overs, Ishant Sharma to bowl the day's last over
16:20 hrs IST: And Moeen Ali has scored 1000 runs in Tests in 2016! That is quite an achievement by the left-hander
16:17 hrs IST: Meanwhile the new ball has been taken
16:15 hrs IST: Moeen Ali is one run short of 1000 runs in 2016
16:13 hrs IST: A quality innings from Ali!
16:10 hrs IST: Ali had also scored 117 in the first Test in Rajkot
16:07 hrs IST: Single and century for Moeen Ali, the fifth of his career and second of the series!
A fine day for Moeen Ali, who completes a 5th Test century, his 4th of 2016! #INDvENG pic.twitter.com/tu3OsCsoQz

— ICC (@ICC) December 16, 2016
16:05 hrs IST: This has been quite patient knock for Ali and he steps out of the crease to drive the ball through the covers for a four
16:02 hrs IST: Bairstow looked livid with himself there
WICKET Bairstow goes on 49, popping a drive up to KL Rahul off Jadeja. Heartbreak England 253-4 #INDvENG

Live: https://t.co/xXHOmH5N6J

— England Cricket (@englandcricket) December 16, 2016
16:00 hrs IST: Ben Stokes has come out to replace Bairstow, who missed his 15th century
15:57 hrs IST: Jadeja has been the pick of the bowlers today
15:55 hrs IST: Bairstow (49) gave away his wicket, quite literally there; just played it into the hands of KL Rahul at cover
15:52 hrs IST: OUT! Bairstow departs and Jadeja gets his third wicket of the match
15:50 hrs IST: The new ball was available but was not taken!
15:45 hrs IST: Moeen Ali is into his 90s!
15:40 hrs IST: After 77 overs, England are 244/3
15:37 hrs IST: Jonny Baitstow is heading towards his 15th half-century
15:33 hrs IST: Nair, with his off-break, bowls the first over of his international career
15:28 hrs IST: And out of nowhere, Kohli brings in Karun Nair to roll over his arm
15:23 hrs IST: Appeal, turned down and Kohli appeals! This looks good for India
15:20 hrs IST: And 73 overs have passed with England batting on 233/3 on Day 1 of the fifth and final Test
15:17 hrs IST: Beautiful cover drive from Ali to bring up a boundary
15:13 hrs IST: Catch and stumping chance but that was a difficult take for Parthiv Patel
15:10 hrs IST: Both Joe Root and Jonny Bairstow have had a fantastic 2016 with more than 1400 runs each
15:05 hrs IST: 22 overs remain in the day's play, of course if light permits
15:03 hrs IST: Bairstow goes for another big one and it is a six over deep mid-wicket! His third of the day
15:01 hrs IST: The day has so far belonged to England
14:58 hrs IST: And here is some analysis from former India batsman Sanjay Manjrekar
.@sanjaymanjrekar compares delivery strides of Amit Mishra & Jadeja and gives a review of their bowling run-ups https://t.co/JX1th9Q0u5 pic.twitter.com/945RgPf5mp

— BCCI (@BCCI) December 16, 2016
14:52 hrs IST: And England have crossed the 200-run mark!
14:49 hrs IST: The second session undoubtedly belonged to England thanks to that brilliant 146-run third wicket partnership between Root and Ali.
14:46 hrs IST: After 63 overs, England 192/3
14:40 hrs IST: Ashwin and Yadav into the attack from opposite ends
14:35 hrs IST: And we are back! Only one session left in the day's play
14:20 hrs IST: Take a break, we will be back in a while.
14:14 hrs IST: Moeen Ali and Jonny Bairstow are batting at 63 and 10 at tea.
TEA One wicket lost & 114 runs added. Moeen not out on 63, Bairstow 10. England 182-3 #INDvENG

Catch up: https://t.co/xXHOmH5N6J pic.twitter.com/BVcfH1mlzA

— England Cricket (@englandcricket) December 16, 2016
14:11 hrs IST: And it is tea! England are 182/3 in 60 overs vs India
14:06 hrs IST: BIG One! Jonny Bairstow goes for the maximum - the first one for the day
14:03 hrs IST: Moeen Ali has batted with a lot of responsibility here, especially after the wicket of Joe Root; hasn't given anything away.
14:00 hrs IST: And it is Ishant Sharma back into the attack!
13:55 hrs IST: Jadeja back into the attack. Can he pick his third?
13:52 hrs IST: Jonny Bairstow has come out to replace Root, who went back to the pavilion for 88!
WICKET Root falls for a fantastic 88, a review showing he edged Jadeja behind to Patel #INDvENG

Live: https://t.co/xXHOmH5N6J

— England Cricket (@englandcricket) December 16, 2016
13:50 hrs IST: That was a big scalp for India and after 55 overs, India are batting at 167/3
13:47 hrs IST: Kohli went for the review and successful one for India!
13:43 hrs IST: OUT! Root departs and Jadeja has picked up another!
13:36 hrs IST: Time to remember a former England batsman. Happy Birthday!
Happy 47th Birthday to a former England all-rounder who excelled in his performances on the sub-continent, Craig White! pic.twitter.com/v21zqJN15L

— ICC (@ICC) December 16, 2016
13:29 hrs IST: Moeen Ali scores his 10th Test half-century. This is the second one for him this series having also scored a century in the first Test at Rajkot.
for @MoeenAli! It comes off 111 balls with 5 fours. The partnership with Root is now worth 136 #INDvENG pic.twitter.com/ZA9HZEwt5T

— England Cricket (@englandcricket) December 16, 2016
13:25 hrs IST: Stat Attack: Root has played 11 Tests against India and has got at least one 50 plus score in each match.
13:20 hrs IST: Long partnerships easily bring up the run rate. A couple of hours earlier England's run rate was less than 2 per over and it is almost 3
13:16 hrs IST: Only one Indian bowler so far in this match has more than one maiden - Ishant Sharma with figures of 7-4-5-1
13:13 hrs IST: After 46 overs, England are 137/2
13:10 hrs IST: The challenge is back on the Indian bowlers and Kohli to remove at least one of these batsmen as soon as possible
13:06 hrs IST: This has been one fighting partnership by Ali and Root, especially on this turning wicket
13:02 hrs IST: And the 100-run partnership comes up for the two who have batted brilliantly and cautiously following the dismissals of Cook and Jennings
12:59 hrs IST: India should eye a breakthrough. This partnership is almost 100 runs old now
12:56 hrs IST: And 42 overs have passed, England are 116/2 with Moeen Ali and Joe Root at the crease
12:53 hrs IST: Kohli has brought in Umesh Yadav. Will the pace change the rhythm of the session?
12:47 hrs IST: Moeen Ali also slowly building up his innings
12:41 hrs IST: Meanwhile the International Cricket Council also acknowledges Cook's achievement
Congratulations to Alastair Cook on passing 11,000 Test runs! No-one has reached the milestone faster! #BestofTest #IndvEng pic.twitter.com/XOU3ES45xN

— ICC (@ICC) December 16, 2016
12:37 hrs IST: And Joe Root brings up his 27th half-century! This has been a brilliant series for the England batsman; he has scored at least a fifty in all the five Tests so far
for Joe Root! That net he had on the road on Thursday has clearly paid off! It comes off 91 balls with 6 fours #INDvENG pic.twitter.com/6frwSnzRXX

— England Cricket (@englandcricket) December 16, 2016
12:35 hrs IST: England 94/2 after 36 overs
12:32 hrs IST: Impact clearly outside off stump and India are left with only one review
12:30 hrs IST: LBW or not? Jadeja asks for review and Kohli goes for it!
12:28 hrs IST: Today is also the birthday of one of the greatest fast bowlers in the history of the game
He was West Indies' Big Bird, a tall fast bowler with 405 wickets and the lowest economy in ODI cricket - Happy 64th Birthday Joel Garner! pic.twitter.com/hF1VRIjT15

— ICC (@ICC) December 16, 2016
12:24 hrs IST: 50-run partnership comes up for the two
12:22 hrs IST: Ashwin is testing Moeen Ali and the deck turning a lot.
12:18 hrs IST: Ashwin into action
12:15 hrs IST: And Jadeja bowls a maiden immediately after lunch
12:10 hrs IST: And we are back from the break. The second session of Day 1 of the fifth and final Test is about to begin in a few minutes
11:15 hrs IST: Enjoy this stat attack till then
#OnThisDay in 1882, first-class cricket's most prolific run scorer was born. Jack Hobbs' career featured 61,760 runs including 199 centuries pic.twitter.com/TLciFTWCyf

— ICC (@ICC) December 16, 2016
11:40 hrs IST: Take a break. We will be back with the post-lunch session.
11:35 hrs IST: And it is lunch! After 29 overs, England are 68/2 with Root batting on 44 and Ali on 7. Jadeja and Ishant took a wicket each in the morning session
LUNCH England head into the break 68-2 with Root looking good on 44* and Mo there on 7* #INDvENG

Catch up: https://t.co/xXHOmH5N6J pic.twitter.com/JMDEVEzLf1

— England Cricket (@englandcricket) December 16, 2016
11:30 hrs IST: Root and Ali have done a stellar job so far after the dismissals of Cook and Jennings
11:28 hrs IST: This 29th over of the day from Ashwin could be the last of the morning. We will find out in a while
11:21 hrs IST: After 26 overs, England are 26/2 with Joe Root batting on 40 and Moeen Ali on 6
11:17 hrs IST: Kohli's throw is wayward, hits the helmet and England get five runs!
11:15 hrs IST: Really sharp turn for Ravichandran Ashwin, almost a metre!
11:13 hrs IST: Leg spinner Amit Mishra in action who is playing his first Test since Rajkot. He also played a Ranji game in between for Haryana against Goa in which he picked up seven wickets
11:11 hrs IST: Joe Root has slowly reached 35 runs. He is working really hardly at the crease.
11:07 hrs IST: India are also not giving away runs that easily
11:03 hrs IST: England are playing quite cautiously at this point of time for obvious reasons - they do not want to lose more wickets at this important stage of the match
10:56 hrs IST: England 39/2 after 19 overs with a very slow run rate.
10:54 hrs IST: Ravindra Jadeja has picked up 17 wickets in the series so far at an average of 31
10:47 hrs IST: After 17 overs, England are 36/2
10:41 hrs IST: OOH! Should have been taken by KL Rahul! Close chance for him. Ali was almost on his way back!
10:37 hrs IST: Moeen Ali has come out to replace Alastair Cook. This is a man in form!
10:33 hrs IST: With England at 21/2, India are certainly on top at this moment!
10:31 hrs IST: OUT! And spin has worked as Ravindra Jadeja has removed Alastair Cook, who edges and is caught by Kohli at slip
10:25 hrs IST: Captain Kohli has introduced spin in the form of Ravindra Jadeja but no success so far
10:20 hrs IST: Boundary for Cook, the first one for him and second England. England are 17/1 after 11 overs
10:13 hrs IST: Lovely shot from Joe Root for the first boundary of the day!
10:11 hrs IST: Stat Attack - Cook is the fastest in terms of time taken to reach 11000 runs. He has taken just 10 years and 290 days to the landmark.
10:08 hrs IST: Both teams pay tribute to the former chief minister of Tamil Nadu who died recently
#TeamIndia & @englandcricket pay homage to the passing away of former TN CM J Jayalalithaa Ji #INDvENG pic.twitter.com/iVx4BiMxRG

— BCCI (@BCCI) December 16, 2016
10:04 hrs IST: First blood to India!
10:00 hrs IST: And it is Joe Root who has come out to bat!
09:56 hrs IST: Out! Ishant has removed Keaton Jennings for 1! Way outside the off stump and the left-hander goes for the shot only to edge it.
09:52 hrs IST: Cook is the 10th batsman and first Englishman to get 11000 runs in Tests
09:50 hrs IST: What is Joe Root up to here? Any ideas?
No nets? No problem...@root66 will practice anywhere #INDvENG pic.twitter.com/NmzZrgpweN

— England Cricket (@englandcricket) December 15, 2016
09:47 hrs IST: Kudos the ground staff of MA Chidambaram Stadium. Despite the cyclone what a brilliant job they have done to keep the stadium in shape. 
The ground staff are doing a fine job readying the stadium for Friday's Test after the devastation caused by Cyclone Vardah #INDvENG pic.twitter.com/OArSGqiq6l

— England Cricket (@englandcricket) December 15, 2016
09:44 hrs IST: Ishant Sharma makes his comeback with a maiden over!
09:40 hrs IST: Look at India coach Anil Kumble check out the Chepauk pitch. That is one master tactician assessing the battle field
We are here in Chepauk and #TeamIndia coach @anilkumble1074 takes a close look at the pitch on Day 1 #INDvENG pic.twitter.com/IDYrSqoTjq

— BCCI (@BCCI) December 16, 2016
09:37 hrs IST: And here is the Indian playing XI
#TeamIndia Playing XI for the 5th Test @Paytm Test Cricket #INDvENG. Follow the game here - https://t.co/sEPaSELv7s pic.twitter.com/QUrq0Xvn0W

— BCCI (@BCCI) December 16, 2016
09:33 hrs IST: Fast, swinging ball and the ball goes to cover, misfield and Cook makes it 11000 runs in Test matches
09:31 hrs IST: Umesh Yadav with the ball and England captain and opener Alastair Cook is 2 runs short of 11000 runs.
With a couple off the first ball of the match Alastair Cook goes to 11,000 Test runs - congratulations Cooky! #INDvENG pic.twitter.com/s3tGLpiaz7

— England Cricket (@englandcricket) December 16, 2016
09:30 hrs IST: The anthems have been played and it is game time!
09:29 hrs IST: For England, Liam Dawson will make his debut while Stuart Broad is back from his injury. James Anderson and Chris Woakes miss out on this game
09:28 hrs IST: Leggie Amit Mishra has replaced Jayant Yadav.
09:25 hrs IST: So pacer Ishant Sharma is back after his wedding to Pratima Singh and will play in the fifth and final Test vs England. He replaces Bhuvneshwar Kumar
09:20 hrs IST: Jayant Yadav, the centurion of fourth Test, is suffering from a hamstring niggle and has been rested.
09:12 hrs IST: Cook said: "Yeah. It's a good toss to win and we will bat first. Looks a very good surface considering what has happened over the last week. Never seen a pitch dried with coal before. It can be a blessing in disguise, not having nets before the game. We need to mentally get ourselves right. We have one opportunity to do that. Liam Dawson is on debut, proud moment for him. Broad is back, Jimmy and Woakes miss out."
09:10 hrs IST: At the toss, Kohli said: "It's the best session for our seamers to bowl. Winning is a great habit and we have created that. Important to not take the foot off the pedal. We are playing some good cricket and that's exactly our motivation. Chennai is always a place where we love playing."
09:05  hrs IST: India (Playing XI): Murali Vijay, Lokesh Rahul, Cheteshwar Pujara, Virat Kohli(c), Karun Nair, Parthiv Patel(w), Ravichandran Ashwin, Ravindra Jadeja, Amit Mishra, Umesh Yadav, Ishant Sharma
England (Playing XI): Alastair Cook(c), Keaton Jennings, Joe Root, Moeen Ali, Ben Stokes, Jonny Bairstow(w), Jos Buttler, Adil Rashid, Stuart Broad, Liam Dawson, Jake Ball
09:00 hrs IST: England have won toss for the fourth time in this series and they have decided to bat first against India
08:53 hrs IST: After Cyclone Vardah's devastation, can cricket bring some cheer to the people of Chennai?
08:49 hrs IST: Welcome all!
After completing an innings victory in the fourth Test in Mumbai, Kohli's men will become the first Indian team to go unbeaten in 18 matches by avoiding defeat in the series finale in Chennai.
The majestic Kohli, who is in the form of his life after striking his third double century of the year, is no mood to ease up on their beleaguered visitors.
After putting the outcome of the series beyond doubt, Kohli said India would now "really express ourselves fully" in Chennai and hope to make it 4-0 against opponents who had been something of a bogey team.
England had won their last three series against India, including their tour in 2012 at the start of Cook's record-breaking tenure as captain.
Four years on, Cook's appetite for the job is being increasingly called into question and the skipper himself has spoken of the possibility of stepping down while continuing to be available for selection as a batsman.
After the Mumbai Test, Cook said he had still to decide on his future but he raised eyebrows by declaring that Joe Root -- his most likely successor -- should be ready to take on the task.
England coach Trevor Bayliss is among those hoping that Cook does decide to remain captain, describing the speculation around his future as an unwelcome distraction.
While Cook considers whether to abdicate, his counterpart -- dubbed King Kohli by the Indian media -- appears increasingly confident on the throne.
He now has a chance of setting a new Indian record for the most runs in a series after scoring 640 in the first four Tests, with Sunil Gavaskar's 774 on the 1971 tour of West Indies coming into view.
Kohli is one of several Indian players who have had outstanding series, including spinner Ravichandran Ashwin who has taken 27 wickets.
India are expected to be unchanged but England could bring in an extra spin bowler on a pitch that is expected to turn, with Cook admitting it was a mistake to only pick two specialist spinners in Mumbai. James Anderson has also been ruled out of the fifth Test.