Story Progress
Back to home
Highlights, India vs England, 5th Test, Day 2, Chennai: India Trail England by 417 Runs
Highlights - India vs England: After bowling England out for 477, India ended Day 2 of the fifth and final Test at 60 for no loss, trailing the visitors by 417 runs. Catch all the highlights of the Test between India and England here.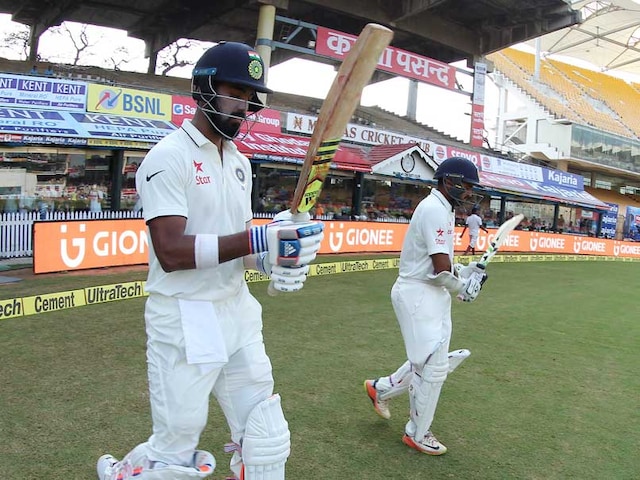 KL Rahul and Parthiv Patel batted well to not lose a single wicket on Day 2 of the 5th Test.
© BCCI
England's lower order provided brilliant resistance to help them reach a more than a competitive first innings total of 477. India in reply also batted well in the last session to end the day at 60 for no loss. Catch all highlights here (SCORECARD)
16:45 hrs IST: Hope you enjoyed the coverage. Catch all the action tomorrow morning for the India Vs England 5th Test Day 3 at Chennai at 0930 hours here. Till then, take care.
16:43 hrs IST: Lokesh Rahul (30 not out) and Parthiv Patel (28 not out) batted brilliantly in the last session of the day to not lose a wicket and help India reach 60 for no loss in 20 overs at stumps
Stumps on Day 2 in Chennai, the game very much in the balance with India on 60/0 in reply to England's 1st innings score of 477 #IndvEng pic.twitter.com/YidVdSzplO

— ICC (@ICC) December 17, 2016
16:39 hrs IST: Liam Dawson also got to roll over his arm for the first time in Test cricket before close of play.
16:35 hrs IST: And it is stumps!
CLOSE Day Two = done. India finish on 60-0 in reply to England's 477 #INDvENG

Catch up here: https://t.co/xXHOmHnovj pic.twitter.com/uQdoATP95t

— England Cricket (@englandcricket) December 17, 2016
16:26 hrs IST: Must admit - this has been a brilliant partnership between Patel and Rahul
16:22 hrs IST: And India reach 50 for nos loss in 16.2 overs
16:18 hrs IST: India about to reach the 50-run mark, that too without losing a wicket
16:11 hrs IST: England appeal but that is not out!
16:07 hrs IST: It will be quite something if India can go home tonight without losing any wicket
16:00 hrs IST: Just about half an hour left in the day's play
15:50 hrs IST: After 10 overs, India are 18 for no loss
15:45 hrs IST: Some of the lights are already on at Chepauk.
15:40 hrs IST: First change in bowling, England bring in spin with Moeen Ali
15:35 hrs IST: For cricket stat lovers:
#OnThisDay Phil Simmons took what remains the most economical spell in ODI history, conceding 3 runs from his 10 overs and taking 4 wickets! pic.twitter.com/oTA9wnzaRL

— ICC (@ICC) December 17, 2016
15:27 hrs IST: India's main task right now would be to not lose wickets
15:21 hrs IST: India have started cautiously in reply to England's 477
15:16 hrs IST: First boundary for India, from the willow of Patel
15:12 hrs IST: So KL Rahul has come out to bat with Parthiv Patel for India and Stuart Broad is bowling for the visiting team
15:10 hrs IST: Ravindra Jadeja is the only one to pick up three wickets while Umesh Yadav and Ishant Sharma picked up two each.
ALL OUT England end on 477 as Mishra bowls Ball. Dawson unbeaten on 66 in his 1st Test knock #INDvENG

Live: https://t.co/xXHOmHnovj pic.twitter.com/bh5FCJJBK1

— England Cricket (@englandcricket) December 17, 2016
15:05 hrs IST: Moeen Ali was the star of the England batting line-up with his 146. Joe Root (88), debutant Liam Dawson (66 not out), Adil Rashid (60) and Jonny Bairstow (49) also made important contributions.
5th Test Day 2 Innings Break! England all out for 477. Follow the game here - https://t.co/sEPaSEtUfU #INDvENG pic.twitter.com/O2C9rjAMGg

— BCCI (@BCCI) December 17, 2016
15:00 hrs IST: Jake Ball is the last wicket to fall, for 12, as he is bowled by Amit Mishra.
14:55 hrs IST: ENGLAND HAVE BEEN BOWLED OUT FOR 477!
14:50 hrs IST: England 466/9, India need just one wicket now
14:40 hrs IST:  OUT!  2 runs completed. A mix-up and Broad has to depart. He is run-out. Needless from England. 
14:32 hrs IST: REVIEW! Appeal for an LBW. The umpire says not-out but India decide to go for a review. India lose both their reviews as the third umpire says not-out 
14:30 hrs IST: Welcome back after tea! Stuart Broad and Liam Dawson are at the crease. India need two wickets and England will look to score as many runs as possible
14:20 hrs IST: Take a break. We will be back in a short while
TEA Dawson leads England to the break at 452-8 & sits on 55. A round 100 added in the session #INDvENG

Catch up: https://t.co/xXHOmHnovj pic.twitter.com/Wuwuyh09a7

— England Cricket (@englandcricket) December 17, 2016
14:15 hrs IST: And it is tea on Day 2! England are 452/8 after 151 overs with Liam Dawson (55 not out) and Stuart Broad (17 not out) at the crease.
14:09 hrs IST: After 150 overs, England 452/8
14:02 hrs IST: He was struck hard on the helmet by Ishant at the start. It woke him up and he has gone on to score a composed half-century
14:00 hrs IST: Congratulations to Liam Dawson on scoring his maiden half-century that too on debut!
First Test match innings, first Test - cracking job @daws128! #INDvENG pic.twitter.com/015VXGyuCw

— England Cricket (@englandcricket) December 17, 2016
13:55 hrs IST: Stuart Broad has come in to replace Rashid
13:53 hrs IST: Wicket! Finally Umesh Yadav has given India the breakthrough they needed. Rashid went back to the pavilion after scoring a solid 60!
13:50 hrs IST: The partnership has also crossed the 100-run mark!
13:45 hrs IST: Debutant Liam Dawson is also heading towards his 50
13:43 hrs IST: And Adil Rashid brings up his second half-century in Tests! It has come at a good time for England
for Adil Rashid! His second in Tests, with 7 fours. A very handy one it has been too #INDvENG pic.twitter.com/clWKf53R6P

— England Cricket (@englandcricket) December 17, 2016
13:40 hrs IST: Brilliant fielding and throw at the stumps from Jadeja
13:37 hrs IST: Three close in fielders for the offie
13:35 hrs IST: Ashwin comes in for Mishra and immediately gets a lot of support from the home crowd who are chanting "Ashwin, Ashwin!"
13:30 hrs IST: Superb piece of fielding from Pujara - these things can really boost the confidence of now just the bowlers but the entire team
13:28 hrs IST: Which bowler should Kohli go to for another wicket? He has tried everything in the box
13:24 hrs IST: Dawson and Rashid are really frustrating the Indian bowlers here.
13:18 hrs IST: And the 400-run mark comes up for England
13:14 hrs IST: It is hot and humid out there in Chennai
13:09 hrs IST: The Indian bowlers have a lot of work to do
13:05 hrs IST: While England are near the 400-run mark, both Adil Rashid and Liam Dawson are nearing personal landmarks of scoring half-centuries
13:00 hrs IST: And it is Quinton de Kock's birthday as well
Happy Birthday to South Africa's wicket-keeper batsman and all-round wonderkid, Quinton de Kock! pic.twitter.com/u6xJs7FGzq

— ICC (@ICC) December 17, 2016
12:56 hrs IST: Moving away from Chennai, this is historic day for this reason too
#OnThisDay 1946 Don Bradman and Sid Barnes put together a new record partnership for the 5th wicket, amassing 405 runs at the SCG pic.twitter.com/fS8JDnXIHW

— ICC (@ICC) December 17, 2016
12:52 hrs IST: Adil Rashid is lucky and hits a four the next ball
12:50 hrs IST: In the air and drops just short of Umesh Yadav at mid-off.
12:47 hrs IST: Kohli will have to think out of the box to get those last three wickets otherwise these two will just keeping batting on
12:45 hrs IST: After 127 overs, England are 379/7
12:40 hrs IST: This partnership is now 50-runs old
12:37 hrs IST: What Rashid and Dawson are doing actually if keeping the England scorecard ticking.
12:30 hrs IST: India need to break this partnership if they want England to be bowled out before 400
12:25 hrs IST: Progress of play is slightly slow after lunch
12:20 hrs IST: Ishant Sharma is bowling the first over after lunch
12:15 hrs IST: Welcome back everyone. Play resumes after lunch
11:45 hrs IST: Take a break. We will be back in some time.
11:43 hrs IST: The venom that the Indian bowlers had in the morning, has kind of diminished over a period of time.
11:39 hrs IST: Guess that was a shared session of play. India did pick up three wickets but they were able to bowl England out.
At Lunch on Day 2, England are 352/7 (Ali 146, Dawson 27*). Follow the game here - https://t.co/sEPaSEtUfU #INDvENG pic.twitter.com/ZdpYJ07LKc

— BCCI (@BCCI) December 17, 2016
11:35 hrs IST: And that is lunch. England are batting at 352/7 in 119 overs with Adil Rashid and Liam Dawson at the crease
11:28 hrs IST: Here is the photo of the collision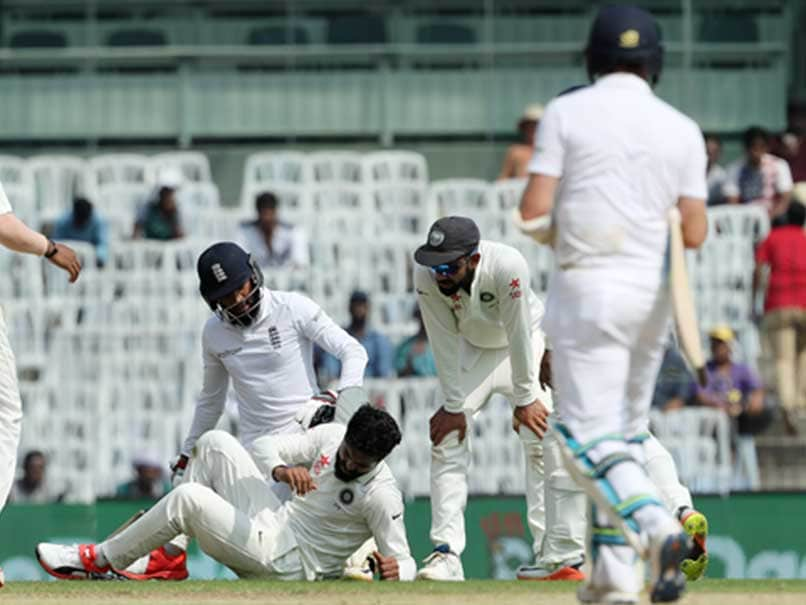 11:26 hrs IST: Looks like India will not be able bowl England out before lunch
11:20 hrs IST: That collision with Rashid does not seem to have affected Jadeja. Superb athleticism and fielding by the southpaw again!
11:15 hrs IST: If England can reach 400, that will be a strong first innings total for the visiting team
11:10 hrs IST: Good news, Jadeja is up and going
11:05 hrs IST: That was quite a dangerous clash between Rashid and Jadeja. Jadeja looks hurt
11:00 hrs IST: OOOH! That must have hurt!
10:55 hrs IST: England are batting on 344/7 with Liam Dawson and Adil Rashid at the crease
10:50 hrs IST: England are 329/7 after 107 overs
10:47 hrs IST: This is a test for new batsman Adil Rashid
10:45 hrs IST: Quick delivery and OU.... oh no came off the thigh pad!
10:43 hrs IST: England are seven down now!
10:40 hrs IST: That was a brilliant innings from Moeen Ali who went to the pavilion for 146. His innings included 13 fours and one six!
10:35 hrs IST: And the try is successful as another short one from Umesh Yadav results in a pull shot from Moeen Ali, who IS CAUGHT AT MID-WICKET BY JADEJA!
10:30 hrs IST: Ishant and Umesh are testing Ali and Dawson with some sharp bouncers
10:25 hrs IST: Moeen Ali is slowly heading towards the 150-run mark!
10:20 hrs IST: Dawson is impressive. Solid defence, head over the ball. He looks impressive
10:15 hrs IST: That must have been scary for the debutant!
10:14 hrs IST: OUCH! That was some bouncer from Ishant! Struck debutant Liam Dawson on his helmet.
10:12 hrs IST: And now a four through deep mid-wicket for Ali!
10:10 hrs IST: SIX! Moeen Ali comes down the track and hits a maximum over long-off
10:07 hrs IST: Great morning for India so far!
10:06 hrs IST: Ishant Sharma strikes and Jos Buttler is gone! LBW for 5!
10:05 hrs IST: STAT ATTACK: Ashwin has dismissed Ben Stokes five times in this series!
10:00 hrs IST: Jos Buttler is looking a bit iffy but as long as he does not lose his wicket, it will work for England.
09:55 hrs IST: Historic day for Indian cricket today. Will anyone else make history on this Saturday?
#OnThisDay 1933, Lala Amanath became the first person to score a Test century for India, scoring 118 runs on debut pic.twitter.com/1hU9GNfokG

— ICC (@ICC) December 17, 2016
09:50 hrs IST: Ashwin has already picked one this morning. Which Indian bowler will be most successful today? Look at them prepare ahead of the second day's play
Big day for the bowlers. Action unfolds in minutes #TeamIndia #INDvENG @Paytm Test cricket pic.twitter.com/T7eKi7PuQx

— BCCI (@BCCI) December 17, 2016
09:46 hrs IST: The wicket looks as good as new at the start of Day 2, doesn't it?
How much can the Day 2 track offer? What's in store for the bowlers? We find out in a bit #INDvENG #TeamIndia @Paytm Test Cricket pic.twitter.com/UBHWVHZQ4l

— BCCI (@BCCI) December 17, 2016
09:43 hrs IST: Both Ashwin and Ishant are bowling quite well. Their bowling is looking full of sting, ready to strike... another wicket might just be around the corner
09:37 hrs IST: Ishant Sharma bowling from the other end
09:35 hrs IST: Local boy R Ashwin has struck on the fifth ball of the day to pick up England's fifth wicket!
WICKET Ashwin strikes 4th ball as Stokes nicks behind. He goes for 6, England 287-5 #INDvENG

Live: https://t.co/xXHOmHnovj

— England Cricket (@englandcricket) December 17, 2016
09:34 hrs IST: OUT!!! Ben Stokes is gone for 6!
09:33 hrs IST: England take off from 284/4 at the end of Day 1 and the first run of the day from the first delivery. Play on!
09:32 hrs IST: Moeen Ali and Ben Stokes are at the crease and it is Ravichandran Ashwin who will open the bowling
09:31 hrs IST: Day 2 of the fifth and final Test between India and England being played at Chennai is about to begin
09:30 hrs IST: Good morning everyone!
Indian bowlers did not look menacing enough as England slowly but surely inched towards a big total. At stumps, Ali was batting on 120 and Ben Stokes was on five. Ravindra Jadeja was India's best bowler with three wickets for 73 runs.
Having opted to bat after winning the toss, the visitors lost skipper Alastair Cook (10) and Keaton Jennings (1) early, and recovered due to a 146-run third-wicket partnership between Root and Moeen.
Promoted
The visitors were 284/4 at stumps on Friday, and will look to build a big total as they aim to end the series with a consolation win.
On the other hand, Indian bowlers apart from Jadeja found it difficult to get going on Day 1, none more so than in-form spinner R Ashwin. The all-rounder will hope to find his magic touch again and help the hosts continue their quest for a fourth-straight win against England.
Topics mentioned in this article