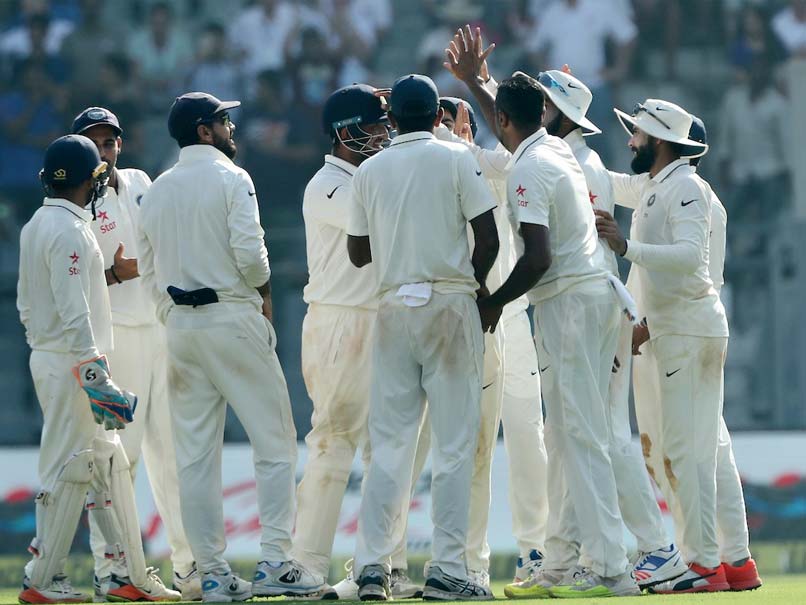 Live Cricket Score - India vs England: Ashwin took 4/75 on Day 1
© BCCI
India will look to continue their dominance when they take on England in the fourth Test at Mumbai's Wankhede Stadium. Both the sides are marred with injuries but still Virat Kohli and Co. look settled and are expected to hold the fort again in penultimate Test of the series. (SCORECARD)
India Vs England 4th Test Day 2 at Mumbai
16:34 IST: India will look to take the early wickets tomorrow and it will be spin all over again for sure. On the other hand, England will plan to take their innings forward and try to score at least 400. That's it from us. See you tomorrow. Adios!
16:32 IST: STUMPS! England finish the day with 288/5. Ben Stokes (25*) and Jos Buttler (18*) are at the crease. Ashwin has again been the star of the day with 4/75 in 30 overs
16:30 IST: Last over of the day 
16:21 IST: A big appeal for lbw on Stokes by Jadeja. It is turned down, but India call for a review. The review upholds the umpire's original decision.
16:16 IST: Minimum overs for the day have been bowled. But we still have 15 minutes to go.
16:10 IST: Don't forget India will have to bat fourth in this Test match. If England manage to score 350-plus here in the first innings, it can be anybody's game
16:02 IST: Jadeja comes into the attack now. He has bowled well in patches 
15:54 IST: Wonderful display of spin bowling here. Jos Buttler and Ben Stokes at the crease. England 259/5
15:43 IST: OUT! Jonny Bairstow perishes on 14, fourth wicket for Ashwin. England 249/5
15:38 IST: REVIEW! Can this be another wicket for India? No, says the third umpire. 
15:27 IST: FOUR! Seems England are now thinking that the best way to play these spinners is to attack. Bairstow hits a T-20 shot for four 
15:18 IST: Ashwin is getting unplayable here. He has beaten the new batsman Ben Stokes three times now. England 236/4
15:03 IST: OUT!  One more wicket for Ashwin and this time it is the big one. Jennings out Caught by Pujara!! Ash is on fire. 
14:57 IST: OUT! Ashwin to Moeen Ali, out Caught by Nair!! The bowling change has worked
14:54 IST: Fifty! Moeen Ali scores ninth Test fifty of his career
14:44 IST: The England batsmen have carried off from where they left off post the tea break. Good, aggressive batting from both the left-handers.
14:41 IST: SIX! Moeen Ali dances down the track and flicks Jadeja's delivery over deep midwicket.
14:36 IST: And we are back for the final session of Day 1.
14:15 IST: TEA! England 196/2 at Tea (Keaton Jennings 103*, Moeen Ali 25*, R Ashwin 1/55)
14:10 IST: England 196/2. Jennings and Moeen Ali have completed a partnership of 60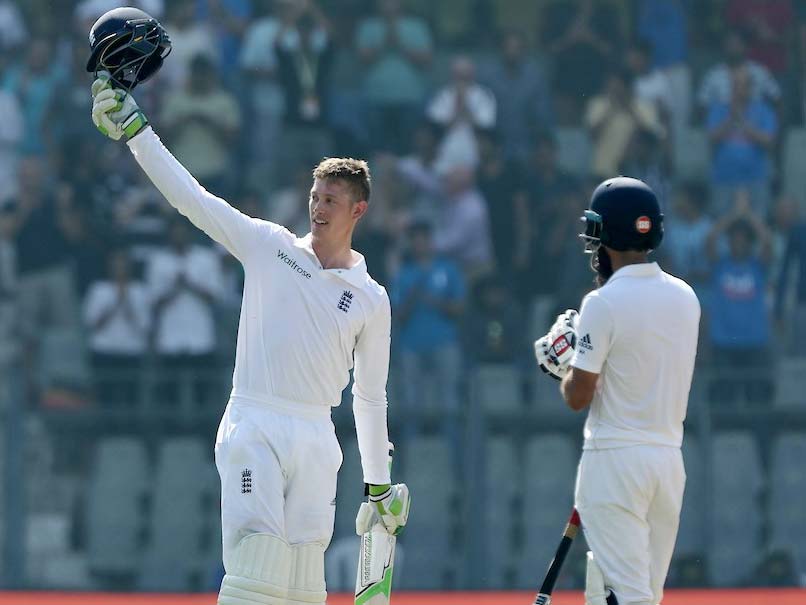 13:54 IST: CENTURY! 19th Englishman to score a hundred in his debut innings. Keaton Jennings completes it with a reverse sweep
13:45 IST: TOUGH CHANCE! Moeen Ali was expecting a bouncer and just touching the finger tips of Virat Kohli at second slip. It could have been a great catch
13:32 IST: Big appeal by Ashwin! Turned down by umpire Bruce Oxenford
13:30 IST: In 16 matches of the First-Class county this season, he scored 1548 runs with an average of 64.50, which include seven centuries and two fifties 
13:19 IST: Jennings is now eleven runs short of the first Test hundred. England 167/2 
13:18 IST: Eleven minutes of play lost. Third umpire Marais Erasmus walks out as the on-field umpire. Chettithody Shamshuddin is the third umpire now
13:07 IST: UMPIRE INJURED! Looks like umpire Paul Reiffel is hit on the head by Bhuvi's throw. The important thing is that it was just a lob from the fielder and not a full fledged throw.
12:51 IST: FOUR! First exhibition of reverse sweep by Jennings. He moves on to 78
12:44 IST: Jayant Yadav replaces Jadeja now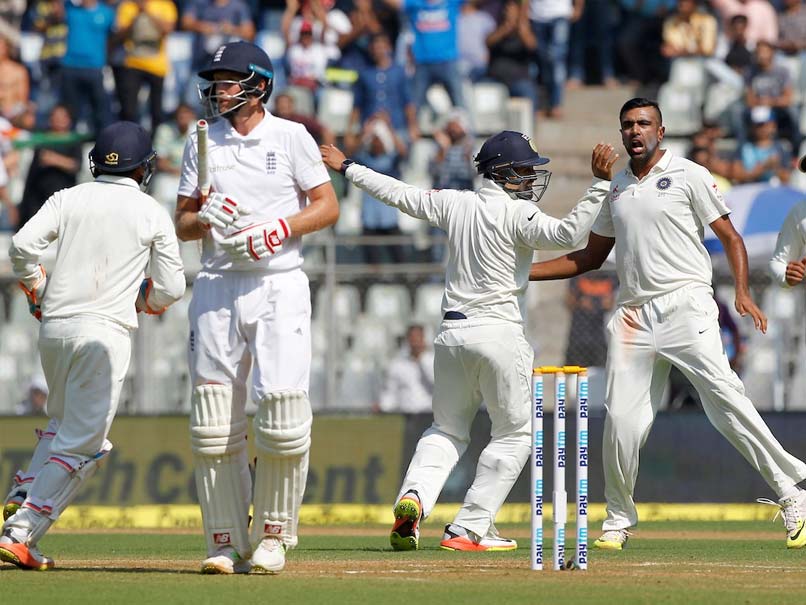 Ashwin sends Root home. Photo credit: BCCI
12:27 IST: OUT!  Superb bowling by Ravichandran Ashwin and a fantastic catch by Virat Kohli at slip. Root out on 21. Looked like he was in two minds playing that ball
12:25 IST: Missed opportunity! Parthiv Patel misses the stumping, Root was way ahead of the crease. England 135/1
12:25 IST: Some statistics for you! In 2016, Jadeja has the best economy rate of 2.02 in Tests 
12:20 IST: FOUR! That's a superb hit from Root. Not a bad ball at all from Jadeja though. Flighted delivery on the fuller side, Root leans forward 
12:13 IST: Jadeja to start the proceedings after lunch. He is looking good
11:30 IST: LUNCH! England are 117/1, Keaton Jennings batting on 65* and Joe Root is 5*
11:28 IST: Hopefully the last over before lunch now. England 116/1
11:17 IST: HUNDRED comes up for England in the 27th over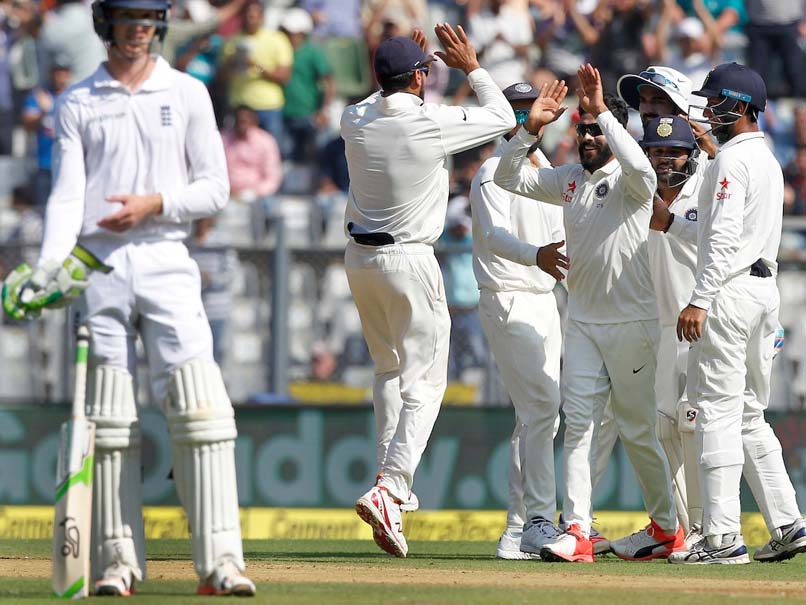 11:12 IST: OUT! Ravindra Jadeja gives India the breakthrough. Cook out stump for 46
11:08 IST: HALF-CENTURY for Keaton Jennings in his debut! Well played young-man. England 92/0
11:06 IST: FOUR! Cook joins the party now with back to back boundaries
11:00 IST: Difficult to contemplate why Kohli has a long-off for Cook
10:57 IST: Jayant Yadav comes into the attack 
10:54 IST: Aah! That spun sharply. Half chance for stumping but Parthiv fails to collect it cleanly. England 71/0
10:50 IST: FOUR! Dealing in boundaries now England. Jennings reaches to 43
10:47 IST: Two-runs for Jennings. Don't forget the opener was dropped on 0 by Karun Nair. England 65/0 
10:40 IST: FOUR! Sheer elegance by Jr Jennings there. Ravindra Jadeja at extra cover didn't even move. This young lad looks promising
10:40 IST: Umesh Yadav comes back into the attack
10:36 IST:  The 50-run stand is up and the batsmen have a congratulatory meeting together to celebrate that landmark 
10:30 IST: FOUR! Young man growing in confidence. Excellent placement by Keaton Jennings. England now 45/0
10:20 IST: That's 2000 runs in Test match cricket vs India for Alastair Cook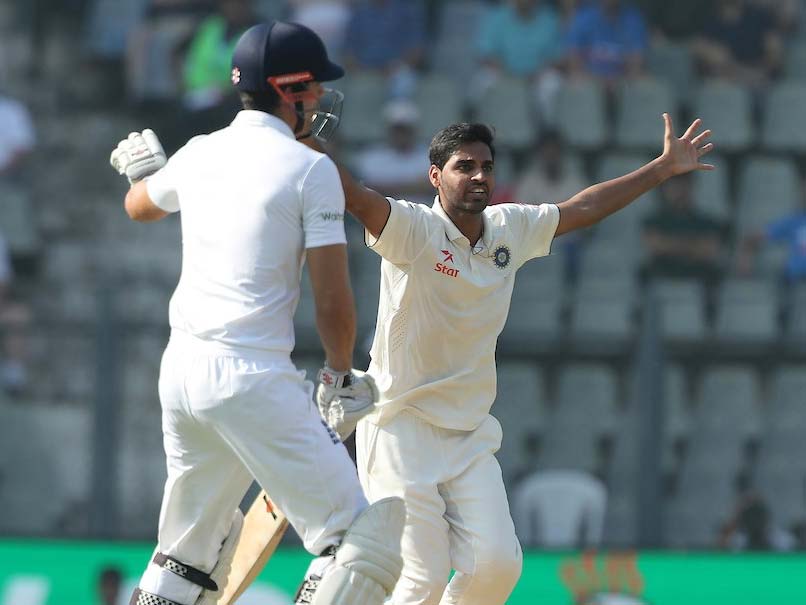 9:52 IST: England are 21/0 after five overs 
9:48 IST: FOUR! First runs for Keaton Jennings and he is off-the mark with a boundary
9:45 IST: Dropped! Bit of bounce by Umesh Yadav and Karun Nair drops it at the gully. Should say, was a difficult chance
9:42 IST: Superb delivery shaping away by Bhuvneshwar Kumar! Just missed a fine gully, could have been the first wicket for India
9:39 IST: Maiden over by Umesh Yadav. England are 2/0
9:30 IST: Bhuvneshwar to Cook, 2 runs, to mid wicket
9:30 IST: Bhuvneshwar Kumar will start the proceedings. Beautiful delivery right up! That's really squared up Cook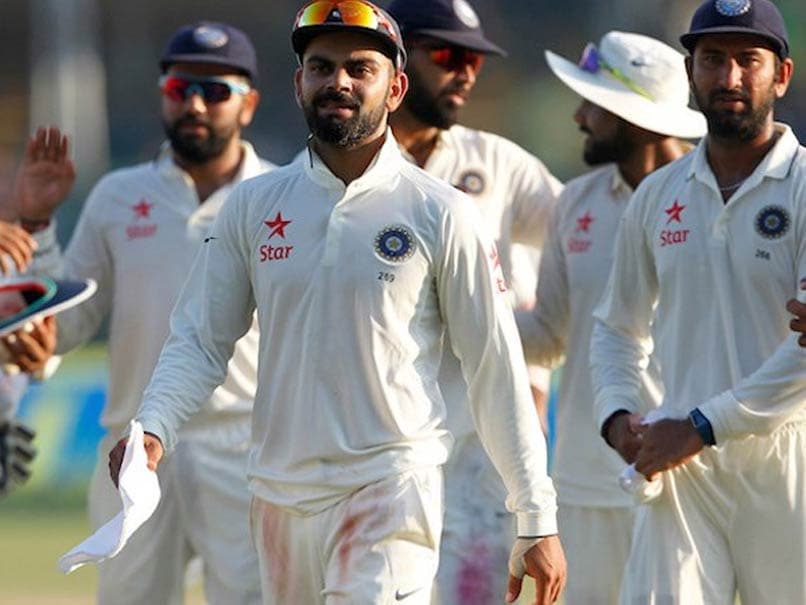 9:15 IST: India(Playing XI): Murali Vijay, Lokesh Rahul, Cheteshwar Pujara, Virat Kohli(c), Karun Nair, Ravichandran Ashwin, Parthiv Patel(wk), Ravindra Jadeja, Jayant Yadav, Bhuvneshwar Kumar, Umesh Yadav
England(Playing XI): Alastair Cook(c), Keaton Jennings, Joe Root, Moeen Ali, Ben Stokes, Jonny Bairstow(w), Jos Buttler, Chris Woakes, Adil Rashid, James Anderson, Jake Ball
9:10 IST: India make two changes: KL Rahul comes in for Ajinkya Rahane and Bhuvneshwar Kumar takes the place of Mohammad Shami in the playing XI
9:09 IST: England make two changes: Jr Jennings makes his debut! Proud moment for Ray Jennings for sure. For Gareth Batty, fast-bowler Jake Ball comes in
England win the toss and elect to bat in the 4th Test @Paytm Test Cricket #INDvENG. Follow the game here - https://t.co/ZlqFjQOpaD pic.twitter.com/qYt7jAjONl

— BCCI (@BCCI) December 8, 2016
9:08 IST: Virat Kohli, "It looks like a good wicket to bat on. It is a not a bad toss to lose. Wankhede on day 1 is always going to be crucial. We are going in with two seamers. We are looking at the whole series as a package to execute our skills. Unfortunately, Shami has soreness in his knee and Ajinkya Rahane injured his finger. So, KL Rahul is back at the top of the order and Karun holds onto his spot. Bhuvi comes in for Shami."
9:07 IST: Alastair Cook, "We will have a bat. It looks like a good wicket. All three games we have played have been on good wickets. We expect nothing different. There is good support for us here and we hope to do well. We had a few days off. So, back to business now. It is nice to turn up at a venue, where you have had good memories. Keaton comes in for Hameed and Jake Ball comes in for Batty. Broad's foot is still not right."
9:06 IST: Toss time! England win toss, elect to bat 
9:05 IST: Pitch Report! Sunil Gavaskar says the wicket is dry and definitely going to turn. For the first couple of days the ball will come onto the bat. But the spinners will get the advantage from the far end.
The pitch will start taking turn very soon, he says  
9:00 IST: England have won the toss and will bat first
8:57 IST: Welcome all!!
The pitch, as claimed by the curator, is not a rank-turner and will only help the spinners from the third day.
The hosts will not have the services of Ajinkya Rahane and will be interesting to see who replaces him in the playing XI. Mohammad Shami is also doubtful for the Test and Shardul Thakur has been kept as standby.
England, on the other hand, have confirmed the debut of Keaton Jennings and few other changes are expected from England captain Alastair Cook.
Incidentally, England have won the last two matches they have played here -- in 2006 and 2012.
India have won 10 out of 24 matches at the venue.