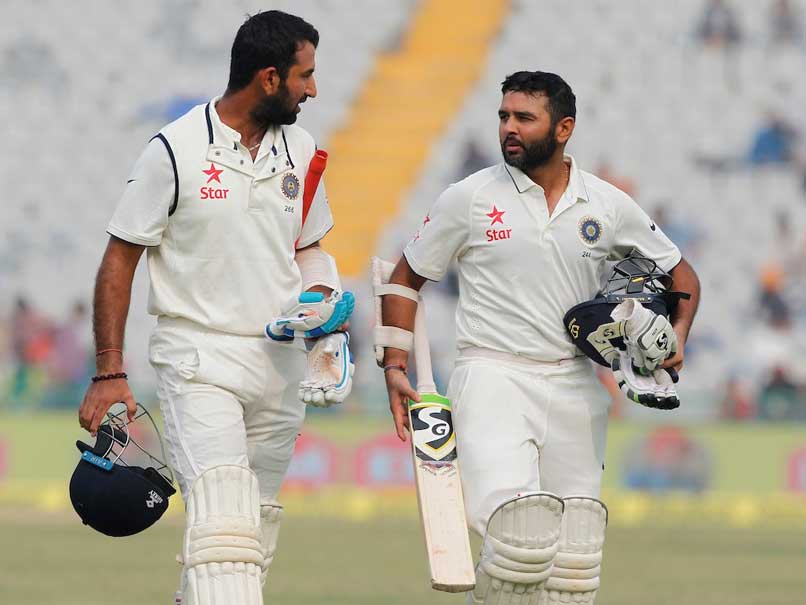 Parthiv Patel and Cheteshwar Pujara led India's chase after Murali Vijay's wicket.
© BCCI
After dismissing England for a total of 236 on Day 4 of the 3rd Test in Mohali on Tuesday, India reached the target of 103 runs with the help of Parthiv Patel's unbeaten 67-run knock. The hosts have now taken a 2-0 lead in the five-match series. Catch highlights of the India vs England 3rd Test here. (SCORECARD)
16:10 IST: Thank you for staying with us for the live coverage of the 3rd Test from Mohali. Do join us for the live coverage of the 4th Test in Mumbai.
16:05 IST: England captain Alastair Cook laments his side's performance in the 1st innings. "If you get bowled out for 280 you won't win games," he says.
16:02 IST: "We have just played very good cricket. We are getting more and more confident. We lost the toss, bowled them out for 280. It was amazing to see the lower order contribute," Indian skipper Virat Kohli says after the win.
16:00 IST: Ravindra Jadeja is given the Man of the Match award for his all-round performance in the match. "The next time I reach 90 I will be careful," he says about his innings in the post-match presentation.
15:30 IST: That's it in Mohali! Parthiv smashes a Batty delivery for a boundary to seal an eight-wicket win for India. The hosts have take a 2-0 lead in the five-match series.
15:24 IST: India's 100 runs are up. Only three more runs needed to seal a 2-0 series lead.
15:16 IST: OUT! Pujara tries to lift a Rashid delivery, but he is caught by Root. He goes for 25. India 88/2.
15:15 IST: Only 15 more runs required now. India 88/1 from 17 overs (Parthiv 57*, Pujara 25*).
15:05 IST: Parthiv Patel notches up his fifth Test fifty. He is in no mood to relent here. India 76/1 from 14 overs (Parthiv 51*, Pujara 19*).
14:56 IST: Another boundary from Parthiv. India 57/1 from 12 overs (Parthiv 35*, Pujara 17*).
14:48 IST: Parthiv Patel with a boundary from a Moeen Ali delivery. India 48/1 from 10 overs (Parthiv 29*, Pujara 15*).
14:38 IST: Parthiv continues where he left off before tea, scores a four off a Stokes delivery. India 41/1 from 8 overs (Parthiv 23*, Pujara 14*).
14:15 IST: Tea has been called. India 33/1 from 6 overs (Parthiv 16*, Pujara 13*).
14:12 IST: No respite for England here. Adil Rashid is brought into the bowling attack, and Pujara scores one more boundary, while another travels to the boundary as byes. India 33/1 from 6 overs (Parthiv 16*, Pujara 13*).
14:10 IST: Pujara smashes Anderson for two boundaries from his over. India 24/1 from 5 overs (Parthiv 15*, Pujara 9*).
14:05 IST: Parthiv Patel scores a couple of fours from Woakes' over. India 16/1 from 4 overs (Parthiv 15*, Pujara 1*).
14:00 IST: It's a maiden for Anderson again. India 8/1 from three overs.
13:51 IST: OUT! Murali Vijay gives away an outside edge to a Woakes delivery, and is caught by Root at slips. India 7/1 from 1.5 overs.
13:49 IST: Parthiv Patel opens his account with a boundary through covers from a Woakes delivery.
13:44 IST: Murali Vijay and Parthiv Patel open India's batting. James Anderson starts the bowling proceedings for England.
13:38 IST: OUT! James Anderson fails to reach the crease while going for two runs. Ashwin does well to complete the run out. England fall for a total of 236, and India will need to score 103 runs to win the match and take a 2-0 series lead.
13:35 IST: Ninety overs gone, England are 235/9 and have a lead of 101 runs (Hameed 58*, Anderson 5*).
13:28 IST: Haseeb Hameed completes his second Test fifty with a six off an Ashwin delivery. England 228/9 from 89 overs (Hameed 51*, Anderson 5 *).
13:20 IST: Two fours off Ashwin's over by Hameed. England 214/9 from 87 overs (Hameed 37*, Anderson 5*).
13:08 IST: The 200 runs are up for England, but they still have a mountain to climb in Mohali.
13:00 IST: OUT! Rashid's gone now. He lifts up a Shami delivery, and is caught by Umesh. England 195/9 now.
12:58 IST: OUT! Chris Woakes fails to judge the bounce from a Shami delivery, and he gives away an edge, which Parthiv easily catches. England 195/8.
12:48 IST: Clever batting from Hameed and Woakes here. They are keeping the score ticking with minimum risks, in terms of the shots being played. India need a breakthrough here.
12:36 IST: 78 overs gone, England are 184/7 (Hameed 16*, Woakes 26*).
12:26 IST: Hameed and Woakes have been quick to add some runs to England's total in the day's second session. The visitors are 175/7 after 75 overs (Hameed 15*, Woakes 18*).
12:18 IST: England add 8 runs from Ashwin's over. They are 164/7 from 72 overs (Hameed 14*, Woakes 8*)
11:35 IST: That's it in the day's first session. England go to lunch with a lead of 22 runs and a score of 156/7 in their second innings (Hameed 13*, Woakes 1*).
11:20 IST: OUT! Joe Root is gone! He is caught by Rahane from a Jadeja delivery. India well and truly in command now.
11:15 IST: Root and Hameed have done well so far in this partnership. No unnecessary risks, and trying to keep the basics right. They will need to be at the crease for a long period of time if England are to save themselves from defeat.
11:06 IST: 62 overs gone, and England now lead India by 8 runs. They are 142/6 (Root 70*, Hameed 8*).
10:55 IST: Three runs from Jayant's over. England 131/6 after 59 overs (Root 60*, Hameed 7*).
10:42 IST: Two runs off Shami's over. England 124/6 after 55 overs (Root 58*, Hameed 2*).
10:31 IST: A low-bouncing delivery from Shami evades Parthiv's grasp and travels to the boundary. England add two more runs from the over to take their total to 119/6 (Root 54*, Hameed 1*).
10:25 IST: Joe Root completes with 25th Test fifty with a boundary from a Jadeja delivery. England 113/6 after 52 overs (Root 53*, Hameed 0*).
10:18 IST: Mohammed Shami brought into the bowling attack by Kohli.
10:06 IST: OUT! Buttler lifts it high up in the air off a Jayant Yadav delivery, and is caught by Jadeja. He goes for 18 runs. England 107/6.
10:00 IST: The 100 runs are up for England as Buttler directs an Umesh delivery to the boundary. England 105/5 (Root 46*, Buttler 17*).
09:52 IST: Four runs off Umesh's over. England 97/5 (Root 44*, Buttler 11*).
09:45 IST: A big six off Ravindra Jadeja by Jos Buttler. England 93/5 (Root 41*, Buttler 10*).
09:36 IST: OUT! Batty falls for a duck. He is dismissed for an lbw by Jadeja. England 78/5, and India in a very commanding position in Mohali now.
09:35 IST: Umesh starts off with a maiden over. England 78/4.
09:29 IST: Hello and welcome to our live coverage of Day 4 of the Mohali Test. Umesh Yadav will start the bowling proceedings for India.
The off-spinner picked up three wickets to rattle the England batting order and hand India a clear advantage in the 3rd Test.
Earlier in the day, Ravindra Jadeja and Jayant Yadav registered half-centuries, which enabled the hosts to post 417 runs in their first innings.
On the penultimate day of the Mohali Test, Virat Kohli's men will be aiming to further dent England's batting. India still have 56 runs in the bank.
The visitors will hope star batsman Joe Root can defy the Indian spinners and that their bowlers have a solid total to defend.
It is never easy to bat fourth on sub-continent tracks and Anil Kumble knows this all to well.
Kohli will be delighted with the situation of this Test. However, there is every possibility of Day 4 throwing up a major surprise.