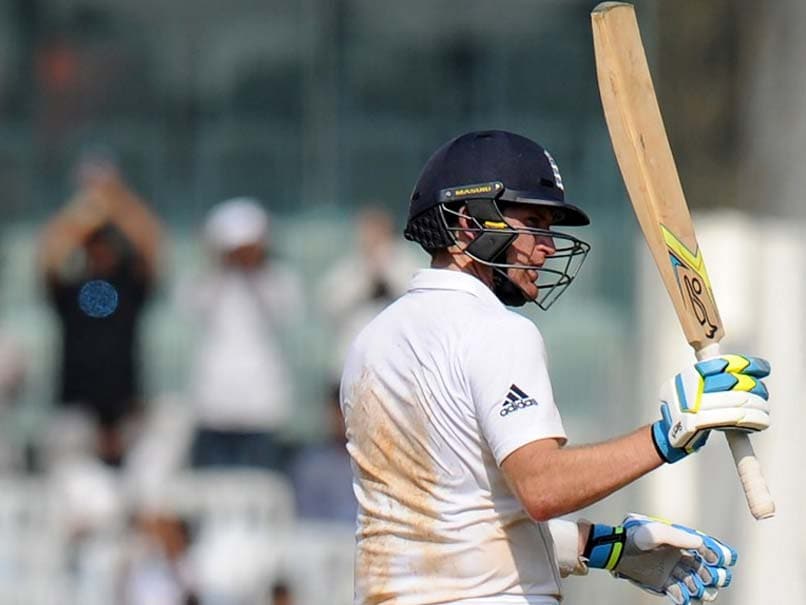 Liam Dawson scored an unbeaten 66 on Day 2 of the 5th Test in Chennai.
© AFP
Debutant Liam Dawson led an outstanding lower-order fightback on Saturday as England fought back from losing three early wickets on Day 2 of the 5th Test in Chennai to reach a total of 477.
Dawson scored an unbeaten 66, and alongside Adil Rashid, who scored 60, helped put the visitors in a commanding position against the hosts.
However, despite his prolific show with the bat, Dawson said playing Test cricket never crossed his mind when he went to play in the Bangladesh Premier League last month.
"Went I went to Bangladesh for the BPL, Test cricket didn't even cross my mind. So to be here now and making my Test debut in India is obviously very special," said Dawson at the post match press conference in Chennai.
"It is obviously nice to do well on debut. It was interesting first few balls in Test cricket for me but I was pleased to get through them. It was my Test debut, I was always going to be up for it. You make one Test debut. I was extremely excited and from a team point of view as well we want to finish on a high. We are in a fairly good position," he added.
Dawson said it felt special to reach what he termed as a 'small milestone' on his debut.
"It's obviously nice to get small milestones. It's obviously a small milestone. From a personal point of view it's a very special day. I am obviously looking for tomorrow. He (Cook) basically told me to enjoy the occasion," he added.
The 26-year-old insisted that it was going to be hard work for England on Sunday.
"It's a pretty good wicket. There isn't huge amount of spin, hasn't been much pace in it for the seamers, so tomorrow is going to be hard work for us but if we keep going all day and keep trying to take wickets then we can take wickets."
On short balls, Dawson said: "It was a good bouncer, I tried to watch it as hard as I could but that's part of the game sometimes you get it a little bit wrong. As a said I was pleased to get through. I think you got to take one ball at a time and that's what I was thinking.
"I put that ball at the back of my mind and I just managed to concentrate on ball at a hat was crucial. I haven't really thought too much to be fair. I have prepared, I have done what I do for Hampshire and that's all I can do."
Dawson said he would just look to continue to do a good job with both bat and ball.
"You just got to score more runs and take more wickets it's as simple as it can be. If I could do that then I can be selected in future squads," he concluded.
(With inputs from PTI)