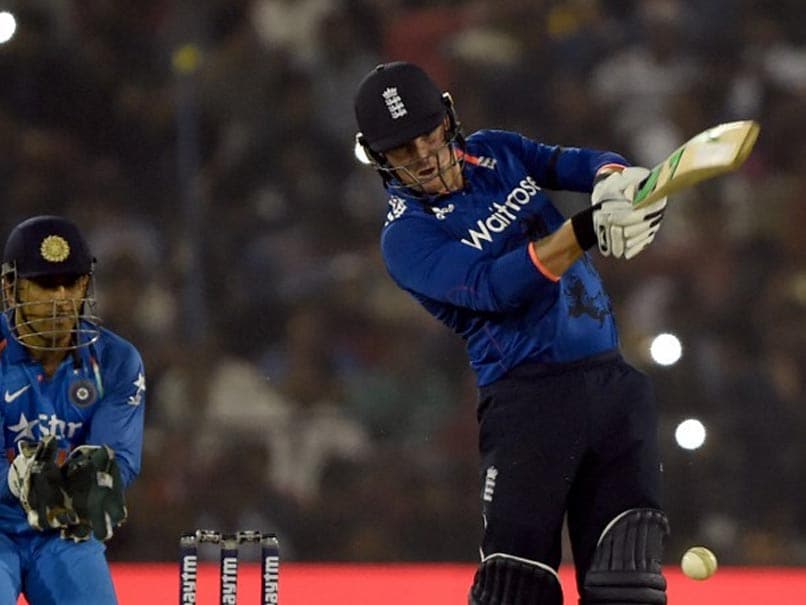 Jason Roy said England batted really well in the first two ODIs against India.
© AFP
Despite losing two high-scoring encounters in Pune and Cuttack in the first two of the ongoing three-match ODI series against India, England opener Jason Roy has said his side will look to end the series on a high in Kolkata. Roy said that England are treating the current series as a stepping stone towards the Champions Trophy to be held later this year.
"Of course you want to finish the series on a high but every game from now on till the Champions Trophy is going to be stepping blocks for us going into that huge competition," Roy said on the eve of the final ODI.
Counting on the positives, he said: "We've got a huge amount of positives to take from the last few games. Although we got outplayed, we have put in some seriously good performances. We've scored 350 in the first game and 366 in the second. Those are positives to come out of that are amazing."
But each time they fell short and Roy said they were outdone by some outstanding individual performances in the Indian team.
"On both occasions I needed to stay in and get big hundreds. I should have done that, that was the plan. It didn't work out that way but like I said our batting unit got us to 350 and 370," he said.
"There's nothing wrong with the team. We're training very hard and having a good time. But like I said before, we've been undone by some incredible individual performances. We're a confident side and whatever we come up against, we're pretty confident. So we'll be alright," he added.
With his regular opening partner Alex Hales out with a fracture, Roy is set to open with Sam Billings who was seen having a full go in England's extended net session.
Showering praise on Billings, who has a strike-rate of 110.94 and 150.00 in ODI and T20Is, Roy said: "He's a fiery batsman. If he gets the role of No. 2, that would be great. He's a great guy to bat with -- runs hard, plays strong shots and that's exactly what we look for at the top of the order, just to set the tone."
"It's just a case of getting to know each other and I know everyone in the squad pretty well, so whoever I'm opening with is not a problem. He will just kind of fit straight in," he said.
The last-time he stepped on to the Eden was in the World Twenty20 final when he returned with a duck in their four-wicket loss to the West Indies.
"It's a mixed bag really. Obviously being in the finals was incredible and then disappointment after the game. But good to be back, obviously it's a dead rubber but we've got to stamp our mark on India a little bit," he said.
Underdogs at World T20, Roy felt that England are more experienced now.
"We've definitely got a lot of experience under our belt, a lot of good performances. But like I said, just disappointed about this series, to be honest," he said.
(With inputs from PTI)