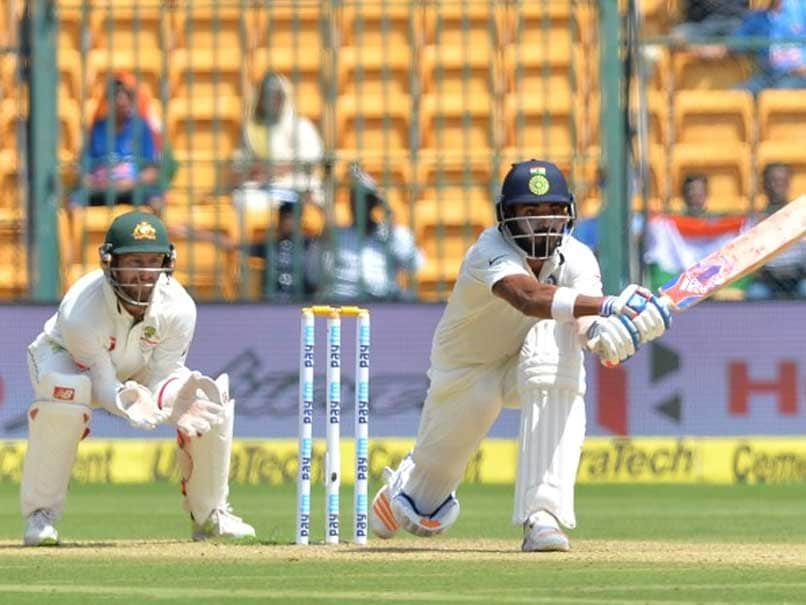 KL Rahul backs Ashwin to run through the Australian batting line-up
© AFP
KL Rahul played a lone hand of 90 as India were bowled out for 189 after captain Virat Kohli won the toss and elected to bat first. On a wicket that saw a lot of turn on the first day itself, KL Rahul almost played through the innings and was the ninth wicket to fall for India. Nathan Lyon was in his elements on a track that was assisting the spinners and returned with figures of 8 for 50. But KL Rahul reckoned that India's premier spinner Ravichandran Ashwin can run through the Australian batting line-up on this track.
"We know Ash (Ashwin) is a top class bowler and once he gets a couple of wickets and gets into that rhythm, then he is going to run through the Australian batting line-up, which we are very confident of," Rahul said at the post-match media conference.
Lyon used the excess bounce to his advantage and Rahul isn't ruling out Ravindra Jadeja coming good on the M. Chinnaswamy wicket.
"Jadeja didn't get to bowl a lot today but like Lyon, he too has a lot of rough to bowl on to the left-handers outside the off-side stump. If he can come in and bowl consistently on the rough, we will get a lot of wickets," he said.
The wicket is not going to get any easier to bat on with the cracks opening up on the first day, the Indian opener termed the wicket pretty much similar to the ones they get in domestic cricket playing for Karnataka.
"I think this is a pretty much the same wicket we get for Ranji Trophy. May be the cracks start to open up at the end of the second day or the third day. But here the wicket was pretty dry and the cracks were prominent there. Their bowlers, especially when Starc bowls from over the wicket, he creates that rough for Lyon which helps them get that spin and bounce," he said.
Rahul, who seemed to be feeling some discomfort on his right shoulder, said there was no point taking a medical break.
"I had to look to get as many runs as I can with the last two batsmen there. That was the stroke which was giving me a bit of a problem in Pune. So I had to restrict that shot, but in the last few overs I had to look to take that chance and risk which I knew would give me some pain. But medical treatment at that time wouldn't have really done a lot of good for me. So I looked to continue and tried to play a few shots which didn't go my way," said the youngster, who missed out on a well-deserved 100.
Rahul observed that dampness in the pitch contributed Lyon getting so much turn.
"Initially, the new ball was coming onto the bat really well. Once the spinners came on, I felt that the wicket was a little damp during the first session. That's why they were getting some spin and the ball was holding to the wicket. To drive or to go over the top wasn't really easy," he said.
(With PTI Inputs)
(This story has not been edited by NDTV staff and is auto-generated from a syndicated feed.)