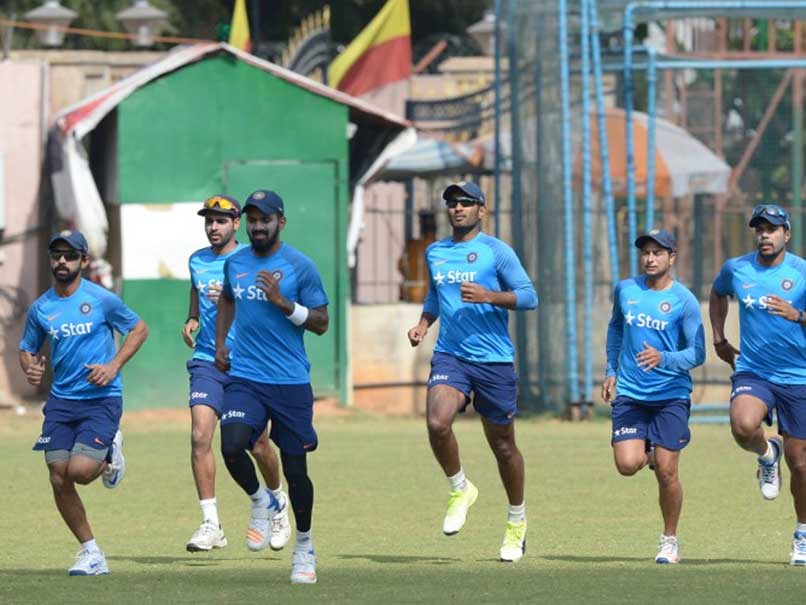 KL Rahul explained India's net session in detail ahead of the second Test against Australia in Bengaluru
© AFP
Team India had another long practice session on Thursday too and opener KL Rahul explained in detail how they are preparing for the second Test. He is seen in a BCCI video, explaining the process in-depth and also talking about various aspects of the practice session.
He started off with showing the white board where the coach writes the batting order.
"After our warm-ups and we change into our net clothes, we look at the board and see when we are batting, then we go accordingly," he said.
"There are three nets basically. One is the spinners, the second one is the fast bowlers' net and there is third net where our coaches - Sanjay Bangar and Raghu (Srinivasan) - help us with the stick where we practice a particular skill. It's up to the individual entirely, whether you want to play the short ball, or a reverse swinging ball or if you want to play a sweep shot, the coaches will help you," the opener explained.
Then, Rahul goes to the nets to separately explain the nuances of basic training. First he goes to the spinners' net and explains what the batsmen try to do.
"As you can see, the spinners are bowling to Ajinkya (Rahane). Vijay was supposed to bowl to him but Ash (Ashwin) likes to bowl more and he is working on some skill and then we have some net bowlers, who help us out," Rahul said.
"As players what we try to do is replicate match situations. If I am batting, I would be picturing Ashwin as Nathan Lyon right now and practicing in that mindset," he added.
Then he moved to the pacers net, where Ishant Sharma was bowling to the triple centurion Karun Nair.
"The players take the practice session very seriously and this is the place where most of the battle is won," he explained.
"We have only three days left in the Test, so we try to have a longer hit in the nets, say 12 minutes in each net and on a day before the match, generally, we don't want to take too many hits on the nets so we focus on finishing it quickly and wrap it up, may be seven or eight minutes at each net. That's the coaches' call and they know the best for the team," he added.
Then Rahul explained the third net where Virat Kohli was battling it out in the heat.
"Raghu is the most dangerous bowler in the world right now for any player (he laughs). He gives us all a hard time but he is someone who has helped us all get better against the fast bowling. Raghu is a right-arm scary bowler like we all call him and he is someone who really pushes you."