Story Progress
Back to home
India's Loss To Australia A Reality Check: Virat Kohli
India captain Virat Kohli reckoned that India needed something like the loss to Australia for a reality check and termed his team's batting display in the first Test match in Pune as the "worst" batting performance in recent times.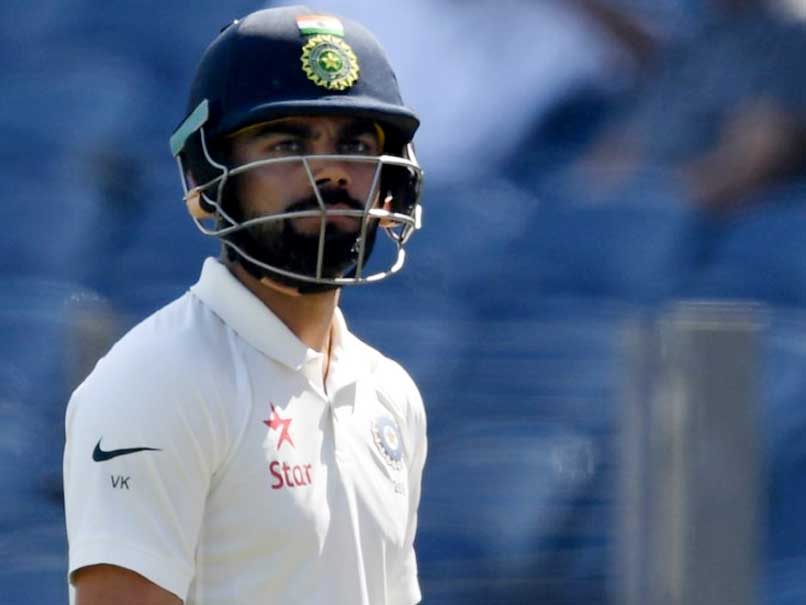 Virat Kohli suffered his first defeat as captain at home
© AFP
Highlights
Virat Kohli termed India's batting display as the "worst" performance

India lost the first Test at Pune by 333 runs

Australia took a 1-0 lead in the four-match Test series
India captain Virat Kohli reckoned that India needed something like the loss to Australia for a reality check and termed his team's batting displayin the first Test match in Pune as the "worst" batting performance in recent times that resulted in the hosts succumbing to a 333-run defeat against Australia. The pitch that turned out to be a rank turner didn't help India's cause as the hosts were bundled out for 105 in the first innings and 107 in the second. Kohli loathed the way Indian batsmen negotiated the pitch, saying they showed how not to bat on such tracks. The 28-year-old also suffered his first Test defeat as captain at home.
"The last time we had a performance like this we had an outstanding run from Galle. I would say that we needed something like this for a reality check and understand what we need to work on and not take anything for granted especially at the international level," Kohli said.
"The batting let us down in both the innings. Our application was not good. There were no partnerships worth mentioning, it's an area which fills us with pride. The batsmen need to pull their socks up. The batting was not up to standards, it showed how we shouldn't bat, that's all I will say," he lamented.
The India captain said it was "criminal" to concede a 155-run first innings lead as it made it too difficult to pull things back.
"It rarely happens that 4-5 people make judgment errors in both the innings and especially with the way we have batted over the last few months, I would say this was our worst batting performance. We need to accept that we batted badly and need to improve and be back stronger in Bangalore. There's lot of cricket left in the series."
Talking about his own dismissal -- he was bowled by spinner Steve O' Keefe while leaving a ball -- Kohli said he made an error in judgment.
"I left the ball too early. I should have waited for a little more. It was my fault," he said.
Kohli said the team will take the defeat in its stride and move ahead like it did after the loss at Galle against Sri Lanka in late 2015 from where the golden run commenced.
"It's just another international game, no big deal. Just as you should be calm and composed and not get over-excited when we win, the same way we should stay the same way when we lose. We take it on the chin.
"If you drop five catches off one batsman (Australia captain Steve Smith), you certainly don't deserve to win and also if you lose seven wickets for 11 runs. I am sure you would not have asked me this question had we won. Our mindset does not change with the results," he said to a pointed query.
He maintained the Indian bowlers, world's no.1 ranked bowler, Ravichandran Ashwin, did their bit.
"I won't blame the bowlers at all. Our batsmen put us in that position. It's very difficult to come back after conceding such a big lead. The bowlers tried their level best. Someone like Umesh Yadav bowling like that on a slow wicket was great to see," said Kohli who himself flopped with the bat by scoring a duck and 13 in his two knocks.
"We played good cricket and won and played bad cricket and we lost a game of cricket, that's how simply we look at this defeat. We just want to take the learning from this game forward and improve and come back stronger in the next game. I am sure we are going to come back with more intent in the next game and put Australia under pressure straight from ball one," Kohli said.
He also said that they knew the stupendous run, which saw India win eight out of the last nine Tests since the beginning of this home season, will come to a stop at one stage.
"I don't want to dwell more on this match after such a lengthy undefeated spell of 18-19 Tests matches. If you play badly in one game, it's part of cricket. I don't know whether people thought we could not lose at all but we knew if we don't play good cricket any team can beat us. A few positive things can be taken away, but only from the bowling aspect", he said.
He agreed that Steve O'Keefe, who spun the Indians out in both knocks along with senior colleague Nathan Lyon, did not turn the ball as much as his own spinners.
"Our bowlers' turned the ball more, so we could not get the edges. Those who turned the ball less got more wickets than someone who did not turn the ball that much. You can get out on flat wickets too if application was not good. Our bowlers bowled really well.
"If you don't apply yourself out there in the middle, any bowling attack will look dangerous; even a part-timer can get four wickets if you don't apply. I certainly would like to think that was the case with our batting line-up in this game.
"We wanted to pick up 20 wickets and we managed to do that (although) not in time. We did make breakthroughs, (only) we could have done them quicker."
He also did not blame the crumbling pitch for the defeat and said it was similar to tracks on which the team had played and done well in the past.
Promoted
"The wicket was not very different from the turners we played in the past. We just did not play good cricket."
(With PTI Inputs)
Topics mentioned in this article