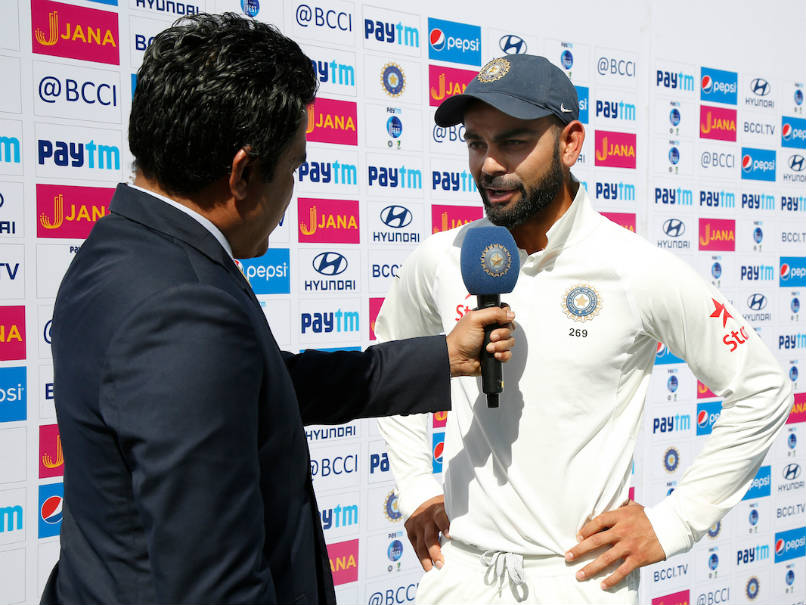 India vs Australia: Virat Kohli speaks to Sanjay Manjrekar in the post-match presentation.
© BCCI
India went into the match on a 19-match unbeaten run in Tests, but all that mattered for naught as O'Keefe sliced through India's famed batting line-up like hot knife through butter.
Indian batsmen, including Kohli, had no answer to the guile of the left-arm spinner and fell like ninepins on a turning track.
"It's been a good run for us but we got outplayed in this game. We got to take it on the chin, accept that they outplayed us. It was our worst batting display in the last two years. We need to see what we did wrong," said Kohli in the post-match presentation.
The inquest in to India's shocking batting collapse would surely have already begun but Kohli pointed out that two "bad sessions" was what cost India dear.
"They exploited the pitch better than us. They put us under pressure throughout and deserved to win this game. We've had two really bad sessions and to pull it back against a quality side is very difficult. No excuses. Sometimes, you have to take your hat off and tell the opposition well done," the Indian skipper added.
Meanwhile, Kohli's counterpart Steve Smith had a memorable Test not just as captain of the side but also personally.
Smith produced a batting master class in the second innings, albeit with a touch of fortune, to smash his 18th Test century, 10th as captain and his first century in India.
Smith averages 73.37 after 21 Tests as captain of the Australian cricket team. He now only behind Don Bradman to have the second best batting average of any captain who has led their team at least 10 times. Bradman averaged 101.51 across 24 Tests.
The Australia skipper lauded his team's effort and praised O'Keefe for showing great grit and determination.
"Thought it was going to be hard work. I'm proud of the way the guys played. Winning the toss was a bonus, good plans in place. O'Keefe was outstanding. We've got some good players of spin and good spinners.
"It's been 4502 days since Australia won a Test in India, I know it to the day. When he (O'Keefe) pulled his length back slightly, it felt he'd get a wicket every ball. You need to have some luck on a wicket like that. It took a lot of grit and determination," said Smith.
With the opening Test ending in just three days, Kohli and his team will have plenty of time to get their act together before the second Test in Bangalore, starting March 4.