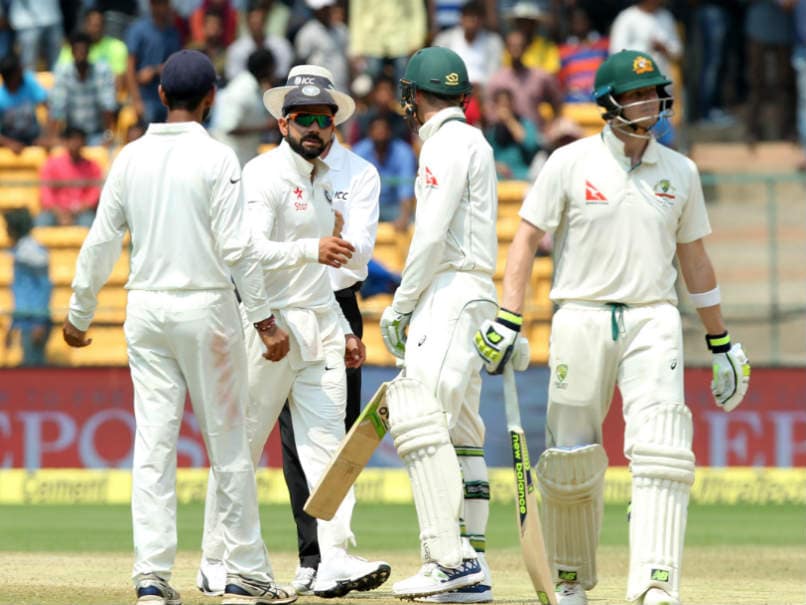 Virat Kohli took the Australians head-on during his post-match press conference.
© BCCI
The Board of Control for Cricket in India (BCCI) has filed a complaint with the International Cricket Council (ICC) against Australian captain Steve Smith and batsman Peter Handscomb in the controversial Decision Review System (DRS) episode during the 2nd Test in Bengaluru. Smith was seen seeking the Australian dressing room's advice after being adjudged leg before wicket during his team's second inning in the match which India won 75 runs. The issue had become huge as Indian skipper Virat Kohli had given Smith a very animated send-off from the field and had then stated during the post-match press conference that the Australians had done the same thing on other instances as well.
Handscomb had later gone on record stating that it was he who had asked Smith to seek advice from the dressing room, while Smith had admitted that he had a 'brain fade' moment on the field, a phrase that subsequently went viral.
Kohli had stopped just short of calling Smith a cheat.
"I have seen it twice while batting. I have seen their players looking upstairs (dressing room). I told the umpires, this had to stop. I don't want to mention the word but it falls in that bracket. I would never do something like that on the cricket field," Virat Kohli had said after the match.
"When he (Smith) turned back, the umpires knew exactly what was going on, because we observed that, told match referee also and the umpires that they have been doing that for the last three days and this has to stop," the India captain added.
The issue kept simmering as Cricket Australia responded to the allegations against Smith, terming them as "outrageous".
The BCCI responded immediately, issuing a statement in support of Kohli and the Indian team and saying that Smith's 'brain fade' comment should be considered to be an admission of guilt.
The Indian board had also filed a written complaint with ICC match referee Chris Broad, but the world body had refused to take any action against either Smith or Kohli. Following that, the BCCI had decided to file a formal complaint.
"The ICC has confirmed that no charges have been laid against any player under the ICC Code of Conduct following the second Test match between India and Australia in Bengaluru," the ICC had said in a statement.
However, that did not go down well with the BCCI, who immediately decided to file a formal complaint,which will now oblige the world body to undertake the entire process of scrutinising the issue and then ruling.
(With inputs from PTI)