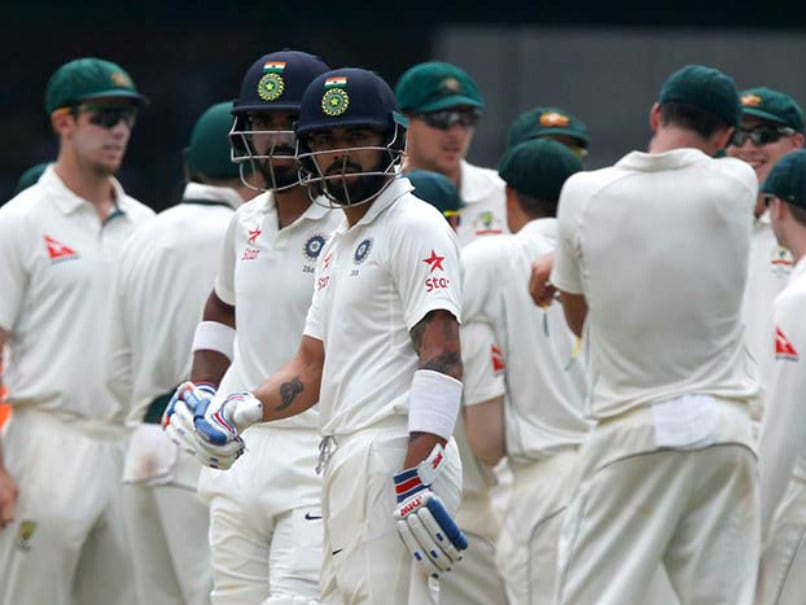 Virat Kohli was dismissed on Day 1 of the 2nd Test after offering no shot to a Nathan Lyon delivery.
© BCCI
Former Australia opener Mark Waugh launched a scathing attack on Virat Kohli's dismissal in the second Test at Bengaluru. Waugh labelled the Indian skipper's dismissal on Day 1 as a "brain fade" and said that his negative thinking while batting had rubbed off on a few of his Indian teammates. Kohli was dismissed for just 12 by Nathan Lyon and now has just 25 runs in three innings after failing to an impact in the first Test at Pune as well. The manner of his dismissals has raised a few eyebrows and Waugh didn't mince any words in his assessment.
Kohli, for the second time in this series, made an error in judgement that cost him his wicket.
"That's a brain fade," said Waugh, speaking on Fox Sports about Kohli's dismissal.
"I know the ball before bounced and hit him on the thigh-pad and he's a bit worried about those two men on the leg side, but that's bread-and-butter for an Indian batsman, a class player. You just tuck that off the hip."
"It was very un-Kohli like. He made a point of saying 'we need to play with much more intent in this game' but he's been the prime example of not actually doing that."
Kohli misjudged a Lyon delivery, offering no shot and was rapped on the pads. The umpire had no hesitation lifting the dreaded finger. Kohli and KL Rahul discussed a little before taking the Decision Review System (DRS).
Replays clearly showed that ball was crashing into the stumps, bringing an end to Kohli's stay at the crease.
The former Australia opener said that Kohli was thinking a bit negatively while batting and that seemed to have rubbed off on some of his teammates.
Barring Rahul, no other Indian batsman made any real contribution with the bat as the hosts were bundled out for 189 on the first day.
"He's just thinking negatively because there's men around the bat. He's thinking if it bounces he might get an inside edge. As a batsman, you can't think like that.
"He can hit that ball in his sleep for runs. He's obviously thinking is a little bit negatively and that's rubbed off on a few of his teammates.
"Most of them have looked very tentative at the crease today. Those (dismissed) Indian batsmen, they would be disappointed with how they got out."