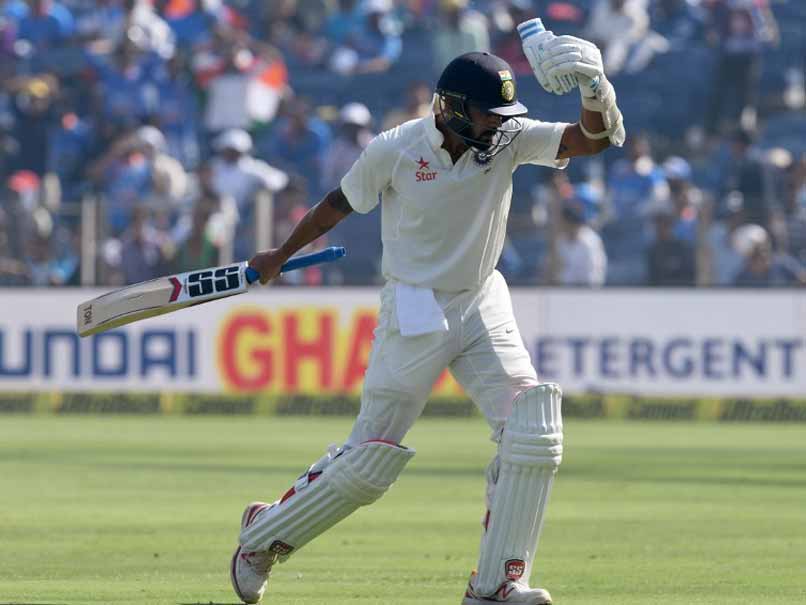 Murali Vijay reckons that the Pune pitch was not unplayable
© AFP
India opener Murali Vijay on Wednesday came out in support of the controversial Pune pitch where the first Test between India and Australia was played. The Test match ended inside three days and the pitch was under the scanner for all the wrong reasons as India failed to apply themselves on a track that was turning square right from the first day. The hosts capitulated to a 333-run defeat that ended their unbeaten streak of 19 Test matches. Vijay, however, stressed that the Pune surface was challenging but by no means a poor track to play on.
"Pune wicket was not poor. It was a challenging wicket from ball one. As cricketers, we need to play on such wickets sometimes rather than playing on flat tracks. Actually, it is a good thing to play on wickets which test your character and technique," he told reporters in the build-up to the second Test beginning in Bengaluru on Saturday.
It goes without saying that the pitch at the Chinnaswamy Stadium is the centre of all the attention. Vijay doesn't seem to be concerned about the nature of the pitch. "I go into the middle with an open mind and look to adapt according to the pitch conditions," added Vijay.
Talking about the loss in Pune, Vijay blamed the batsmen for not putting up a show and praised the bowlers for doing their job.
"I personally thought bowlers did a great job (restricting Australia to 260 in the first innings). After conceding a big first innings lead, it was always going to be difficult. We did not play ourselves well," said the 32-year-old.
India dropped four catches in the second innings that had let the Australia captain Steve Smith get off the hook. Smith eventually went on to make a brilliant century that took the match away from the Indians.
The erratic use of the Decision Review System (DRS) didn't help either.
"Definitely, it (DRS usage) is not going our way. We got to take little more time I guess. We got to use those 15 seconds much better."
The team has spoken at length about went wrong in Pune and is looking forward to next game, having got an extra couple of days off.
"We had a chat about it and we have been working on few of the areas where we could have done much better in the last Test match. We are looking forward to starting afresh and take all catches coming our way," he said.
He said the trekking trip to the Western Ghats also helped the team move on from the heavy defeat.
"(Team Bonding) exercises like these gets you closer as a team. We have been on the road for a while now. So it was good to have a couple of days break, go for a trek and get some fresh air. It was fun," he added.
(With PTI Inputs)