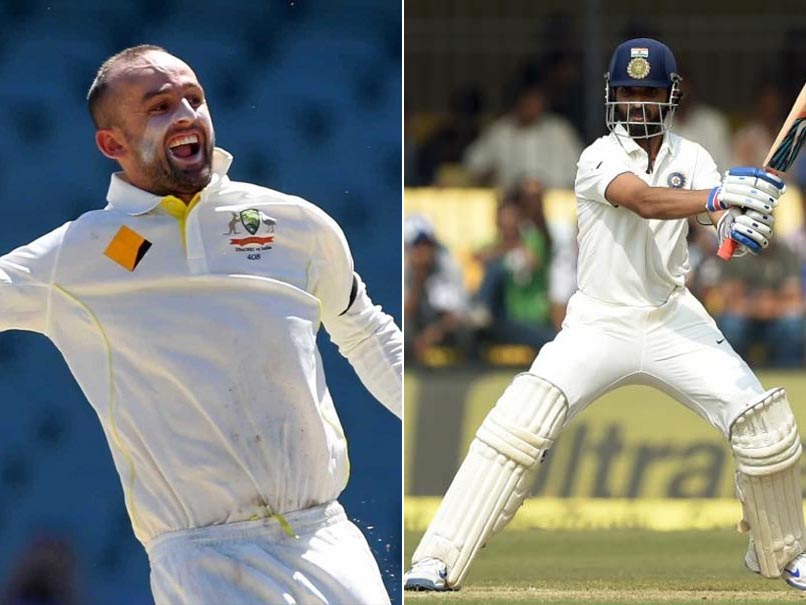 Ajinkya Rahane and Nathan Lyon are expected to share an intense duel in the series.
© AFP
When it comes to being under a little bit of pressure, Indian middle-order batsman Ajinkya Rahane and Australian spin spearhead Nathan Lyon are in situations which could be termed as similar. Rahane has a lot to prove vindicate skipper Virat Kohli's faith in him, while Lyon has to be able to challenge the formidable Indian batting when they two sides face off in Pune on Thursday.
Rahane was recently in the news for some strange reasons. After having to sit out of the latter half of the Test series with England, the Mumbai batsman saw his replacement Karun Nair score a fine triple-century.
So when Kohli fell back on Rahane for the Bangladesh Test, questions were rife about how fair all of that was to Nair. So Rahane had, and still has, a lot to prove, especially since he hasn't really set the scoreboard on fire.
On the other side of the fence is Lyon. His role is unenviable.
Given the combination that could come fielded in the first Test in Pune from Thursday, Lyon could well be the only spinner in the line-up. Australia didn't think an India series was good enough to field telling bowlers like Adam Zampa, so Lyon bears the brunt of meeting Virat Kohli and his cohorts alone.
Fifteen wickets in three Tests against India, with one five-for, isn't a bad haul for the off-spinner.
In an ideal world, it would likely be left to Kohli and Rahane to tackle the spinners in the middle of the innings. Of the two, Rahane is a little more orthodox and on a good day, he could well be crucial.
But who has a good day between him and Lyon would possibly dictate the middle-order affairs. Although there are people like Cheteshwar Pujara in the mix too, it would be on Rahane to vindicate his selection.