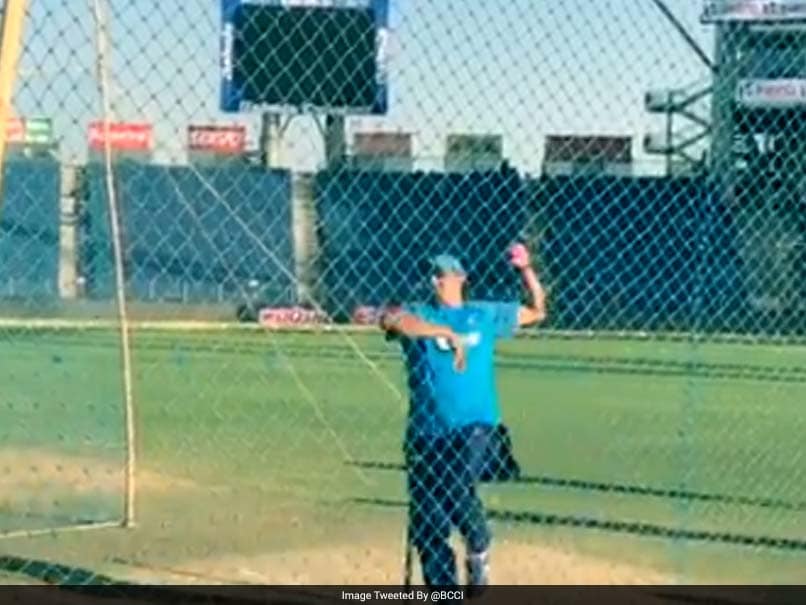 Anil Kumble turned a left-arm spinner during the practice session
© BCCI
Virat Kohli and brigade are in high spirits after earning a scintillating 75-run win against Australia, scripting a superb comeback in the four- Test series. The protagonist of the win was Ravichandran Ashwin, who led the attack and displayed a superb bowling performance to help India dent Australia's confidence before the third Test starting on March 16 in Ranchi. But, not to forget, India's batting fell like nine pins in both the innings in Bengaluru, only to be rescued by Cheteshwar Pujara and Ajinkya Rahane, who stitched a century stand which eventually proved to be the match-winning stand. What Steve O'Keefe did in Pune for Australia, Nathan Lyon replicated in Bengaluru by taking 8 wickets in the first innings.
Ever seen @anilkumble1074 bowl left-arm spin? Answers to the "why" on https://t.co/uKFHYdKZLG soon #TeamIndia #INDvAUS pic.twitter.com/Xf7Lt7Gtqd

— BCCI (@BCCI) March 10, 2017
There is long gap between the second and the third Test, but Team India is not taking things lightly. May be, to tackle O'Keefe, India's coach Anil Kumble was seen bowling the left-arm spin at the nets.
In a 29-second slow motion video posted on the BCCI's official Twitter handle, the legendary spinner was seen bowling using his left arm.
Kumble was bowling left-arm spinners to Cheteshwar Pujara in practice. "As they have a left-arm spinner, Anil bhai was trying to replicate that, coming from corner of the crease and angling into the right hander and try to spin it from there," Pujara told 'bcci.tv' ahead of the third Test.
"So I was just trying to get used to that angle as well. Sridhar was coming in from over the stumps, banging in short and just taking the ball away.
"It was really useful especially Sridhar, he was really accurate. Anil tried his best even though he is a right-arm bowler but he tried bowling left-arm spin and still was decent enough for practice."
The spin great even managed to beat Pujara. "Yes he did. He knew where to bowl, the ball pitched on the rough and I stepped out only to get beaten," said the batsman.
What did he do to tackle Starc, who now happens to be out of the India tour with a foot fracture?
"Basically getting used to the angle which Starc uses when he comes over the wicket, he tries to take the ball away from the batsman.
"I was just just trying to work on it, getting used to the angle especially when the ball moves away. Just wanted to play close to the body and get used to the angle," added Pujara.
With the series nicely poised at 1-1 and the 'Brain Fade' episode taking different shapes every day, both the teams would like to focus on cricket now and would try their level best to overcome their shortcomings and outdo the opponents in the Ranchi Test.
(With inputs from PTI)