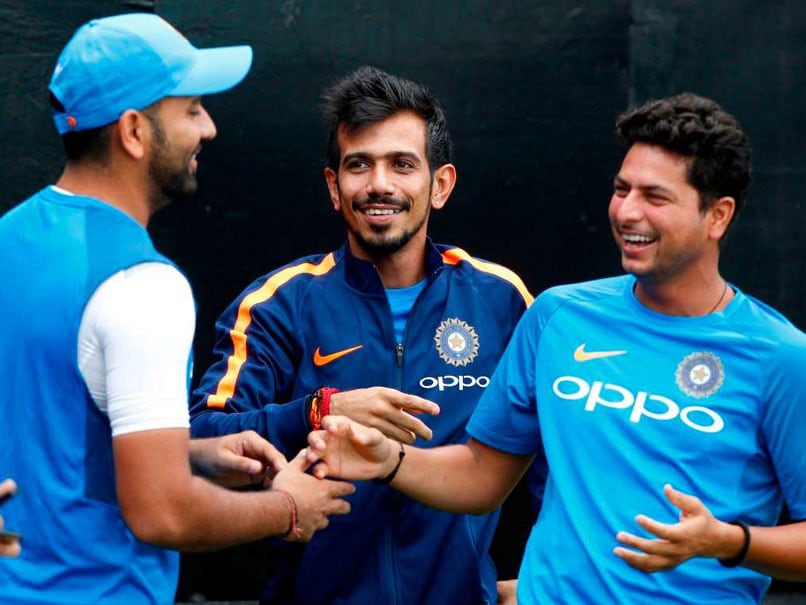 Rohit Sharma turned into a reporter and interviewed his teammates Chahal and Kuldeep
© BCCI
The Indian cricket team is on a roll and having a gala time after routing Australia 4-1 in the recently-concluded One-day International series at home. Off late, we have seen cricketers turning reporters after matches and this time it was Rohit Sharma's turn to take that role. Rohit interviewed India's spin twins Yuzvendra Chahal and Kuldeep Yadav and asked them about their interests other than cricket. In the video uploaded by the BCCI on Twitter and Facebook, the trio is seen having a ball and both the youngsters are opening up about their off-field interests to their senior member.
Rohit asked them about their favourite actresses, cars they want to own and how they handle their female fan following.
The India opener took to Twitter and wrote, "My new role: Getting 'special info' out of these shy teammates of mine! @imkuldeep18 @yuzi_chahal."
Chahal was quick to respond to the tweet and wrote, "That's why we want you always bhaiya @ImRo45."
Here are the excerpts of the interview:
Rohit Sharma: You have a huge fan following outside the cricket field. How do you handle them, especially women?
Yuzvendra Chahal: I speak a lot, but I go mum when girls come in front of me. I'm like a coy and go into my shell when I face girls. If I know someone for 5 or 6 years that is fine, else if someone comes in front of me for the first time, I just can't speak and end up smiling and walking off.
Kuldeep Yadav: For me, it is not a problem because I anyway don't speak much. If I know someone for a while, I do have a small conversation, else it is the same like him as I am also very shy. Haven't been around women much. Even during school days the focus was more on cricket practice. I can handle it but it's not really tough.
Rohit Sharma: Do you want to set any trend for the future generation? What are your off-field interests?
Yuzvendra Chahal: I like to go out and have fun. I can't stay inside the room as I feel irritated. Even if I am not going to party somewhere, I prefer going out for dinners. I like loud music and I like to go to places where I get loud music.
Kuldeep Yadav: I prefer staying indoors. I love soccer, though I can't play well but I like watching it. I have had quite a few injuries as a kid and so I am scared of playing football. I have a simple life and I keep it that way.
Rohit Sharma: Let's play rapid fire round with them. Your favourite actress?
Yuzvendra Chahal: Katrina Kaif
Kuldeep Yadav: Jacqueline Fernandez
Rohit Sharma: One car you would want to own?
Yuzvendra Chahal: Porsche. Any model would do. I don't care about the model.
Kuldeep Yadav: Ford Mustang
Rohit Sharma: A place where you would like to go on a date?
Yuzvendra Chahal: Bora Bora with my girlfriend or future wife
Kuldeep Yadav: I love Paris. Hopefullly If I get a chance to go there, then would want my future wife to accompany me.
Rohit Sharma: A number you wish to have in your contact list?
Yuzvendra Chahal: The Rock!
Kuldeep Yadav: Definitely. Neymar Jr. He's my favourite and I follow him. I would love to talk to him or meet him.