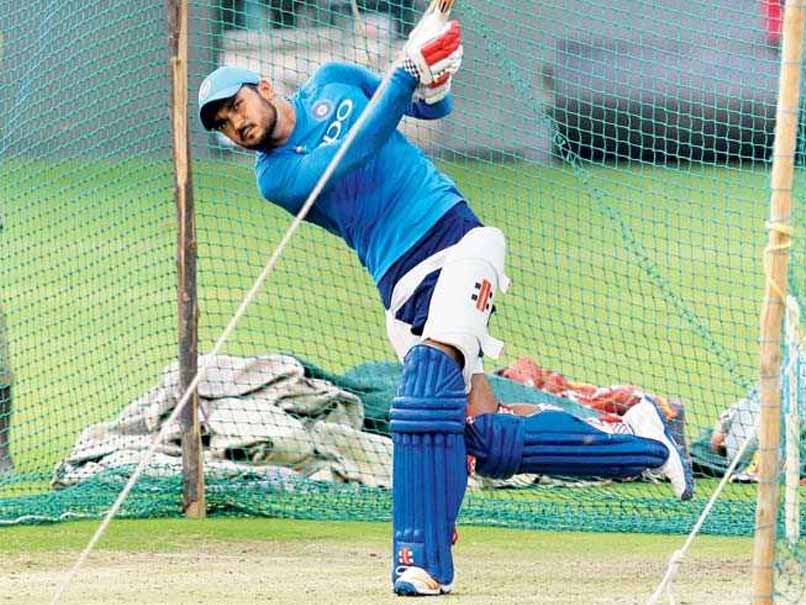 Manish Pandey goes for a big one during a practice session ahead of 4th ODI in Bangalore
© Mid-Day
When you have someone with the talent of KL Rahul warming the benches, you better stay hot in the field of play. That's a message which Manish Pandey, ironically Rahul's Karnataka statemate, didn't have to be given considering he is well aware of the situation. But surely it makes a difference that every spot is hard fought for - let's not forget that India's best spinners Ravichandran Ashwin and Ravindra Jadeja are not even in the squad - and no quarter will be conceded even within the team.
Responding to a question on that subject, Pandey was candid as ever. "Definitely, there is pressure. When you play cricket, there is pressure. It's there whether you're batting, bowling or fielding. But I am here to try and stay here for the longest, play a lot of games and win a lot of games for India. There is pressure, but there is a spot for the taking so I think I'll be doing the hard work to try and find a place here. I think so far I've got the No. 4 spot and there are times when the batting order has changed a little bit. I will be looking to play most of the games in that order and do well for the team," was the young man's take.
Pandey though is not normally one to feel the pressure, his very nature being that of a carefree youth. And whatever little pressure that he feels, he uses his unique ways to get himself in front of the situation. In fact it's his unorthodoxy with the bat that has taken him places. But it's something he has learned to tone down. "I play the situation," he said, which some would like to term unfortunate.
"I think the mindset remains the same," explained Pandey when asked if he was taking the unorthodoxy seen at the first-class level into the international arena. "But I think you have to bat according to the situation. You have to play the situation well," said Pandey It's also about the batting position. "It's completely different when you play at No.4, 3 or 6. What I've done fairly well is I've taken the same mindset to the game everytime I go to bat. It's about being aggressive, about taking a little time initially and then playing shots. That's what my game is and I would want to continue that way," added Pandey.
He's got a good game alright.
(This story has not been edited by NDTV staff and is auto-generated from a syndicated feed.)