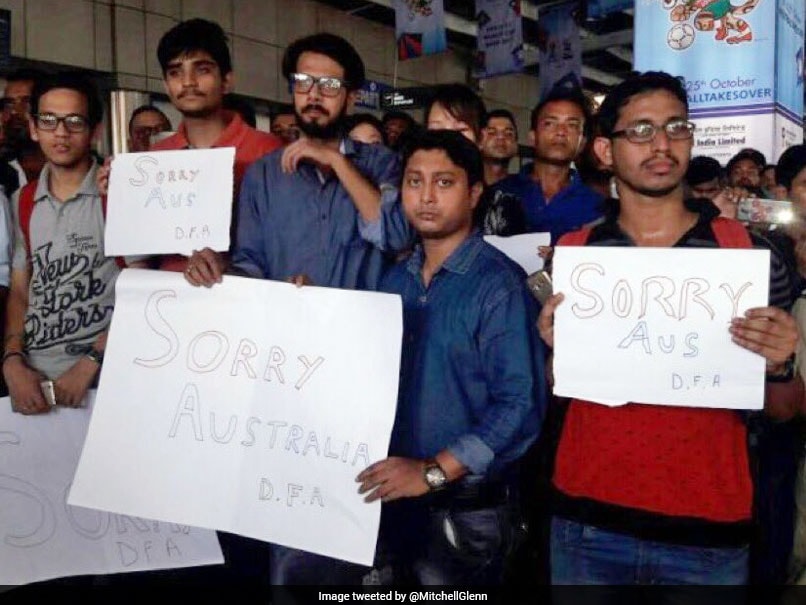 Fans across Assam turned up with placards apologising for the untoward incident.
© Twitter
The on-going T20 International series between India and Australia hit a road bump when a stone was hurled at the visitors' bus after the second match at Barsapara Cricket Stadium, Guwahati, which they had won by eight wickets. Bringing the incident to light, Australian opener Aaron Finch had uploaded a photo of the shattered glass window of the Australian bus. Following the incident, cricketers and ministers condemned the attack and promised that security will be beefed up ahead of the third T20 in Hyderabad.
 
Sports Minister Rajyavardhan Singh Rathore and Assam Chief Minister Sarbananda Sonowal quickly took to Twitter to condemn the attack. While, Rathore tweeted, "India remains a graceful host", Sonowal tweeted, "Really unfortunate incident after a great game aimed to tarnish Guwahati's reputation as emerging sports hub. We strongly condemn it."
Cricket fans across Assam turned up at the hotel where the visitors were staying and the airport with placards apologising for the untoward incident, which showed Guwahati in bad light. 
Most of the placards simply read 'sorry' while one labelled the incident as 'shameful.'
They gathered outside the hotel to apologise on behalf for those culprits pic.twitter.com/L2IhbgJpuD

— Arnab (@i_arnab09) October 11, 2017
Cricket fans of Guwahati hold placards in front of @RadissonBlu,apologizing the Aus Cricket team for the unfortunate stone pelting incident. pic.twitter.com/lfI7FySjLp

— Sandeep. (@Rocco_2Point0) October 11, 2017
Australian all-rounder Moises Henriques, who scored his T20 half-century to guide the Kangaroos to a comfortable win, took to Twitter to express his gratitude towards the fans who showed up at the airport and hotel.
Whilst the bus home last night wasn't ideal, the support from fans & children across Assam today in response was kind. Cheers 2 good vibes

— Moises Henriques (@Mozzie21) October 11, 2017
Earlier, Australian wrist-spinner Adam Zampa, in a video interaction with Cricket Australia on Twitter, hinted towards the popularity of the game in India to be one of the reason for the incident.
"Indian fans are so great to us which is one of the reasons why it's so hard to travel here. They're so loud, they love cricket and they're so passionate about it. So one person to spoil that is disappointing," he said.