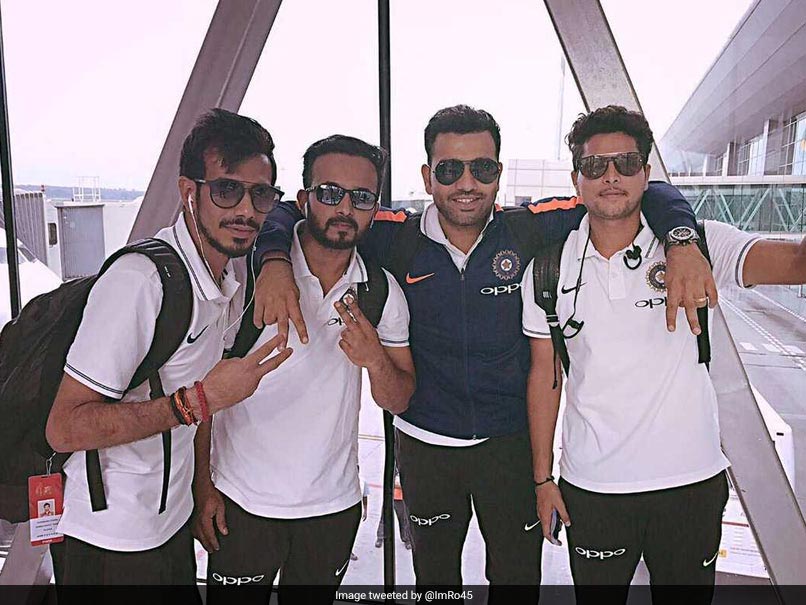 Rohit Sharma took to Twitter and uploaded the picture
© Twitter
India are currently leading the five-match ODI series against Australia 3-1. Despite the loss in the last ODI in Bengaluru, the team seems to be in great spirit, with Rohit Sharma poking fun at the way his teammate Kedar Jadhav bowls. Rohit took to Twitter and uploaded a picture with the two wrist spinners in the side, Yuzvendra Chahal and Kuldeep Yadav along with Jadhav and captioned it as, "In the company of two wrist spinners @yuzi_chahal, @imkuldeep18 and @JadhavKedar, I'm not sure even he knows what he bowls."
The Indian skipper Virat Kohli generally throws the bowl to Jadhav when there is a partnership building up and all his regular bowlers have failed to make a breakthrough.
Bit like the great Sachin Tendulkar, Jadhav has earned a reputation for being the man with the golden arm.
While Jadhav still has a long way to go to actually do justice to that term, his recent performance with the ball has been more than satisfactory. The 32-year-old gave India the first breakthrough in Bengaluru during the fourth ODI by dismissing David Warner who was going all guns blazing and to his credit he did the job for Kohli even in the Champions Trophy where he picked up wickets every time India needed one or there was a partnership building up that was threatening to take the match away from the Indians.
Jadhav is an off-spinner but bowls with a round-arm action, so much so that at times his right arm is almost perpendicular to his right shoulder, making it difficult for the batsman to pick him. He works the angles well by making good use of the bowling crease. In 33 ODI matches, Jadhav has picked up 15 wickets for India at a strike rate of 26.73.