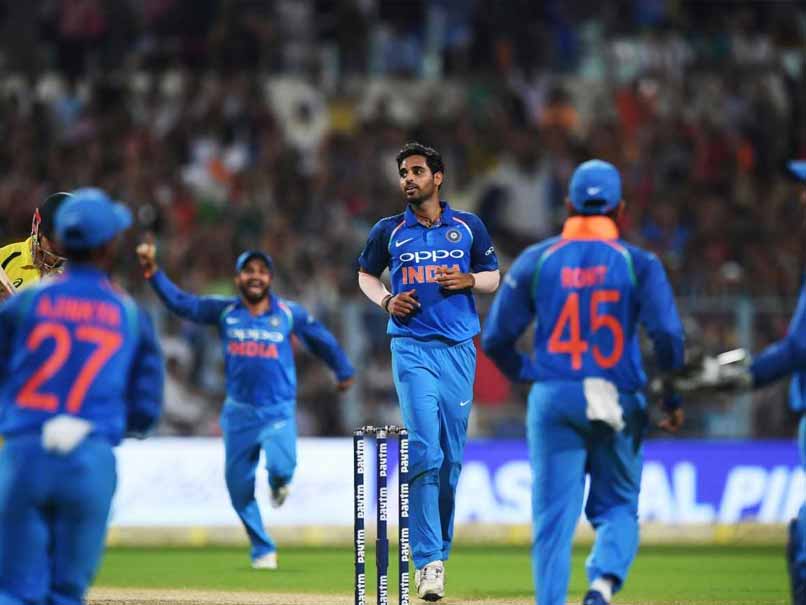 Bhuvneshwar Kumar celebrates with team after taking a wicket.
© AFP
Australia captain Steve Smith termed Indian pacers Bhuvneshwar Kumar and Jasprit Bumrah as two of the best death bowlers present in the modern day game. After India defeated Australia by five-wickets to go 3-0 up in the five-match One-day International (ODI) series, Smith said on Sunday that his team need to find a way back in the game and execute plans which they weren't able to. Australian opener Aaron Finch (124) had propelled Australia to 242-2 in 38 overs with his brilliant come-back century but the visitors lost their way after Indian pacers halted the flow of runs with regular wickets in the death overs of the game.
"I think a mixture of guys making probably the wrong decisions on the wrong balls. Also, some pretty well executed bowling. I think Bumrah and Bhuvi are probably two of the best death bowlers going around, particularly when the wicket sort of slows up a little bit as it did," Smith said.
"We still need to find a way. We set a template really well. The first 38 overs were magnificent. We set it up and we just weren't to execute it in the back end."
Smith said it has actually become a 'trend' for his side to get closer to winning games but they end up losing them.
"We are quite often getting ourselves in good positions but not taking advantage of those. Today was no different, first 30 overs. We continually address it. It's just hard to put your finger on it what we are actually doing or not doing to get the results we are after. Today, it was about execution," he said.
The Australian captain admitted that it indeed becomes hard to motivate the team after such defeats.
"It's always hard when you lose. Particularly when you lose three-nil. We've got to continue to try and motivate them and get them up for the next two games. We've got to start winning games of cricket.
"We've lost 13 of the last 15 games we've played away with two being no results. That's pretty ordinary. Not good enough for an Australian cricket. We need to start turning the results around and winning some games of cricket," he said.
Asked if such defeats are concerns for Australia, leading up to Ashes series, Smith said nothing is better than winning.
"It's a different format but I'll certainly like to start winning some games of cricket in every format to be honest. Our results haven't been good enough and we need to turn them around," he said.
"I probably thought our first probably 38 overs with the bat was very good. That was kind of the template we were trying to set. If we got to 330-340, which we probably should have done, things certainly could have been different."
He said it is difficult to say that things would have been different if they had played Adam Zampa instead of Aston Agar.
"You can have an argument for that. I thought Ashton (Agar) bowled well at times. Probably a little full to (Hardik) Pandya at times. He was obviously sent out to attack him.
"I thought that was our best chance of getting him out while he was trying to go after him. He didn't execute his skills as well we would have liked. And when he did get it right, bowled a bit wider, bowled a bit shorter. That wasn't our day."
(With PTI inputs)