Story Progress
Back to home
New Zealand vs Afghanistan Live Score Ball by Ball, ICC T20 World Cup 2021 Live Cricket Score Of Today's Match on NDTV Sports
Live Updates of Today Match between New Zealand vs Afghanistan from Sheikh Zayed Stadium, Abu Dhabi. Check commentary and full scoreboard of the match.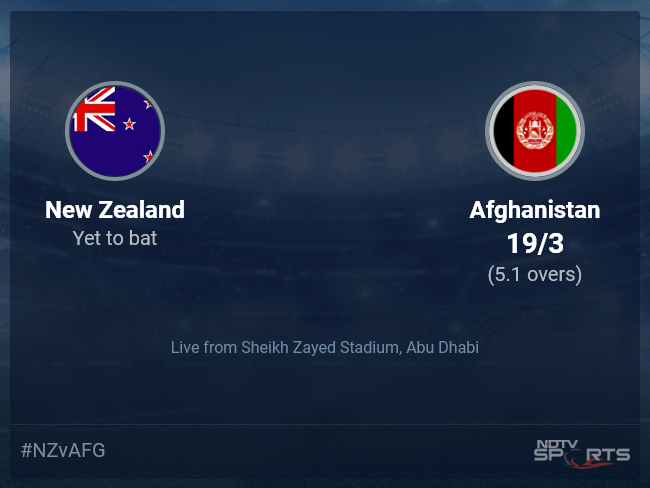 AFG vs NZ Latest Score
Follow the ICC T20 World Cup 2021 live cricket score on Sports.NDTV.com. After 5.1 overs, Afghanistan are 19/3. Get live score, ball by ball commentary and much more. Keep track of ICC T20 World Cup 2021 today match between New Zealand and Afghanistan. Everything related to New Zealand and Afghanistan match will be available on Sports.NDTV.com. Stay updated with New Zealand vs Afghanistan live score. Do check for New Zealand vs Afghanistan scorecard. You can get scorecard updates, match related facts. Get quick live updates with ads, Sports.NDTV.com, which is the perfect destination for live cricket score.
4.6 overs (0 Run) A good short one to end! Outside off, Naib looks to pull but misses. The short ball has caused problems for the Afghan batters. They though are still going after it.
4.5 overs (1 Run) Fuller and on off, Gurbaz pushes it to mid off and takes a quick run.
4.4 overs (0 Run) That was audacious! Gurbaz just walks across, he exposes his stumps. Milne bowls a slower one on middle, shorter in length. Gurbaz swings but misses. It goes over the off pole.
4.3 overs (0 Run) Good pace! Length and on off, Gurbaz looks to defend but gets an inside edge onto the pads.
4.2 overs (1 Run) Outside off, Naib slashes at it, it goes off the outside edge down to third man for one.
4.1 overs (1 Run) This lands safe! No timing again! Short and on middle, Gurbaz looks to ull, it goes more off the bottom part. Lands safe in the fine leg region. One taken.
3.6 overs (4 Runs) FOUR! TOP EDGE BUT A BOUNDARY! Afghanistan won't mind how they come as long as they do! A good short one. On middle, Naib takes his eyes off the ball and looks to pull. It goes off the top edge and over the keeper. Boundary.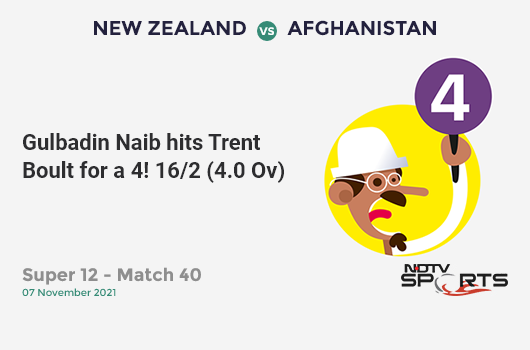 3.5 overs (0 Run) Back of a length and on the body, cramps the batter for room. He defends.
3.4 overs (0 Run) Back of a length and on off, Naib pushes it to covers.
3.3 overs (0 Run) Slightly shorter in length and outside off. Naib slashes at it but misses.
3.2 overs (0 Run) Good length and outside off, left alone. Boult has been brilliant so far.
Gulbadin Naib walks out to bat.
3.1 overs (0 Run) OUT! TAKEN! That is one of the most simple chances for Santner and he does not make a mistake! Zazai now walks back and both the openers fall quickly. Not the start Afghanistan wanted but the perfect one for New Zealand. On middle, Zazai looks to flick, he closes the face of the bat quite early. It goes off the leading edge and lobs towards mid-wicket where Santner runs in and takes it. We saw Zazai take quite a cautious approach till the time he was out there. Did not work.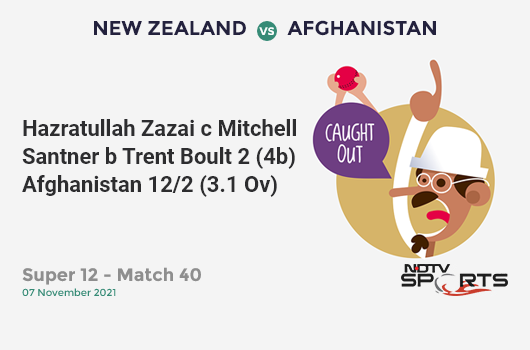 2.6 overs (0 Run) Back of a length, around off and tapped towards point by Gurbaz.
2.5 overs (0 Run) Good-length ball, around off. Gurbaz taps it back onto the deck.
2.4 overs (4 Runs) FOUR! Length again, on middle. Rahmanullah Gurbaz just walks across his stumps and flicks it really fine. The ball races away into the fine leg boundary.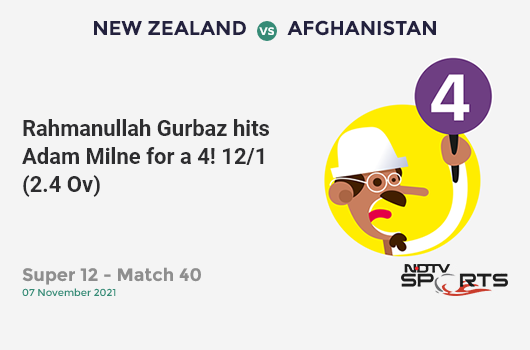 2.3 overs (0 Run) Back of a length, outside off and nipping away. Left alone by Gurbaz.
Rahmanullah Gurbaz is the new man in.
2.2 overs (0 Run) OUT! TAKEN, DROPPED? NO, THAT IS TAKEN! A really good catch by Devon Conway who just about hangs onto it! The move to get Milne on works wonders as he strikes. This is short and just outside off. Shahzad looks to arch back, tries to make room and cut. It goes more off the toe-end to the right of Conway who seems to have been wrong-footed. He sticks his right hand out, it hits the glove but then pops out, then hits his wrist as he is falling onto the ground and lobs up. He though manages to hang onto it in the end. Milne and the slip fielder are celebrating. The umpire, Dharmasena, consults the leg umpire and then raises his finger. Early wicket for New Zealand. Just the start they would have wanted.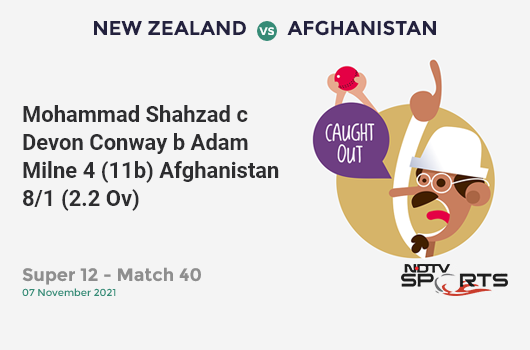 2.1 overs (1 Run) A run in the end! Shorter and on off, Zazai slaps it towards mid off. They wait for it to get past cover and then go for the run. Taken in the end.
Adam Milne comes to bowl now.
1.6 overs (0 Run) He does! A good pacey short one, outside off, Shahzad is late as he tries to cut. Too quick for the keeper too who does not collect it cleanly. No run conceded at it hits the glove and rolls to point.
1.5 overs (0 Run) Really good from Boult! Changing his length almost every delivery. Making Shahzad think. A short one now on middle, Mohammad Shahzad ducks under it. Just the one run from the over so far. Can he end it well?
1.4 overs (0 Run) Good length now and on off, Shahzad plays it to covers.
1.3 overs (0 Run) Bangs it short this time and on middle, good change in length. Ducked under.
1.2 overs (0 Run) Well bowled! Gets the yorker in, it is full and on off, Shahzad jams it out to point.
1.1 overs (1 Run) Good length and the stumps are targetted! Zazai works it through square leg for one.
Who will bowl from the other end? Trent Boult it is.
0.6 over (0 Run) Good comeback then by Southee after going for some in the first few balls. 6 from the first over. On middle, it is worked to mid-wicket.
0.5 over (0 Run) Swing and a miss! Fuller and outside off, Shahzad looks to go big but misses. Mohammad Shahzad going after everything here.
0.4 over (0 Run) Southee gets away with one! On the pads, Shahzad flicks but to short fine leg. A little to the left or the right and it would have been a boundary.
0.3 over (0 Run) Shahzad has come out with a lot of intent. He steps down the track and this is bowled on middle, Shahzad flicks but to mid on.
0.2 over (4 Runs) FOUR! Up and over! Mohammad Shahzad is off the mark in style and he also holds his pose for the cameras. Lovely stroke! Fuller and on off, Shahzad lofts it over the bowler's head. Boundary.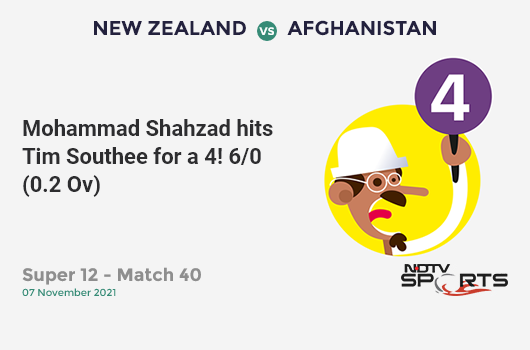 0.1 over (1 Run) This time he gets it to shape back in but the line is a little too straight. Zazai looks to flick but misses to get hit on the pads. It rolls on the leg side. A leg bye.
0.1 over (1 Run) WIDE! A false start then by Southee! Looks to angle it across the left-hander but bowls it well wide outside off. Left alone. Wided.
We are done with the national anthems now and it is game time. The players of New Zealand spread out on the field. Hazratullah Zazai and Mohammad Shahzad are the opening batters for Afghanistan. The players take knee to show their support for the Black Lives Matter movement. Tim Southee to start with the ball.
The players of both teams make their way out for their respective national anthems! First, it will be Afghanistan's anthem followed by New Zealand's.
Rashid Khan is down for a chat. He says that it is a big deal to be a part of a game which will be watched by so many players and generally the games at the back end of the group stages are the ones which are watched the least because teams are already out but it's not the same here. Adds that it is good to play under pressure and go out their and express your skills and perform well. Mentions that he will look to focus on the basics and enjoy today's game. Also adds that against India they had the dew factor in mind but today it's a day game, so will want to bat first like always.
Kane Williamson, the skipper of New Zealand, says they would have batted first as well as it is a used pitch. Adds that both sides are a good mix of youth and experience and Afghanistan has match-winners right through their lineup.
Mohammad Nabi, the skipper of Afghanistan, says that they will have a bat first. Adds that last time it was a night game and hence they batted second but will try to put a decent total on the board today. Informs that everyone is fit and Mujeeb Ur Rahman is back, he will take the place of Sharafuddin Ashraf. Adds that they will play their brand of cricket and look to win the match.
New Zealand (Unchanged Playing XI) - Martin Guptill, Daryl Mitchell, Kane Williamson (C), Devon Conway (WK), Glenn Phillips, James Neesham, Mitchell Santner, Tim Southee, Adam Milne, Ish Sodhi, Trent Boult.
Afghanistan (Playing XI) - Hazratullah Zazai, Mohammad Shahzad (WK), Rahmanullah Gurbaz, Mohammad Nabi (C), Najibullah Zadran, Gulbadin Naib, Karim Janat, Rashid Khan, Naveen-ul-Haq, Hamid Hassan, Mujeeb Ur Rahman (In for Sharafuddin Ashraf).
TOSS UPDATE - Kane Williamson and Mohammad Nabi are out in the middle for the all-important toss. The coin goes up and lands in favour of the latter. Afghanistan have elected to BAT first.
Afghanistan played really well initially in the tournament but against, India, they suffered a very heavy defeat. It will be interesting to see if they have got over it. They are up against New Zealand who have been really professional in this tournament and are favourites heading into this game. Will we see another professional performance from them or do Afghanistan have it in them to get over the line?
Just the three games left of the Super 12s but one has to say, this one is probably the most important game of the remaining ones. By the end of this game, we will find out which is the 4th team to make it through. India, New Zealand and Afghanistan, all three have a chance. The equation for the Kiwis is quite simple, win and go through. For Afghanistan, it is a bit complicated as even if they do beat the Kiwis, they'll be dependent on India's result in the last game of the Super 12. India on the other hand, need the Afghans to win or they'll be knocked out even before they play their last game. A lot on stake, expect this to be a cracker. Welcome to the coverage of the game between New Zealand and Afghanistan.
Topics mentioned in this article