Story Progress
Back to home
India vs Afghanistan Live Score Ball by Ball, ICC T20 World Cup 2021 Live Cricket Score Of Today's Match on NDTV Sports
Live Updates of Today Match between India vs Afghanistan from Sheikh Zayed Stadium, Abu Dhabi. Check commentary and full scoreboard of the match.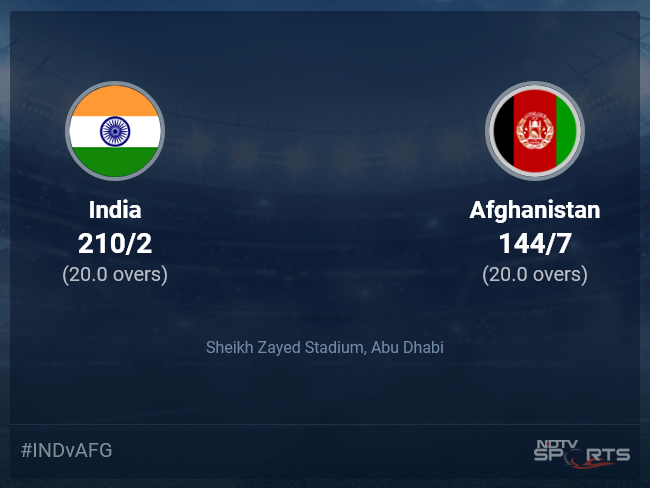 AFG vs IND Latest Score
Follow the ICC T20 World Cup 2021 live cricket score on Sports.NDTV.com. After 20.0 overs, Afghanistan, chasing a target of 211, are 144/7. Get live score, ball by ball commentary and much more. Keep track of ICC T20 World Cup 2021 today match between India and Afghanistan. Everything related to India and Afghanistan match will be available on Sports.NDTV.com. Stay updated with India vs Afghanistan live score. Do check for India vs Afghanistan scorecard. You can get scorecard updates, match related facts. Get quick live updates with ads, Sports.NDTV.com, which is the perfect destination for live cricket score.
Right then. That is all we have from this game. On Thursday, 04th November 2021, we have two more games lined up for you. The first game sees the clash between Australia and Bangladesh at 2 pm local (10 am GMT), which will be followed by the battle between Sri Lanka and West Indies at 6 pm local (2 pm GMT). Do join us for all the action. Cheers!
Virat Kohli, the Indian captain says that the wicket was much better this time around and they spoke in the previous matches as well that they will try to have a couple of good overs at the top. Adds that they can play well but sometimes they do get under pressure when the opposition is bowling well. Mentions that T20 cricket is a very instinctive game and you have got to go with your gut. Adds that the top three are pretty much set and their power hitters can come in and play like they did today and also mentions that sometimes there are decisions to be made on the go. Mentions that in the previous two matches, the opposition did bowl really well and they would like to play like they did today. About the NRR, Kohli says that it was in the back of their minds and they will look to better it in every match if there is any chance of qualifying. Mentions that the best part of the day was the return of Ashwin, who he thought bowled exceptionally well and has been doing the same in the Indian T20 League and in the nets, so he's pretty pleased with Ashwin's performance today.
Mohammad Nabi, the skipper of Afghanistan says that they were looking to bat second because of the dew and feels that there was not enough dew and feels that India batted really well on this deck. Adds that they try to rotate the strike in the middle overs and feels that they didn't do that well in this game. Hopes that they do well in their last game.
ROHIT SHARMA IS THE PLAYER OF THE MATCH! He says that the idea was to get off to a good start which hadn't happened in the previous two matches and applauds KL Rahul for his effort. Mentions that their partnership was a good one. Adds that he was a bit surprised when Afghanistan elected to bowl because they were prepared to bowl first themselves. Adds that they went in to bat keeping the NRR in mind and it was important to get a big total on board. Mentions that this is the way he wants to play and it was important for him to get in and play good cricketing shots.
The Indian bowling was on point. Mohammed Shami and Jasprit Bumrah started off well. The spinners did a really good job in the middle overs. Especially Ravichandran Ashwin who had a very good return back into the team, as he finished with figures with 4-0-14-2. Overall, it was a performance from India that we are used to seeing them give. First their batters, KL Rahul and Rohit Sharma helped them set up a huge score, and then their bowlers did a great job to give them a big win.
Something above 200 was never going to be easy to chase and Afghanistan got off to the worst start possible as they lost both their openers quickly. Rahmanullah Gurbaz and Gulbadin Naib did strike a few meaty blows but whenever the momentum seemed like shifting, Afghanistan lost a wicket. There were a few who got off to starts but none could make it significant. Mohammad Nabi played well in his stay out there, but, in the end, they fell well short of the desired total.
19.6 overs (6 Runs) SIX! A maximum to end proceedings from Karim Janat but it's India who pick up the win! Pandya bowls a slower one, this is short and wide as well. Janat slaps it over the point fence for a biggie and finishes on 42. INDIA WIN BY 66 RUNS!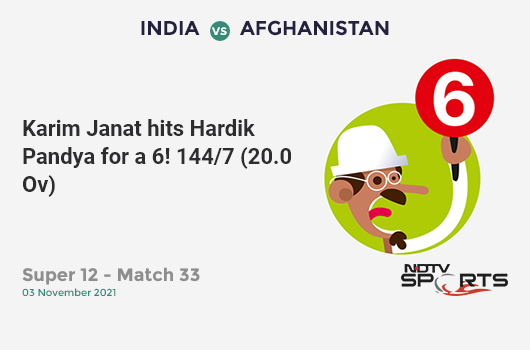 19.5 overs (1 Run) Banged into the pitch, around off. Ashraf makes a good connection on the pull shot, which goes on the bounce to the man at the cow corner fence. Just a single.
India finally open their account in this year's World Cup and it is just the kind of win they needed to keep their hopes alive of going through. An emphatic performance from them when needed as they have smashed Afghanistan by 66 runs.
19.4 overs (1 Run) Back of a length, Janat pulls it towards deep mid-wicket for another single.
19.3 overs (1 Run) Shorter one, around off and Ashraf pulls this one behind square on thye leg side for a single.
19.2 overs (1 Run) Janat moves across the leg stump and Pandya follows him. Thakur bowls a length ball and cramps Janat for room, who manges to get it away on the leg side for a single.
19.1 overs (4 Runs) FOUR! Pandya does not start the last over well. On top of off, Janat makes a bit of room for himself and slashes it into the point fence for a consolation boundary.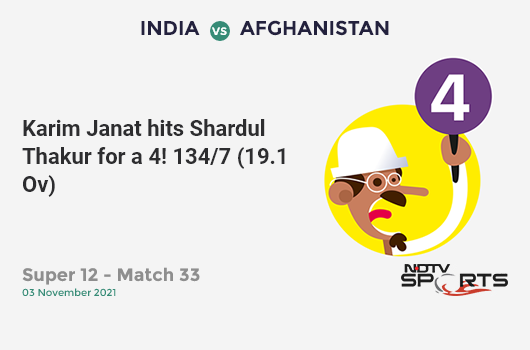 18.6 overs (0 Run) Shami gets the yorker in, around off stump. Ashraf jams it out on the off side.
18.5 overs (1 Run) Full and straight, driven down to long off for a single.
18.4 overs (2 Runs) In the slot again and Janat thumps it back over the bowler's head for a couple.
18.3 overs (0 Run) OUT! CAUGHT! Well, Rashid Khan just had to go for the big shots and he ends up getting out for a golden duck. Mohammed Shami looks for the yorker, but delivers it in the slot. Rashid Khan clears his front leg and clubs it flat towards the long on fence. Hardik Pandya is stationed over there and takes a comfortable catch. Mohammed Shami gets his third.
18.2 overs (1 Run) NOT OUT! Ravindra Jadeja almost managed to pull off one of the catches of the year. A length ball, on off and this time Karim Janat looks to go big. Janat ends up completely mistiming it. The ball is skied up towards the mid-wicket region and Ravindra Jadeja sprints in from the fence at full speed and puts in the dive at full stretch. He does manage to pouch the ball but while landing the ball pops out a little and hits the ground, as per the replays seen by the TV umpire. This will be not out and a single is taken as well.
Sharafuddin Ashraf is in!
18.1 overs (0 Run) OUT! TAKEN! After a long struggle and a fighting knock, Mohammad Nabi departs. Shami bowls a slower ball, around off stump. Mohammad Nabi winds up for the big shot and launches this one a mile up in the air, towards the cow corner fence. This one doesn't have the distance and Ravindra Jadeja takes a simple catch, well inside the ropes.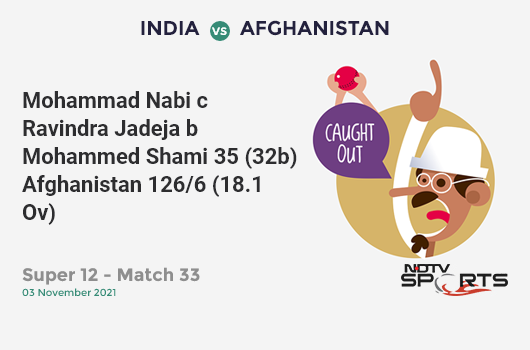 Has Ravindra Jadeja taken a stunner? It does look like it, but the umpires want to make sure. Their soft signal is out. The TV umpire feels that the ball has hit the ground and hence, he overturns the on-field decision.
18.1 overs (1 Run) WIDE! Shami will have to reload. This is dragged down, way outside the off stump. Wided.
Rashid Khan is the new batter in.
17.6 overs (2 Runs) Another full toss, outside off, pumped through extra cover for a couple of runs.
17.5 overs (1 Run) Full toss, around off, pushed to long off for one.
17.4 overs (2 Runs) Slower, shorter, way outside off, Mohammad Nabi waits for it and then slaps this over point. Collects a couple of runs.
17.3 overs (4 Runs) FOUR! Nabi is on the charge now! A touch shorter this time, around off, Mohammad Nabi whacks this one hard to the deep mid-wicket region and bags a boundary.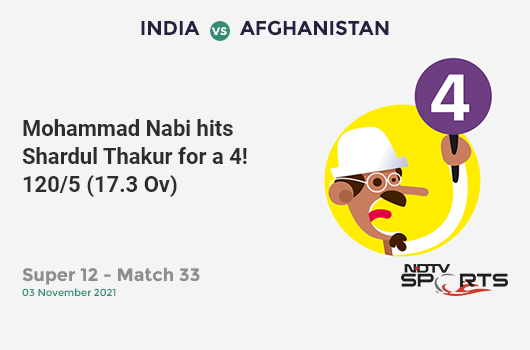 17.2 overs (6 Runs) SIX! A slower ball this time, around off, Mohammad Nabi waits for it and then thumps this one over the long off region for a biggie. Ishan Kishan is just a spectator this time as the ball sails over him!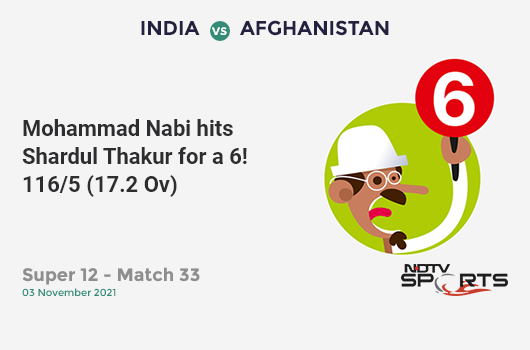 17.1 overs (1 Run) That was nearly a wonderful catch by Ishan Kishan (sub)! Excellent effort. On a fuller length, around off, Karim Janat chips this one towards the long off region, where Kishan sprints ahead, gets low, dives forward, but the ball falls short. One run.
16.6 overs (0 Run) An action replay of the previous delivery! Outside off on a fuller length, Nabi reaches out but fails to connect bat with ball now.
16.5 overs (0 Run) Gets it right this time, does Bumrah! Fuller, outside off, slower too, Nabi fails to dig this out and misses.
16.5 overs (1 Run) WIDE. This one was close. Fuller again, way outside off, but looked to be inside the tramline, Nabi looks to dig it out but misses. The umpire calls this as a wide.
16.5 overs (1 Run) WIDE. Fuller again, outside the tramline on the off side this time, Nabi reaches out, but misses.
16.4 overs (0 Run) Fuller around off, driven to covers.
16.3 overs (4 Runs) FOUR! This is put away by the Afghanistan skipper! A pacy full toss this time, width offered too outside off, Mohammad Nabi opens up the face of the blade and slices this behind point. Boundary.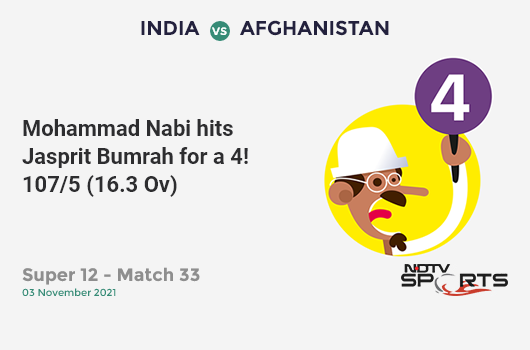 16.2 overs (1 Run) Played to sweeper cover this time for one.
16.1 overs (4 Runs) FOUR! It is in the gap and a boundary results! A well directed short ball, around off, Karim Janat camps back and powers this one in between Virat Kohli at long on and Ravindra Jadeja at deep mid-wicket. Jadeja runs to his left, overruns actually, and that results in the ball going past the ropes. 100 up for Afghanistan!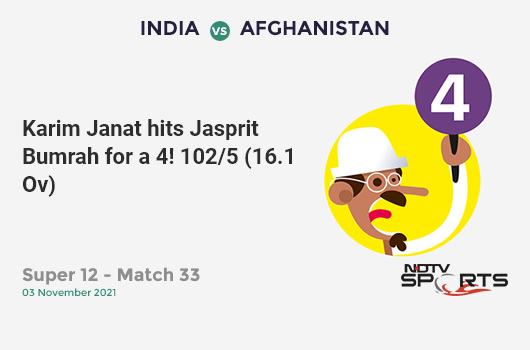 15.6 overs (1 Run) A full toss, outside off, slapped to sweeper cover for one. 113 more needed from the last 4 overs!
15.5 overs (1 Run) A slower bouncer, around off, Nabi judges it well and taps this towards deep mid-wicket. Takes one, wants another, but Virat Kohli steams in, collects the ball, and throws it to the keeper, ensuring that this is only a single.
15.4 overs (0 Run) Slower in pace, on a length on the pads, Nabi misses his flick, and the ball takes the pad and finds Pant, who dives to his left and stops the ball.
15.3 overs (1 Run) On middle, this is stroked down to the long on region for one.
15.2 overs (6 Runs) SIX! WOW! That has been smashed! On a length, around off and middle, Karim Janat whips this one delightfully over the fine leg fence for a massive hit!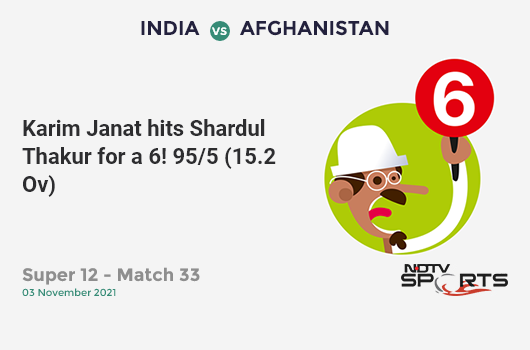 15.1 overs (1 Run) On a length around off, worked towards deep mid-wicket for one.
Match Reports
Topics mentioned in this article