Story Progress
Back to home
India vs Afghanistan: ICC T20 World Cup 2021 Live Cricket Score, Live Score Of Today's Match on NDTV Sports
Live Updates of Today Match between India vs Afghanistan from Sheikh Zayed Stadium, Abu Dhabi. Check commentary and full scoreboard of the match.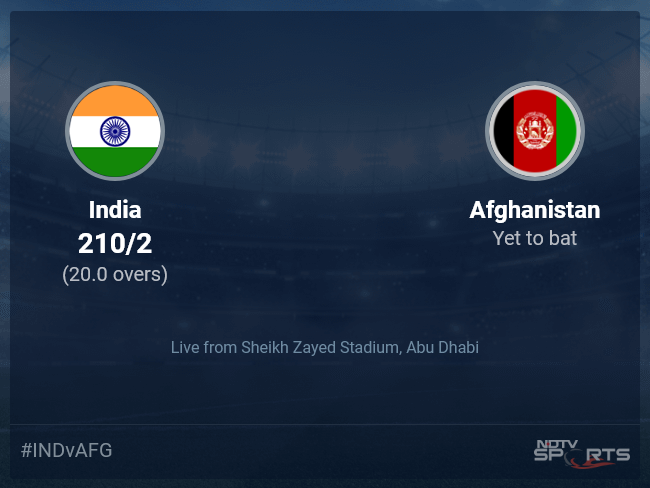 IND vs AFG Latest Score
A dedicated team of experts bring you live score, live cricket score, live match update on Sports.NDTV.com. After 20.0 overs, India are 210/2. The live updates of India vs Afghanistan scorecard is also available. It is the perfect platform to follow your favourite teams in ICC T20 World Cup 2021. Keep a track on your favourite batsmen and bowlers through ICC T20 World Cup 2021 today match, ball by ball commentary, India vs Afghanistan, India vs Afghanistan live score, India vs Afghanistan scorecard. Follow the excitement of the ICC T20 World Cup 2021 on Sports.NDTV.com as you can follow live match updates and live cricket score through our platform.
Now the target is a huge one! India will look to restrict Afghanistan to as low as possible and they will need to do so. Afghanistan will have to bat extremely well if they are to chase this down. It will be a special chase if they do so. They would be pleased even if they get close. Can they do so? We will find out. Stay tuned for the run chase on the other side.
KL Rahul is in for a quick chat! He says that it's the best wicket they have batted on so far and it gets even better once you settle in. Adds that him and Rohit had a clear plan, which was to score steadily and give the power hitters a platform to launch from and is really happy with the performance. On his partnership with Rohit, he says that Rohit is a world class batter and he let Rohit be the aggressor and Rohit does that really well. On being asked about Rashid Khan, Rahul says that there's only two ways to go about it, either play him out or attack him and since they had a good start, they decided to attack Rashid today.
One has to feel sorry for the Afghanistan bowlers. When the likes of Rohit and Rahul are in full flow, no bowler could actually stop them. Every bowler took a pounding. Only Nabi and Janat could be happy with their figures, they though bowled just the one over. Not even Rashid Khan could stem the run-flow. Naveen-ul-Haq had a day to forget, he went for close to 60 in his allotted 4.
It was all set up by the openers, right from the word go, both Rohit Sharma and KL Rahul batted with a lot of intent. They added 140 in no time with both scoring half tons. The foundation was laid. There was a small period when the runs did slow down after the wicket of the two openers but cameos from Pant and Pandya gave India the finishing touches and that took India to a mammoth score of 210.
That is a brilliant batting performance from India! They need to win all their games by some margin and their batters have surely done the job, to begin with! Had they been given something over 200 at the toss, pretty sure they would have taken it.
19.6 overs (1 Run) BYE! A bye to end the innings! On a length, around middle and leg again, Hardik Pandya looks to whack this to the leg side but the ball sneaks in between his legs and to the keeper, who fumbles, letting the batters take a bye. INDIA END ON 210/2!
19.5 overs (4 Runs) FOUR! Streaky but it still goes to the ropes. Everything going the way of the Indians! A yorker, around middle and leg, Hardik Pandya looks to whip this to the leg side but the ball takes the inside edge and runs away to the fine leg fence.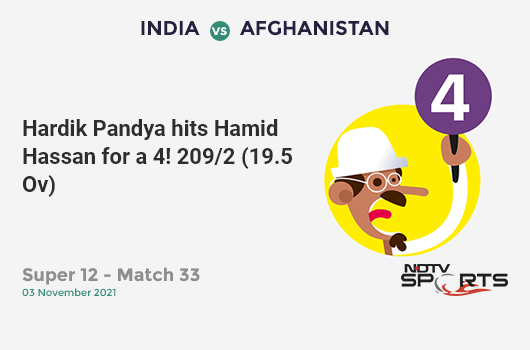 19.4 overs (1 Run) BYE! A pacy short ball this time, outside off, Rishabh Pant backs away and looks to slap it away but misses. They sneak in a bye this time.
19.3 overs (0 Run) A rare dot ball! Slanting across on a length, outside off, Pant looks to heave it across the line but misses.
19.2 overs (6 Runs) SIX! That is magical hitting! 200 up for India too! The slower ball, on a length around off, Rishabh Pant just smacks this one over the long off fence. Incredible batting from the Men in Blue!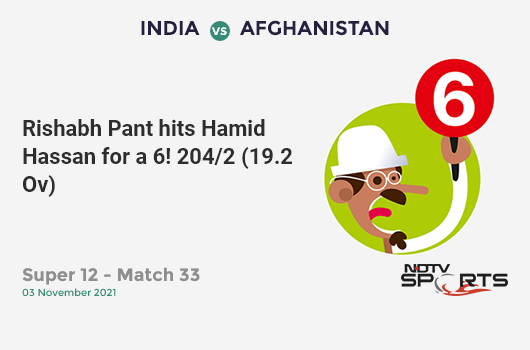 19.1 overs (4 Runs) FOUR! Funky batting! Starts the final over with a boundary, does Rishabh! A full toss, way outside off, Rishabh Pant shuffles across and paddle scoops this over short fine leg. One bounce and boundary.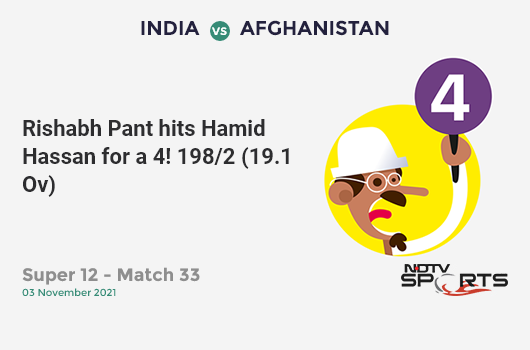 Hamid Hassan (3-0-20-0) has been entrusted to bowl the final over.
18.6 overs (2 Runs) Around off, Hardik mistimes his bunt towards long on. They take the first one quickly and complete the second run too. A direct hit at the striker's end but Hardik had made it back in. 19 off the 19th over!
18.5 overs (6 Runs) SIX! HO HO HO! This is now the highest total in the tournament this year. Pandya is looking very menacing at the moment! Around off, in the slot, Hardik Pandya stands tall and spanks this one over the bowler for a biggie.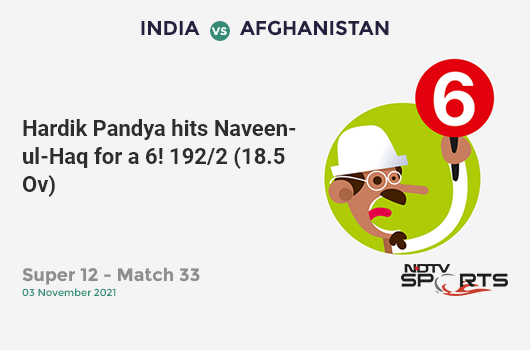 18.4 overs (1 Run) Fuller, wider, outside off, Rishabh gets low and hits this to long off, where the fielder collects it on the bounce. One taken.
18.3 overs (1 Run) On a fuller length, around off, Pandya finds the long off fielder on the bounce for one.
18.2 overs (6 Runs) SIX! RAW PANDYA POWER! That has been forced past the ropes by Hardik! Slightly short, slower this time, outside off, Hardik Pandya makes room, anticipates this well, waits, and then smokes this one well over extra cover.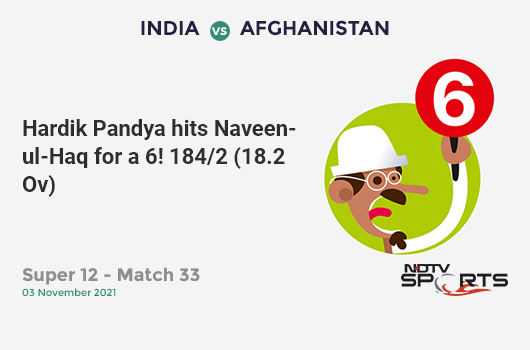 18.2 overs (1 Run) WIDE. A slower fuller ball, way outside off, left alone by Pandya. Wided.
The keeper, Mohammad Shahzad and Hardik Pandya have collided and the physio is out having a check. Hope both of them are okay. Everything seems fine now and we are ready to reume play.
18.1 overs (2 Runs) DROPPED! Oh, no. Should have been taken by Gulbadin Naib but it has been dropped. A collision at the striker's end too. Let's start off with the delivery - a slightly shortish delivery, outside off, Hardik Pandya makes room and looks to slap this over the cover region but slices this high in the air. No distance on this and it goes towards long off, where Naib runs ahead, keeps his eyes up, but makes a meal of it as the ball pops out. The batters want the second run and they scamper through. The throw is towards the keeper's end, where Hardik Pandya collides with the keeper, as he was looking to collect the ball.
17.6 overs (1 Run) LEG BYE! Back of a length, on off and angled in. Pandya looks to pull again but misses. the ball goes off the thigh pads onto the off side. They get a leg bye. 15 off the over.
17.5 overs (4 Runs) FOUR! Top shot from Hardik Pandya as he picks up the third boundary in the over. On the pads and whipped across, splitting long on and deep mid-wicket yet again.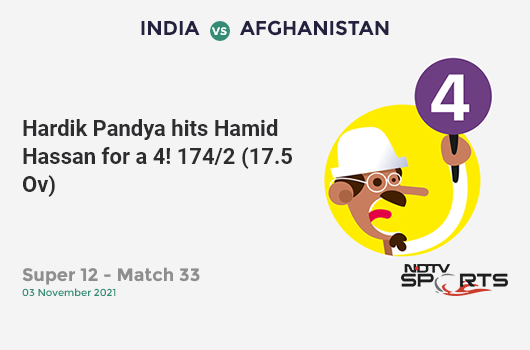 17.4 overs (4 Runs) FOUR! Hardik Pandya looks like a man on a mission. Hassan bowls a slower length ball, around off. This one sits up nicely and Pandya pulls it with authority and into the mid-wicket fence.
17.3 overs (1 Run) Nicely bowled. Hamid Hassan gets the yorker in, on leg stump and Pant jams it out to deep square leg for a single.
17.2 overs (1 Run) Length ball, on off and this is driven on the up towards long off for a single.
17.1 overs (4 Runs) FOUR! Perfectly placed from Hardik Pandya. Full and straight, Pandya, with a flick of the wrist, works this through mid-wicket and beats the chasing long on fielder for a boundary.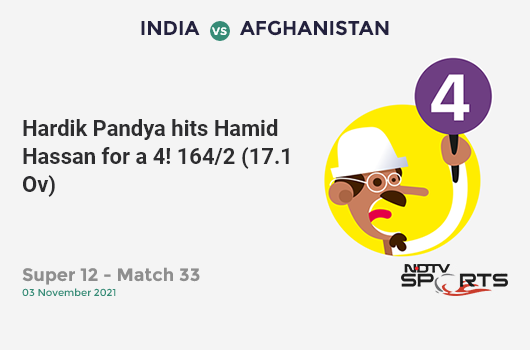 16.6 overs (6 Runs) SIX! And again! A length ball, on off stump. This time Pant gets an even better connection and hits another one-handed maximum, right back over the bowler's head.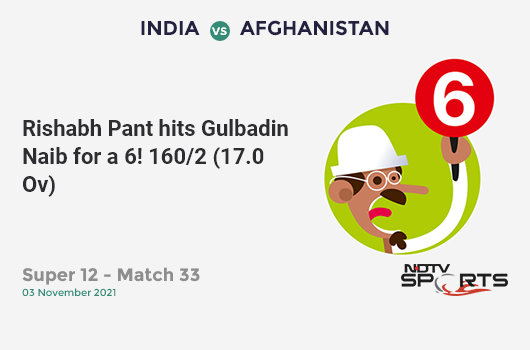 16.5 overs (6 Runs) SIX! Wow! Rishabh Pant and one-handed sixes have been a common thing now. In the slot and Pant looks to lift this one over long off. The hand comes off the handle but the ball goes high and handsome over the bowler for a biggie.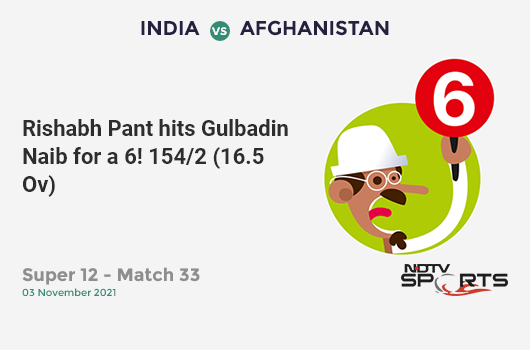 Change in bowling. Hamid Hassan (2-0-6-0) returns now.
16.4 overs (1 Run) Back of a length, on middle. Pandya punches it down to long on for a run.
16.3 overs (0 Run) OUT! Cleaned him up! KL Rahul tries to get funky but pays the price. Gulbadin Naib sees Rahul walking right across his stumps and fires in a full and quick delivery, on middle stump. Rahul looks to scoop it over short fine leg but gets undone by the pace and the ball sneaks underneath the willow and crashes into middle stump.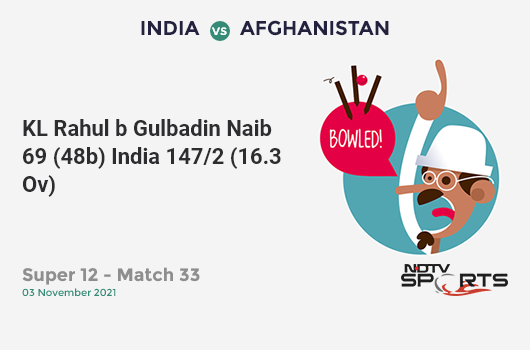 16.2 overs (1 Run) Slower one, well outside off and Pant slices it towards sweeper cover for a single.
In walks Hardik Pandya. Can he and Pant tonk a few out of the park and help the Men in Blue end on top?
16.1 overs (1 Run) A length ball, outside off and carved to deep point for one.
15.6 overs (1 Run) Dragged down, on leg stump. KL Rahul pulls it to deep square leg for another one.
15.5 overs (1 Run) On middle and leg, swept away to deep square leg for a single.
15.4 overs (0 Run) NOT OUT! Rashid Khan thought he had his 400th T20 wicket but the third umpire has spoilt it for him. Full and straight, Rishabh Pant looks to sweep but the ball skids through and hits him plumb in front. Rashid appeals and this time the finger goes up but Pant reviews right away. UltraEdge shows that there was a bit of glove on it and hence, Pant survives.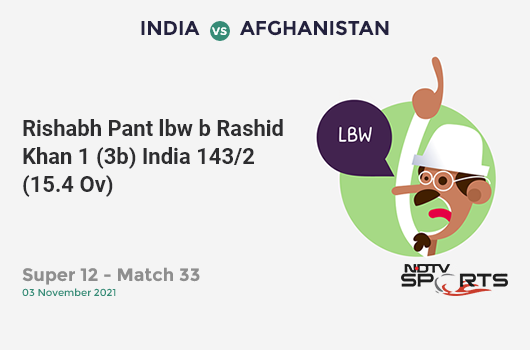 15.3 overs (0 Run) NOT OUT! Fuller, around the leg stump. Rishabh Pant comes down the track looking to nudge it on the leg side but gets beaten in flight and gets hit on the pads. A huge appeal from Rashid is turned down but they do take the review. UltraEdge shows no bat is involved but Ball Tracking confirms that the ball was pitching outside leg. Afghanistan are out of reviews now.
This time, the finger has gone up for LBW against Rishabh Pant and the southpaw takes the review. This clearly came off the glove and the on-field decision has been reversed.
15.2 overs (1 Run) A skiddish delivery, on the pads, KL Rahul works it through mid-wicket for a single.
Review time! Afghanistan take the review for this LBW appeal against Rishabh Pant. Nothing on UltraEdge. This one has pitched outside leg and hence, will remain not out.
15.1 overs (0 Run) Slowed up a bit and on middle and leg. Rahul looks to flick it away but misses.
Match Reports
Topics mentioned in this article