Story Progress
Back to home
India vs Afghanistan Live Score Ball by Ball, ICC T20 World Cup 2021 Live Cricket Score Of Today's Match on NDTV Sports
Live Updates of Today Match between India vs Afghanistan from Sheikh Zayed Stadium, Abu Dhabi. Check commentary and full scoreboard of the match.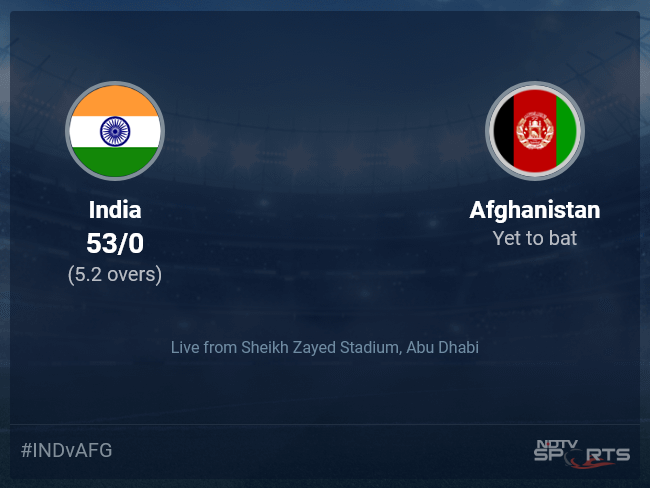 AFG vs IND Latest Score
Follow the ICC T20 World Cup 2021 live cricket score on Sports.NDTV.com. After 5.2 overs, India are 53/0. Get live score, ball by ball commentary and much more. Keep track of ICC T20 World Cup 2021 today match between India and Afghanistan. Everything related to India and Afghanistan match will be available on Sports.NDTV.com. Stay updated with India vs Afghanistan live score. Do check for India vs Afghanistan scorecard. You can get scorecard updates, match related facts. Get quick live updates with ads, Sports.NDTV.com, which is the perfect destination for live cricket score.
4.6 overs (4 Runs) FOUR! Magnificent shot to end the over from Rohit Sharma. A length ball, outside off, Sharma skips down the track and creams this one over covers and the ball takes a couple of bounces before ending in the fence yet again. 17 off the over and India are motoring along.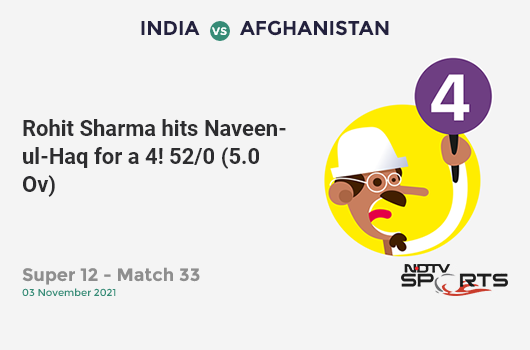 4.5 overs (6 Runs) SIX! Naveen-ul-Haq isn't enjoying his bowling today. This is in the slot, around the off stump. Rohit Sharma hangs back and looks to lift it over the long off fence and that is he what he does. A 90m six, that one.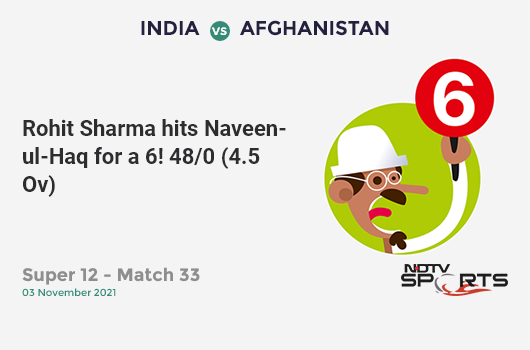 4.4 overs (0 Run) Change of pace again, a slower delivery just outside off. Sharma with a gentle push to mid off.
4.3 overs (4 Runs) FOUR! Rohit Sharma looks to be in good touch out there. Naveen-ul-Haq offers width and Rohit gladly accepts it. Sharma frees his arms and carves it over point and the ball races away into the boundary.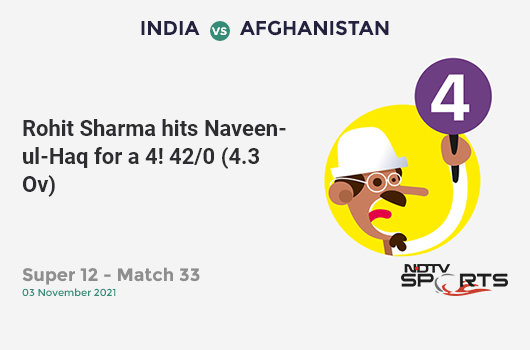 4.2 overs (1 Run) A length ball, on off and Rahul pushes it towards the cover region for a quick single.
4.1 overs (1 Run) Naveen-ul-Haq goes short and well outside off. Rohit Sharma fetches it and pulls it aerially towards deep mid-wicket for a single. The no ball didn't cost much for Afghanistan.
4.1 overs (1 Run) NO BALL! Slower one, angled in full and on leg stump. Rohit Sharma caresses it towards cover. The third umpire signals a no ball for overstepping. Free Hit time...
3.6 overs (1 Run) Length again, around off, Sharma drives it straight to cover where the fielder fumbles and allows the batters to cross.
3.5 overs (1 Run) Length ball, on middle and this is flicked on the leg side for another one.
3.4 overs (1 Run) Hassan goes full again, Sharma digs it towards mid off. The call for the single is a bit late from Rohit but they get through easily in the end.
3.3 overs (0 Run) Excellent delivery. Hassan looks for the block hole and finds it. Rohit Sharma does well to keep it out.
3.2 overs (1 Run) Full and straight, Rahul jams it out to mid off for a run.
3.1 overs (1 Run) A length ball, just outside off. Sharma dabs it down towards third man for a single.
2.6 overs (1 Run) Full and around off, Sharma drives it towards covers where Nabi dives to his left and gets a hand on it. Practically saved 3 runs for his team there, did Nabi.
2.5 overs (4 Runs) FOUR! This delivery deserved to be punished. Naveen-ul-Haq bowls a slower length ball, around off. Rohit Sharma just hangs back and then pulls it away in front of square on the leg side for another boundary.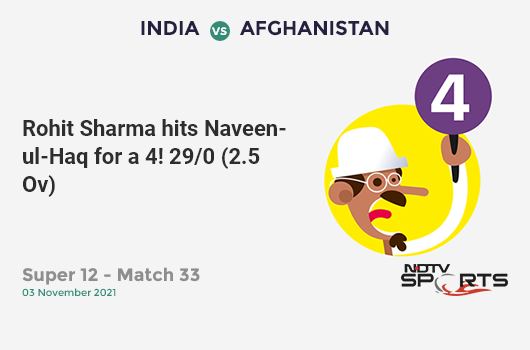 Change. Hamid Hassan to have a go!
2.4 overs (0 Run) Good-length ball, angled in from outside off. Sharma looks to drive it on the up but taps it back onto the deck off the inner half of the bat.
2.3 overs (1 Run) Fuller delivery, on middle. Rahul pushes it towards mid on for another one.
2.2 overs (1 Run) Slower one, well outside off and holds in the surface a bit. Rohit Sharma waits for it and taps it through cover-point for a single.
2.1 overs (0 Run) Naveen-ul-Haq hurls across a length ball from wide of the crease. This is angled in on off stump and Sharma taps it towards the mid-wicket region.
1.6 overs (4 Runs) FOUR! And again Ashraf misses his mark and KL Rahul doesn't spare him. Rahul lofts it easily over mid on and the ball trickles into the long on fence for another boundary. 16 off the over, a good one for India.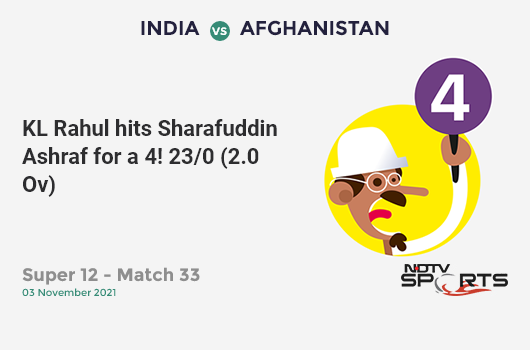 Change. Time for some pace as Naveen-ul-Haq will speed in...
1.5 overs (6 Runs) SIX! Wow! Ashraf looks to york KL Rahul but bowls it into the slot. Rahul hits through the line nicely and clears the long on fence with utmost ease.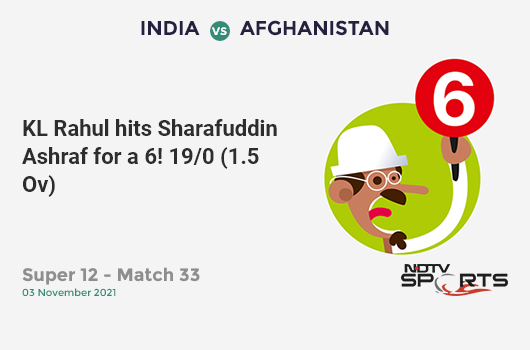 1.4 overs (0 Run) Tossed up, on middle and leg. KL Rahul makes room but can't get it past short cover.
1.3 overs (1 Run) Fuller one, on leg stump. Sharma drives it through mid-wicket and rotates the strike.
1.2 overs (4 Runs) FOUR! Rohit Sharma is looking to be the aggressor from the word go. Outside off and Sharma plays a cheeky paddle sweep past the short fine leg fielder and into the fence.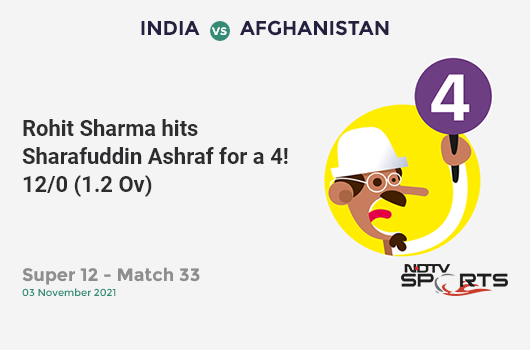 1.1 overs (1 Run) On middle and leg, Rahul nudges it towards mid on for a single.
0.6 over (4 Runs) FOUR! Rohit Sharma goes up and over and it's the first boundary of the game. Tossed up, around off and Sharma lifts it over extra cover and the ball runs away into the fence. 7 from the first over.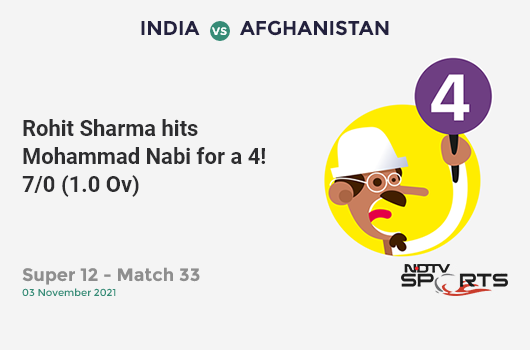 0.5 over (1 Run) Full, on off. KL Rahul makes a bit of room and pushes it towards mid off for a quick single. The fielder scores a direct hit at the bowler's end but Rahul is well in.
Who will bowl from the other end? Sharafuddin Ashraf, it is!
0.4 over (0 Run) On off and slightly drifting away, Rahul plays it towards covers.
0.3 over (1 Run) Rohit Sharma is off the mark straightaway. Slightly fuller and on middle, stroked through mid-wicket for a run.
0.2 over (1 Run) KL Rahul and India are underway. Flatter one, on middle and nudged towards mid-wicket for a quick single.
0.1 over (0 Run) Nabi starts with a juicy half volley, outside off. KL Rahul drives it straight to point.
Right then, we are almost ready for play. Both the teams are out in the middle for their respective national anthems. First, it will be Afghanistan's, followed by India's. Done with all the pre-match formalities, now, the Indian openers, Rohit Sharma and KL Rahul make their way out into the middle. Spin to begin things as Mohammad Nabi has the ball in hand. Let's get going....
The Indian captain, Virat Kohli says that they do know the situation is a tricky one. Adds that they haven't played to their potential and knows they can play better. Also adds that there's still a chance if they do play well. Informs that he would have liked to bowl first as well but it's not the worst thing to bat first against a team who themselves like to put the runs on the board. Lastly, he also informs that there are a couple of changes to the squad, Suryakumar Yadav comes back in to take his spot and Varun Chakravarthy has a slight niggle, so Ravichandran Ashwin is in the squad today.
Mohammad Nabi, the Afghanistan skipper says that, they will bowl first because there was a lot of dew in the previous match during the second half. Informs that Mujeeb Ur Rahman is still not available to play. Adds that they are ready to bat first or bowl first and today there are going for the latter. Menstions that they will go out their and enjoy.
Afghanistan (Playing XI) - Hazratullah Zazai, Mohammad Shahzad (WK), Rahmanullah Gurbaz, Sharafuddin Ashraf (In for Asghar Afghan), Mohammad Nabi (C), Najibullah Zadran, Gulbadin Naib, Karim Janat, Rashid Khan, Naveen-ul-Haq, Hamid Hassan.
India (Playing XI) - KL Rahul, Rohit Sharma, Virat Kohli (C), Suryakumar Yadav (In for Ishan Kishan), Rishabh Pant (WK), Hardik Pandya, Ravindra Jadeja, Shardul Thakur, Mohammed Shami, Ravichandran Ashwin (In for Varun Chakravarthy), Jasprit Bumrah.
TOSS - The two captains are out in the middle for the toss. Mohammad Nabi calls head and it is heads. Afghanistan will have a BOWL FIRST.
The Afghans are themselves in with a chance to go to the top 4 and are probably in a better position than their opponents to make it through. A win against India will not only boost their possibility of going to the semis but also lift their confidence to another level. India are big time favourites but we have seen before, there can be an upset. Welcome to the coverage.
From tournament favourites to being on the verge of getting knocked out, that is the been the story so far for India. Every game is a must-win and by some margin and also hope the other results go their way. It will be nothing short of a miracle if they go through but first, they'll have to beat an in-form Afghanistan side who have impressed one and many with the brand of cricket they have played.
Topics mentioned in this article