Story Progress
Back to home
Australia vs West Indies: ICC T20 World Cup 2021 Live Cricket Score, Live Score Of Today's Match on NDTV Sports
Live Updates of Today Match between Australia vs West Indies from Sheikh Zayed Stadium, Abu Dhabi. Check commentary and full scoreboard of the match.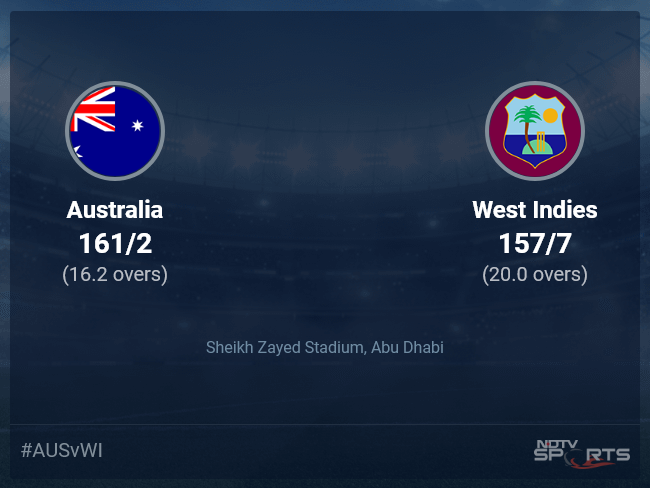 AUS vs WI Latest Score
A dedicated team of experts bring you live score, live cricket score, live match update on Sports.NDTV.com. After 16.2 overs, Australia, chasing a target of 158, are 161/2. The live updates of Australia vs West Indies scorecard is also available. It is the perfect platform to follow your favourite teams in ICC T20 World Cup 2021. Keep a track on your favourite batsmen and bowlers through ICC T20 World Cup 2021 today match, ball by ball commentary, Australia vs West Indies, Australia vs West Indies live score, Australia vs West Indies scorecard. Follow the excitement of the ICC T20 World Cup 2021 on Sports.NDTV.com as you can follow live match updates and live cricket score through our platform.
Right then, this is all we have from this game. There's one more game to go in the day and this game will decide the fate of this group. England will take on South Africa and that game starts shortly. You can change tabs and enjoy the coverage. Cheers!
Australia's captain, Aaron Finch says, it was a pleasing day. The way Gayle and Lewis started, they thought it was going to be a long day at first. The plan was to get Marsh early into to crease to get some time to settle in the middle and once the partnership grew there was no stopping them. Adds, they have to wait for the South Africa's game and they will have their finger's crossed. Mentions, they will be on their bus while the game would be going on, adds that if the result does not go their way, they can atleast go back with their heads held high.
The Windies skipper, Kieron Pollard says that, it has been a disappointing campaign and the batting has not been up to the mark and their bowling was decent but overall weren't good enough. Tells that Bravo and Gayle has done good things for the game and are very proud of them. Tells that it's the end of a generation. Adds that they have some guys who have been doing good things in T20 cricket in their team and around the world. Mentions they have to look the way they play this format and have to start a foundation now.
David Warner is the MAN OF THE MATCH for his blistering kncok of 89 runs. He says, he is satisfied with his performance and hoping they make it to the semi-finals. Mentions, the key was to play his natural game. Adds that the bowlers have been outstanding in this competition. Adds, DJ Bravo is someone people look up to and Gayle is the one, he looked up to.
... PRESENTATION CEREMONY ...
Earlier on, West Indies were put into bat by Aaron Finch and somehow managed to put on a par score of 157 runs on the board. David Warner never gave a chance to the Windies bowlers and Australia just breezed through the chase, winning easily by 8 wickets in the end.
Well, there's nothing much left to say about the reigning champions apart from the fact that this tournament should serve as a wake-up call for their younger generation, if they are to emulate past success. After a late flourish with the bat, one would have expected more from their bowlers. After the early breakthrough, it was a flat performance on the field by West Indies. A day on which, they are celebrating two stalwarts of the game, Windies will be disappointed to have put up such a performance.
Now then, the Aussies are finally looking like a team everyone expects them to be. Apart from that horror show against arch-rivals England, the Aussies have been on a roll. Aaron Finch got out early but then it was the David Warner show. He took the attack to the Windies bowlers and came out on top. Mitchell Marsh played second fiddle, then burst into life himself. Both batters surpassed the 50-run mark and added on 124 runs. Marsh got out for 53 but Warner ended unbeaten on 89 as he hit the winning runs as well.
It was nothing short of a cake walk for the Aussies today and they have bolstered their chances of making it to the semi-finals and well for Windies it's a disappointing end to a disappointing campaign. Lovely scenes on the ground though, as players from both nations join in to give a guard of honor to Dwayne Bravo and Chris Gayle. A lovely gesture, which upholds the spirit of the game.
16.2 overs (4 Runs) FOUR! There it is! Australia have done all that they can in staying alive in this tournament. Down the leg side, Warner flicks it to the left of leg slip. Chris Gayle is there but he barely reacts and just laughs. Warner charges down for the single but Maxwell smartly reminds him to not complete the single as a boundary would only help their net run rate. And now, the two Aussies hug each other as the ball touches the fine leg fence. Had they completed the single before the boundary, it would have counted as a single as only a run was required. Warner punches his fists in the air in joy.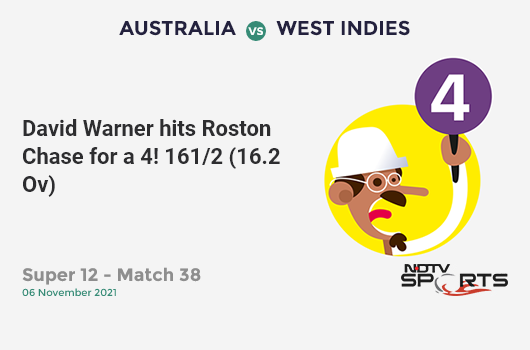 16.1 overs (0 Run) Full and on leg, Warner flicks it to short fine leg.
Glenn Maxwell walks out to bat. Also, Roston Chase is back into the attack.
15.6 overs (0 Run) OUT! CAUGHT! The universe boss strikes and gets a wicket. Marsh looks to go over mid off but does not get the elevation. Floated, full, around off. Marsh stays back and lifts it straight to mid off. Jason Holder takes an easy catch. Gayle has a big smile on his face.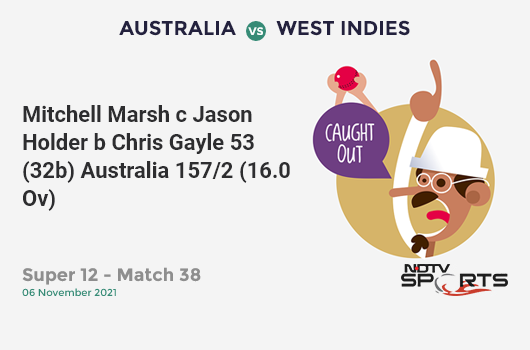 15.5 overs (1 Run) Darted, on the pads. Warner clips it to mid-wicket for a single. Scores level now!
15.4 overs (2 Runs) Full, on the pads. Warner clips it to deep square leg for a couple more. Good running.
15.3 overs (2 Runs) Full, on off. Warner lifts it over covers for a brace.
15.3 overs (1 Run) WIDE! Tossed up, down leg. Warner looks to push it out but misses. Wide called.
15.2 overs (0 Run) Full, on off. Warner reverse sweeps it to point.
Chris Gayle to roll his arm.
15.2 overs (1 Run) WIDE! Full, down leg. Warner misses his flick. Wide called.
15.1 overs (0 Run) Loopy ball, down leg. Warner looks to reverse sweep it but does not connect. No wide says the umpire.
Match Reports
Topics mentioned in this article