Story Progress
Back to home
Afghanistan vs Pakistan Live Score Ball by Ball, ICC T20 World Cup 2021 Live Cricket Score Of Today's Match on NDTV Sports
Live Updates of Today Match between Afghanistan vs Pakistan from Dubai International Cricket Stadium, Dubai. Check commentary and full scoreboard of the match.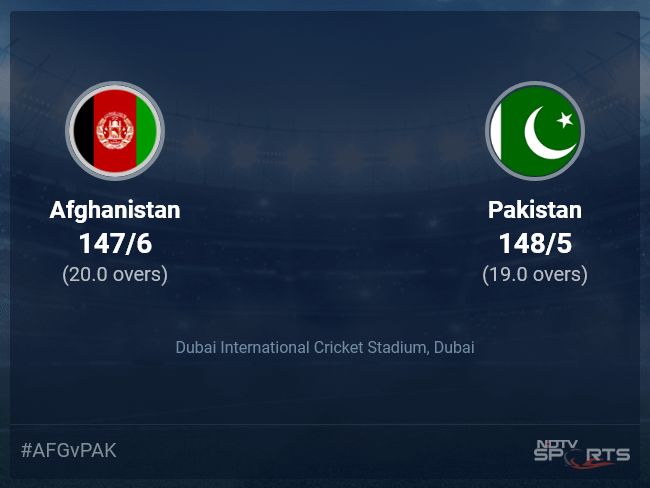 PAK vs AFG Latest Score
Follow the ICC T20 World Cup 2021 live cricket score on Sports.NDTV.com. After 19.0 overs, Pakistan, chasing a target of 148, are 148/5. Get live score, ball by ball commentary and much more. Keep track of ICC T20 World Cup 2021 today match between Afghanistan and Pakistan. Everything related to Afghanistan and Pakistan match will be available on Sports.NDTV.com. Stay updated with Afghanistan vs Pakistan live score. Do check for Afghanistan vs Pakistan scorecard. You can get scorecard updates, match related facts. Get quick live updates with ads, Sports.NDTV.com, which is the perfect destination for live cricket score.
That's a wrap to this entertaining game. Every cricket fan will remember this day! It's been a day of thrillers, two nail-biting games. We saw Bangladesh lose 3 in 3 and here we witnessed Pakistan win 3 in 3, and have probably secured a semi-final spot. You got to feel sorry for Afghanistan, they fought and fought hard till the very end, but failed to cross the line. It's not the end of the road for them though. Super Saturday is next and it's going to be full of excitement. Two games coming your way - South Africa vs Sri Lanka at 2 pm local (10 am GMT) followed by the clash between arch-rivals England and Australia at 6 pm local (2 pm GMT). We look forward to your company for all the action. Cheers!
Babar Azam, the victorious skipper of Pakistan, says that the way they started with the ball was great and the bowlers got wickets. Feels that they gave away 10-15 runs extra in the end. Adds that they did not have an ideal Powerplay with the bat but once again, the way Shoaib Malik and Asif Ali batted was commendable. About Asif Ali, Azam replies that he always has confidence in him and knows that Ali will get the team over the line in such situations. Shares that they planned keeping the dimensions of the ground in mind and hence, the bowlers are to be commended for sticking to the plans. Mentions that Afghanistan do have match-winners in their side and the plan was always to take the game deep and that is where Asif Ali once again came through for the team.
Mohammad Nabi, the skipper of Afghanistan, says that they didn't start well but felt that they have a decent total on the board. Adds that his stand with Gulbadin Naib was a good one and they decided that they want to score around 150 runs. Says that three spinners are enough and Rashid Khan bowled at the right time but Asif Ali took the game away from them in the end. Mentions that there are a lot of positives as they fought till the very end.
ASIF ALI IS THE PLAYER OF THE MATCH! The man of the moment starts by saying congratulating the team and the fans for this win. He shares that the boundary was small from one end so he planned with Shoaib Malik to target the bowler from that end. Tells that he assesses the situation first and thinks about whose overs are left and targets them accordingly. Also states that he had a word with Shoaib Malik and was confident of scoring even 25 runs in one over.
The chase was heading towards a tense finish. 24 runs were needed off 12 balls and Afghanistan looked to have the upper hand. However, Asif Ali once again showed his six-hitting skills and also reminded everyone that his knock against New Zealand was not a fluke. He declined a single on the last ball of the 18th over and it was quite a mature decision from him. Four sixes followed in the next over and this game was put to bed in an extraordinary manner. Make that 3 in 3 for Pakistan and they have almost booked their place in the semi-final from this group.
Afghanistan fought this match with a lot of intensity. With the bat, they were ready to take their chances and always tried to attack the bowlers. That approach put them in a precarious situation at the halfway mark of their batting innings. But, towards the end, Mohammad Nabi and Gulbadin Naib combined for a stupendous stand and took Afghanistan to a fighting total. Mujeeb Ur Rahman was the trump card for them upfront with the ball and he bowled 4 economical overs to build the pressure. Rashid Khan was brought on after 10 overs, many thought that Mohammad Nabi missed the trick but the Afghan maestro picked the wickets of Mohammad Hafeez and then Babar Azam with his last ball of the spell to hand the advantage to Afghanistan. It was all about how Pakistan will deal with the class of Mujeeb and Rashid Khan in the chase and eventually, they did just enough against them to cross the line.
The chase was planned to near perfection from Pakistan but losing wickets at the wrong time threw this match wide open towards the end. Despite losing one half of their power couple, Mohammad Rizwan cheaply, Pakistan never lost the plot. Babar Azam joined forces with Fakhar Zaman to raise a handy partnership of 63 runs. The Pakistan skipper built a couple of more crucial stands with Mohammad Hafeez and Shoaib Malik and his presence didn't allow Afghanistan to build enough pressure. However, his departure followed by the wicket of Shoaib Malik gave a little opening to the Afghans but Asif Ali turned on the heat in the 19th over to score the remaining 24 runs in a jiffy.
What an electrifying game! Asif Ali, the six-hitting machine of Pakistan, has once again provided a blockbuster finish. A 7-ball 25 from Asif and he ended the chase with 6 balls to spare. Take a bow, Ali! A new 'finisher' is born!
18.6 overs (6 Runs) SIX! THERE IT IS! Scintillating hitting from Asif Ali and this is why he did not take the single in the previous over! On a length again, outside off. He sends the ball sailing over the cover fence. Pakistan win by 5 wickets!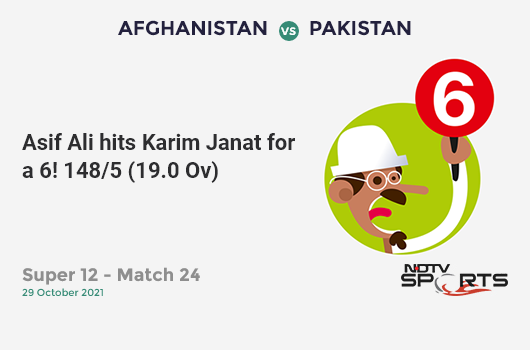 18.5 overs (6 Runs) SIX! So, the over so far as been - six, dot, six, dot, six! On a length, on off. Asif Ali hits it straight down the ground for another maximum. This should seal the deal for Pakistan.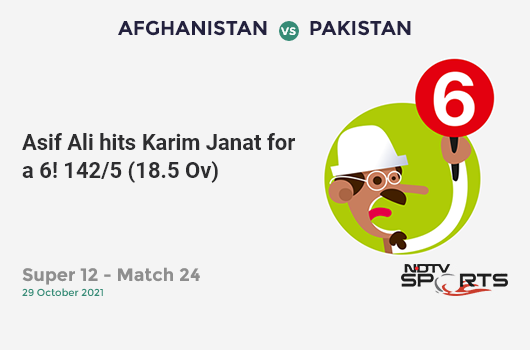 18.4 overs (0 Run) Another beautiful yorker, wide outside off. Asif Ali gets no bat on it whatsoever.
18.3 overs (6 Runs) SIX! Karim Janat misses the mark and gets pumped again! Slower and shorter, outside off. Asif Ali heaves it over the mid-wicket fence. This is quality hitting by Asif Ali. He did it against the Kiwis. Can he do it here too?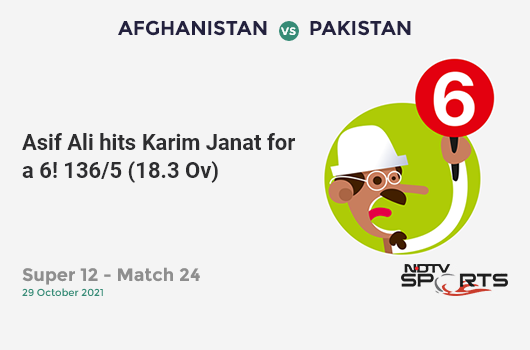 18.2 overs (0 Run) Well bowled. A yorker, wide outside off. Asif Ali goes to drive but misses. Very well bowled under pressure.
18.1 overs (6 Runs) SIX! BOOM! In the slot and Asif Ali punishes it! On a length, outside off. Asif Ali sits back in his crease and frees his arms to send the ball sailing over the long off fence. Great start to the 19th over for Pakistan.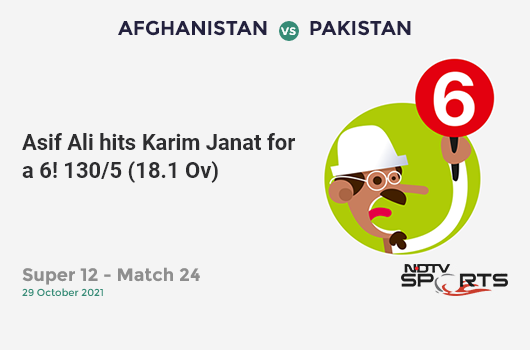 Karim Janat (3-0-24-0) to bowl the all-important 19th over.
17.6 overs (0 Run) NOT OUT! Slower ball, on a length, on off. Shadab taps it to short mid-wicket and looks for a run. But Asif is not interested. Shabad runs back as the throw comes in and Mohammad Shahzad takes the bails off. The TV umpire is called in but Shadab is well inside. What an over by Naveen-ul-Haq though. Just 2 runs and a wicket from it. 24 needed in the last 2 overs.
Is that a run out? The umpires go upstairs but the replay shows that Shadab Khan is well in. NOT OUT!
Shadab Khan comes in at number 7.
17.5 overs (0 Run) OUT! CAUGHT BEHIND! Naveen-ul-Haq has done what his captain would have wanted from him! He bowls a length ball, wide outside off. The eyes of Shoaib Malik light up and he goes for the booming drive. But all he gets is the outside edge and Mohammad Shahzad takes an easy catch. 24 needed in 13 balls now and the lower order of Pakistan will be tested here.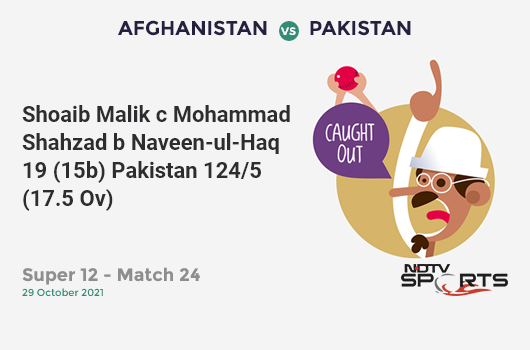 17.4 overs (0 Run) BEAUTIFUL DELIVERY! A slower yorker, on off. Malik looks to drive it at first but the ball takes ages to come. He blocks it in the end. Two dots in a row.
Naveen-ul-Haq looks to have hurt himself. This one was struck hard by Malik and Naveen-ul-Haq just stuck out his hand. The physio is out and everything seems to be fine. We are ready to resume play.
17.3 overs (0 Run) Dropped! But, this was a very tough chance. Length ball, on off. Malik smacks it very hard but straight back in the direction of the bowler. Naveen-ul-Haq sticks his right hand out. The ball hits his hand and pops out. He tries to catch it on the rebound but is not able to. Still, it is a dot ball.
17.2 overs (1 Run) Slower and shorter, around off. Ali pulls it past square leg for one.
17.1 overs (1 Run) Shorter ball, on off. Malik pulls it to deep mid-wicket for one.
Asif Ali, the hero of the last match, is in at number 6. Also, Naveen-ul-Haq (2-0-20-0) comes back into the attack.
16.6 overs (0 Run) OUT! BOWLED! He gets the big fish! Rashid Khan, you beauty! A quicker googly, on off. Azam looks to slog-sweep but misses the ball completely. The ball crashes onto the stumps and Rashid Khan takes off in celebration! This could be the turning point of the chase. 26 needed off 18 balls.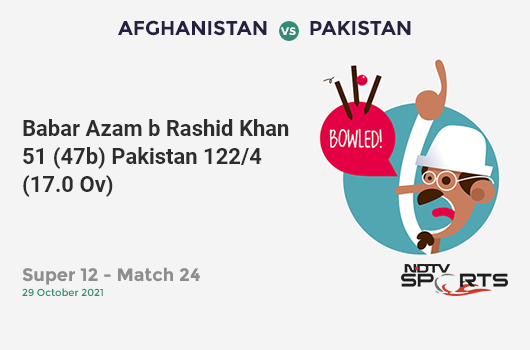 16.5 overs (1 Run) Flatter ball, on off. Pushed to backward point and they sprint for one. Last ball of Rashid Khan's spell coming up.
16.4 overs (1 Run) DROPPED! Oh, my god. This is a big drop. Tossed up, on leg. Babar Azam looks to heave it away but gets the leading edge as it turns. The ball goes towards point. Naveen-ul-Haq runs across to his right from backward point. He gets to the ball, catches it as well with a dive but as he goes down, the ball slips out. They cross, Rashid cannot believe it.
16.4 overs (2 Runs) Googly, but down the leg side. Malik misses the flick and even Mohammad Shahzad cannot collect it. So a wide and an extra run is taken by the batters.
16.3 overs (2 Runs) Loopy ball, outside off. Malik dances down the track and drags it wide of long on for a couple.
16.2 overs (6 Runs) SIX! High and handsome! Flatter ball, wide outside off. Malik gets low and then hammers it way, way over the long on fence. A quality stroke. We all were thinking that Pakistan would look to knock it around in this over and see off Rashid but Shoaib has other plans. He hit that ball on merit.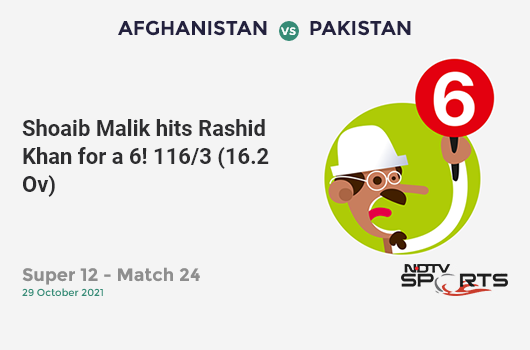 16.1 overs (0 Run) Flatter ball, on the pads. Malik taps it to short mid-wicket. Dot ball.
Will Rashid Khan bowl out now or will Nabi keep him for later on? Nabi has a discussion with the senior players and decides to bowl out Rashid Khan. A very crucial 6 balls coming up in the context of this game.
15.6 overs (1 Run) Just a single. Length ball, around off. Malik looks to carve it over covers but gets a thick outside edge. The ball goes to third man for one.
15.5 overs (4 Runs) FOUR! Punished! Malik shimmies to the leg side a bit and Janat bowls a short and wide one. Malik cuts it hard past point for a boundary.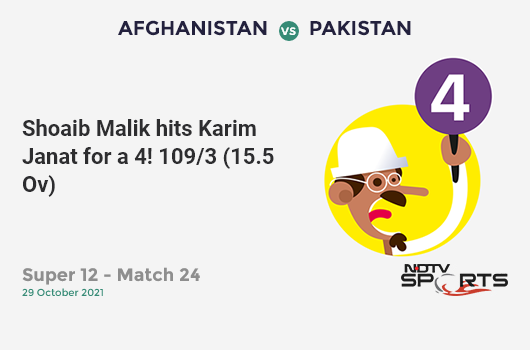 15.4 overs (1 Run) FIFTY FOR BABAR! Length ball, on off. Babar shuffles and taps it to deep square leg for one. That brings up his 50 but it is a muted celebration by him. He knows that he still has some work to do.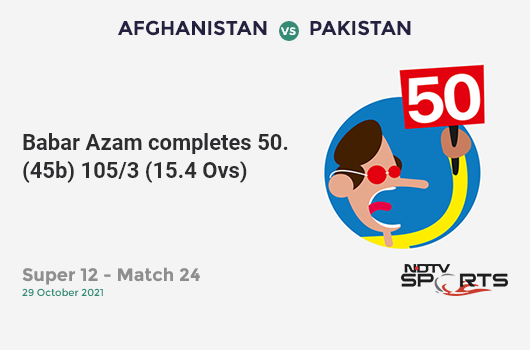 15.3 overs (1 Run) Short of a length, on middle and off, Malik backs away and punches it to deep cover for another single.
15.2 overs (1 Run) Fuller ball, on off, Azam drives it straight towards cover. A fumble allows the single. Azam feels that this ball should have reached the fence.
15.1 overs (1 Run) On a length, on the pads. Malik works it past square leg and gets an easy single.
Match Reports
Topics mentioned in this article