Story Progress
Back to home
Afghanistan vs Pakistan Live Score Ball by Ball, ICC T20 World Cup 2021 Live Cricket Score Of Today's Match on NDTV Sports
Live Updates of Today Match between Afghanistan vs Pakistan from Dubai International Cricket Stadium, Dubai. Check commentary and full scoreboard of the match.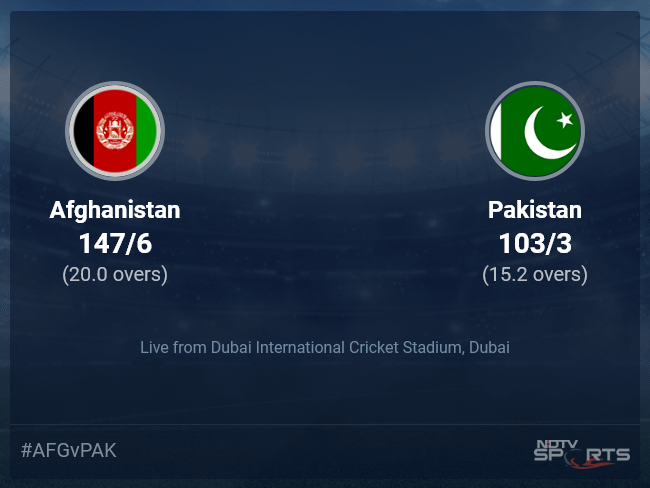 PAK vs AFG Latest Score
Follow the ICC T20 World Cup 2021 live cricket score on Sports.NDTV.com. After 15.2 overs, Pakistan, chasing a target of 148, are 103/3. Get live score, ball by ball commentary and much more. Keep track of ICC T20 World Cup 2021 today match between Afghanistan and Pakistan. Everything related to Afghanistan and Pakistan match will be available on Sports.NDTV.com. Stay updated with Afghanistan vs Pakistan live score. Do check for Afghanistan vs Pakistan scorecard. You can get scorecard updates, match related facts. Get quick live updates with ads, Sports.NDTV.com, which is the perfect destination for live cricket score.
14.6 overs (1 Run) Another short one, outside off. Malik pulls it all along the ground to deep mid-wicket for one.
14.5 overs (1 Run) Shorter ball, down the leg side. Azam pulls it to deep square leg for one. 100 up for Pakistan.
14.4 overs (1 Run) Darted on the pads. Malik gets off the mark with a single to deep square leg.
14.3 overs (0 Run) A ripping googly, lands on off and comes back in. Malik gets his bat down in time and gets the inner half. The ball goes to mid-wicket.
14.2 overs (1 Run) Flatter ball, outside off. Chopped past covers for one.
Shoaib Malik comes in at number 5.
14.1 overs (0 Run) OUT! TAKEN! A century of wickets for Rashid Khan in T20Is and he is the fastest to this feat! This is another googly, around off. Hafeez gets low and looks to slog-sweep it but gets the top edge. The man from long on runs forward and takes it with ease. An easy catch for Gulbadin Naib and he celebrates it by flexing his biceps. Afghanistan are clawing back in this game. 51 needed in 35 balls.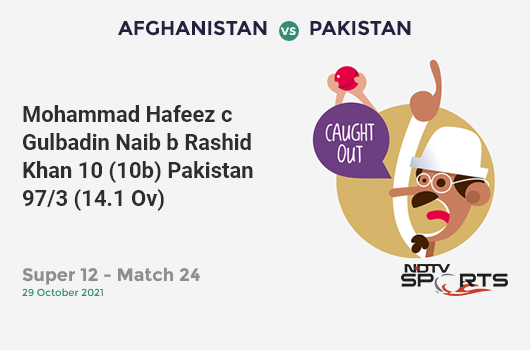 13.6 overs (0 Run) Loopy ball, on off. Blocked out. A dot to end the spell of Nabi. He went for 36 in 4 and took a wicket, a touch on the expensive side.
13.5 overs (2 Runs) Shorter again, outside off. Babar cuts it away nicely. The man at deep point gets to his left and stops the ball with one hand. Two taken.
13.4 overs (0 Run) Shorter ball, on the pads. Azam works it to short mid-wicket.
13.3 overs (2 Runs) Loopy ball, on off. Babar comes down the track and hits it down the ground. The ball does not run to the fence though and the man from long on gets to it. Two taken.
13.2 overs (1 Run) Straight to the man! Fuller and quicker on the pads. Nabi hits it straight to deep mid-wicket. Rashid Khan catches it but it is a Free Hit. One taken.
13.2 overs (2 Runs) Looped up, on the pads. Azam works it to short fine leg for one. Well, well it is called a no ball. Nabi has overstepped. Free Hit coming up.
13.1 overs (1 Run) A full toss, on off. Hit down to long off for one.
12.6 overs (0 Run) Slower delivery, wide outside off. Azam toe-ends it back to the bowler.
12.5 overs (4 Runs) FOUR! Edgy boundary but Babar Azam will take it. Rashid Khan is quicker through the air this time and bowls it a touch flatter, on off, Babar Azam looks to punch off the back foot but gets an outside edge, past the first slip fielder and the ball races away into the third man fence.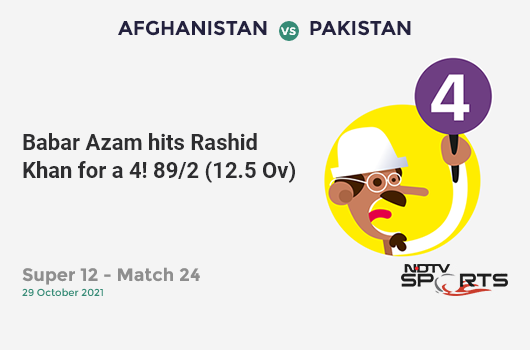 Is that a run out? Nope, Mohammad Hafeez is well inside.
12.4 overs (1 Run) SAFE! Quicker and shorter again, on off stump. Mohammad Hafeez goes on the back foot and taps it towards covers. The batters race across for a quick single but the fielder scores a direct hit at the bowler's end. The umpires go upstairs but the replay shows that Hafeez had his bat grounded. Not Out!
12.3 overs (1 Run) Tossed up delivery, on off. Azam goes for the slog-sweep but doesn't quite get it off the middle of the bat. The ball goes towards deep mid-wicket and they pick up another single.
12.2 overs (1 Run) Quicker and shorter, on middle and leg. Hafeez punches it off the back foot to the right of the bowler and picks up a single down to long on.
12.1 overs (1 Run) LEG BYE! Sliding down the leg side, it was the googly again. Azam looks to flick it away on the leg side but the ball goes off his pads towards mid-wicket. They take a leg bye.
11.6 overs (0 Run) Flighted ball, on off and Hafeez drives it on the off side.
11.5 overs (0 Run) Fullish ball, on middle. this is pushed towards mid on.
11.4 overs (4 Runs) FOUR! Slow and just outside off. Mohammad Hafeez stays deep in his crease looking to cut it away but gets an outside edge. Asghar Afghan gives chase from short third man but the ball beats him to reach the fence.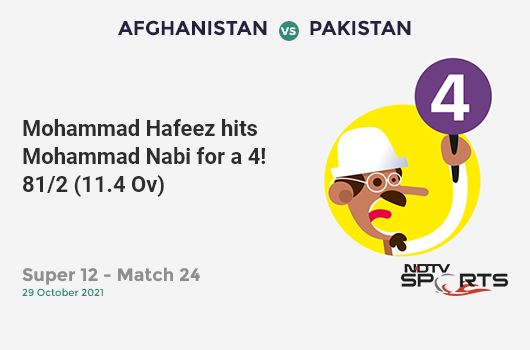 11.3 overs (2 Runs) Tosses it up again, on off. Hafeez gets down on his knees and sweeps it behind square on the leg side for a couple.
11.2 overs (0 Run) Floats it up, around off. Mohammad Hafeez lunges forward, looking to push at it, but gets an inside edge onto the pad.
The Professor, Mohammad Hafeez, finds himself in the middle now. Professor vs President time.
Review again! Now, Fakhar Zaman reviews this LBW decision against him. But this looks out. No bat on that one. Three reds on Ball Tracker!
11.1 overs (0 Run) OUT! LBW! Well, it's not the wicket of Babar Azam but Fakhar Zaman is an equally big scalp. The skipper comes back on to bowl and gets the breakthrough right away. Mohammad Nabi angles it in from around the stumps and Fakhar Zaman gets down on one knee to sweep it away. Zaman misses and gets hit on the back thigh. The umpire raises his finger after thinking for a while and Pakistan review it again. UltraEdge confirms that there's no bat on it and this time Ball Tracker shows that the ball would go on to hit the leg stump. Fakhar Zaman has to depart. End of the 63-run stand. Can this wicket change the momentum of the game? 73 runs needed in 53 balls.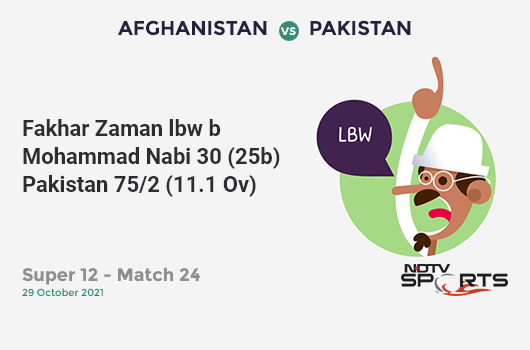 Change. Mohammad Nabi (2-0-22-0) brings himself back on.
Review time! Babar Azam is given out LBW and he has reviewed this decision. This looks quite close. Faint tickle on UltraEdge but the front-on vision shows a gap between bat and ball. Wickets missing! Babar Azam survives.
10.6 overs (0 Run) NOT OUT! Rashid Khan almost does the trick in his very first over. This is the googly yet again, on the middle stump line and Babar Azam doesn't seem to pick it up. Azam gets rapped on the pads as he attempts to flick and the umpire does raise his finger. Babar Azam takes the review and the UltraEdge shows that the ball did not hit the bat but the Ball Tracker does show that it was going on to miss the leg stump. How huge could this review prove to be?
10.5 overs (1 Run) And again, slightly slower and fuller, on middle and leg. Zaman gets a leading edge as he looks to flick it on the leg side. The ball goes towards point and they take the single this time.
10.4 overs (0 Run) On middle and Zaman looks to work it on the leg side, the ball takes the leading edge and goes towards cover-point.
10.3 overs (0 Run) Peach! Rashid Khan bowls the googly and the ball just whizzes past the outside edge of Fakhar Zaman's bat.
10.2 overs (1 Run) Fuller delivery, on off and driven through point. Asghar Afghan misfields and allows the single.
10.1 overs (1 Run) Rashid Khan immediately gets into the act. On middle and skidding on, Zaman looks to block but gets an inside edge towards short fine leg. They cross for a single.
Match Reports
Topics mentioned in this article