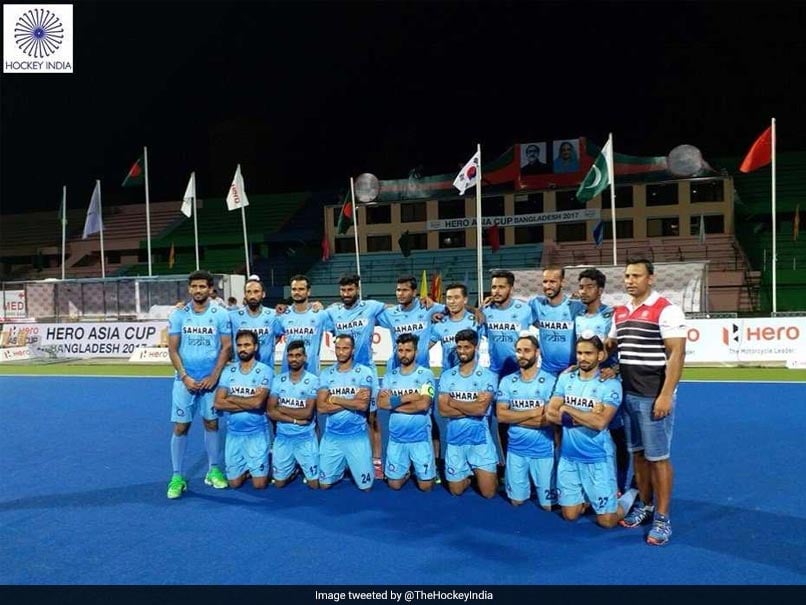 India vs Korea, Asia Cup Hockey: Gurjant Singh scored as India held Korea to a 1-1 draw.
© Hockey India
Manpreet Singh-led India held Korea to a 1-1 draw in their first match of Super 4s at Dhaka, Bangladesh. Both teams were goalless at the end of the first half despite repeated attacks. However, Jungjun Lee of Korea in the third quarter gave Korea the lead after repeated attacks on the Indian defence. Going in the fourth and final quarter, India needed a brilliant display of play to break the solid Korean defence, which had left the Indians frustrated. However, Gurjant Singh equalised for India in the dying minutes of the game to share one point each and continue their unbeaten run.
Catch highlights of the Asia Cup Hockey match between India vs Korea in Super 4s:
18:45 IST: Thank you for joining us for the live blog. Join us on October 19 when India take on Malaysia for their second match of Super 4s.
18:40 IST: And its done! India hold Korea 1-1 in their first Super 4s match at Dhaka, Bangladesh.
18:35 IST: Goal! Gurjant Singh scores a blinder as India equalise in the last minutes of the game.
18:33 IST: India lose their short corner and Korea keep their referral.
18:32 IST: Umpire gives India a penalty corner but Koreans were swift to challenge and take a review.
18:26 IST: Last few minutes left in the game. If India want to continue their winning run they would have to find a way through the tough Korean defence.
18:18 IST: Korea have been fantastic so far in the game as they are not allowing India to breach the defence. Beautiful interceptions and long ball play by the Koreans.
18:13 IST: Fourth and final quarter begins.
18:10 IST: At the end of the third quarter, India 0-1 Korea.
18:08 IST: GOAL! Finally the dreadlock is broken as Lee Jungjun finds the back of the net.
18:02 IST: India just cannot break the Korean defence. Multiple penetrations from India but without effect.
17:55 IST: Third quarter is underway. India will look to break the shackles and take a lead in the game.
17:46 IST: India 0-0 Korea after half-time. Both teams are failing to create opportunities and are left frustrated. 
17:36 IST: India is looking to penetrate the defence but the Koreans are standing tall.
17:30 IST: India look more attacking at the start of second quarter.
17:27 IST: India 0-0 Korea at the end of the first quarter.
17:26 IST: India get a penalty corner just seconds before the end of quarter one and they fail to capitalise. Manpreet receives the ball and tries to play it back to Ramandeep, but Korea cut out the pass immediately.
17:23 IST: Minutes to go for the end of Q1 with both teams looking to create scoring opportunities.
17:20 IST: Korea has upped the ante as they have started penetrating the Indian defence.
17:18 IST: Korean Kang takes a shot from inside the circle and India goalkeeper Akash Chikte keeps the ball at bay with a brilliant save.
17:17 IST: No real penetration from both the teams as the defence looks solid.
17:12 IST: First quarter is underway and India looks confident.
17:05 IST: Both teams are on the ground and the respective national anthem is being played. 
17:02 IST: India, who were unbeaten in the pool stage, will look to rout South Korea in their first Super 4s match.
16:54 IST: Team India's lineup against Korea
16:50 IST: As India take on Korea, a message from the India coach:
16:15 IST: Stay tuned folks as India will take on Korea in first match of the Super 4s at 17:30 IST.
16:14 IST: Malaysia beat Pakistan 3-2 in their first match of Super 4s.
15:55 IST: Malaysia 3-3 Pakistan after third Quarter
15:38 IST: Goal! Malaysia for the first time take a lead in the match as Fitri Saari scores from the penalty spot.
15:15 IST: Goal! Malaysia equalise yet again! Malaysia 2-2 Pakistan.
15:06 IST: Goal! Pakistan's Yaqoob gives Pakistan early lead at the start of the second quarter.
15:02 IST: At the end of quarter 1, Malaysia 1-1 Pakistan.
14:54 IST: Goal! Malaysia gets a penalty corner and they equalise just minutes before the end of quarter one.
14:42 IST: Goal! Brilliant play from Pakistan, Umar Bhutia gives Pakistan early lead in the quarter one against Malaysia.
14:30 IST: Hello and welcome to the live blog of the match between Malaysia and Pakistan.
The Indian strike force comprising Ramandeep Singh, Akashdeep Singh, Lalit Upadahay and Chinglensana Singh has been the most impressive, scoring field goals at will with their deft stick work.
The Indian midfield has been controlled well by talismanic Sardar Singh in the company of skipper Manpreet Singh. The backline, too, have shown bright under the watchful guard of Amit Rohidas, Harmanpreet Singh and young Dipsan Tirkey. In terms of world rankings as well, the Indians start as favourites. While India are placed sixth in the world, Korea occupy the 13th spot.