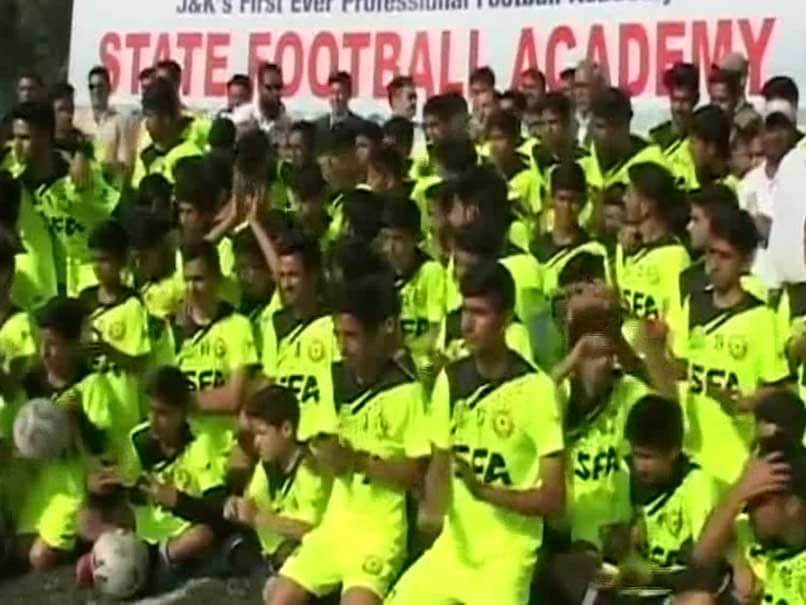 First state sponsored football academy of J&K opened in Srinagar.
© NDTV
The first state sponsored football academy of Jammu and Kashmir has opened in Srinagar-The first batch of 100 Kashmiri boys in the age group of 13 to 18 years will be trained by a team of professional footballers of the state led by star footballer and national player Mehrajuddin Wadoo. The boys have been selected after a six-day selection trail in which over 1000 aspirants from the valley participated.
"What is important is how we nurture and groom the talent, we have qualified coaches and fitness trainers, they will train under them," said Wadoo.
Kashmir has remained in news for all the wrong reasons. The academy launched by the J&K State Sports Council is a welcome change for a state marred by violence and street protests spearheaded by the youth.
"There are forces in Kashmir who don't want people to smile, they have robbed the smile from the their faces, we can't brag we change everything, but we have made a small start," said Sports Minister Imran Ansari.
Kashmir has traditionally been a fertile ground for football, producing some ace players who have represented the country in the past.
The academy will further help showcase the local talent and provide them an opportunity to represent the country. The academy will run through the year with an aim to nurture local talent and project it on the national spectrum.
"If we don't pay attention to strikes, we will reach our destination. What is that? I want to become a successful international football player," said Mohammad Hazim, a Student
"I play football, but I can't say I play perfect football, to make my game perfect, I joined this academy," said Moosa Qureshi, another student.
Living in a conflict zone, Kashmiri children face a lot of problems. They are exposed to violence and their education suffers. But taking part in sports activities gives them an opportunity to excel and to make a difference.