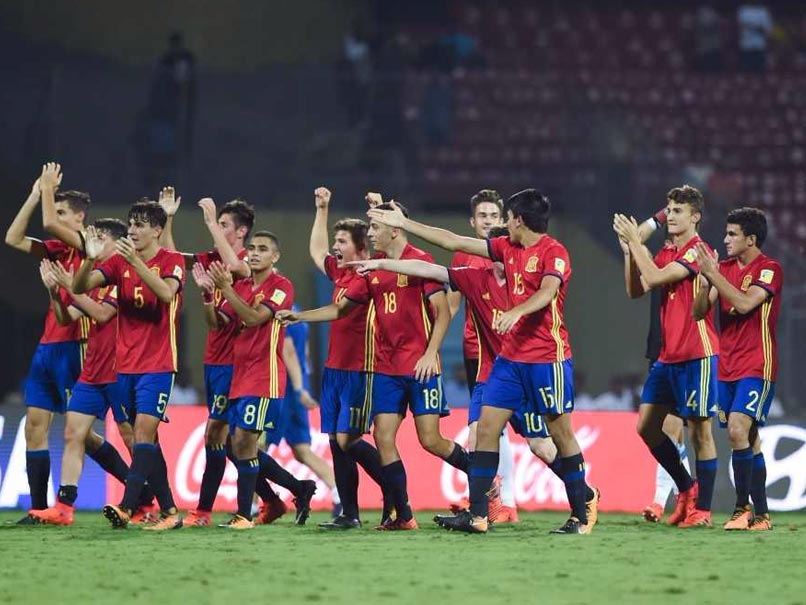 Spanish coach said the squad held firm throughout the tournament.
© AFP
Spain, despite their record of three UEFA European U-17 Championships and five other titles, have never managed to lift the FIFA U-17 World Cup title. They ended runners-up in 1991, 2003 and 2007 but have failed to qualify since finishing third in 2009. En route to India, Spain booked their berth by winning the European U-17 crown in Croatia in May. The Spanish coach, a former Spain international and Atletico Madrid defender, Santi Denia said the important thing for them is that the squad held firm throughout the tournament. He further added that the team is mentally strong and played good football.
With just one step away from lifting the title, here are five 'La Rojitas' that you should watch out for:
Abel Ruiz (Striker)
Ruiz signed for the Barcelona B team from Valencia. Due to his lightning speed, there is big hope in Barcelona that he gets promoted to the senior team. With Ruiz's contract with the Barcelona B team till 2019, other big European clubs like Chelsea and Manchester City too are said to be interested in the energetic 17-year-old. So far in the tournament, Ruiz has scored six goals and is one behind England's Rhian Brewster. Ruiz scored twice in the semi-final against Mali.
Ruiz idiolises Bayern Munich's Robert Lewandowski and says, "I watch him closely because he is the complete striker."
Victor Chust (Defender)
Victor Chust, 17, plays in the centre-back position for Spain. Chust, who also plays for Real Madrid, has appeared in six FIFA tournaments. One of the most promising players in the Real Madrid squads, the club describe him as a strong, forceful and aggressive player. With him in the centre, Spain have only conceded five goals in six games. Bought by Real Madrid from Valencia in 2012, Chust has gone on to play for the youth teams of both Spain and his club regularly.
Ferran Torres (Forward)
Along with Ruiz, Ferran Torres keeps the Spanish attack in red-hot form. In the quarter-final of the tournament, Torres' pace and ability to run past his opponents put him in the limelight. Keeping his abilities in mind, Valencia, for whom Torres plays, upped his release clause from 7 million pounds to 22 million pounds in order to keep him from being poached by other giants. Along with his release clause, Valencia have also extended Torres' contract.
Torres has been in top form since he appeared for Valencia in the Segunda Division B. His mesmerising runs down the right flank and ability to provide clean passes makes him a valuable asset.
Moha Moukhliss (Midfielder)
The 17-year-old Madrid-born Moukhliss joined the Real Madrid Academy in 2010 and has risen through the ranks quite swiftly. There are many admirers in Real Madrid and they have been impressed with the young midfielder's good ball movement, interception skills, and speed. So far in the tournament, Moukhliss has scored only one goal but provided the creative spark in the Spanish team.
Moukhliss idolises Zinedine Zidane. He says, "I got into football because of Zinedine Zidane. The day I received a Real Madrid top signed by him as a gift, I knew that I wanted to be a footballer."
Sergio Gomes (Forward)
The 17-year-old player has scored twice in the tournament and his playmaker abilities make him a valuable member of the Spanish Unit. Ruiz on the top, Ferran on the right wing, Gomez on the left definitely makes for a top class Spanish front three.