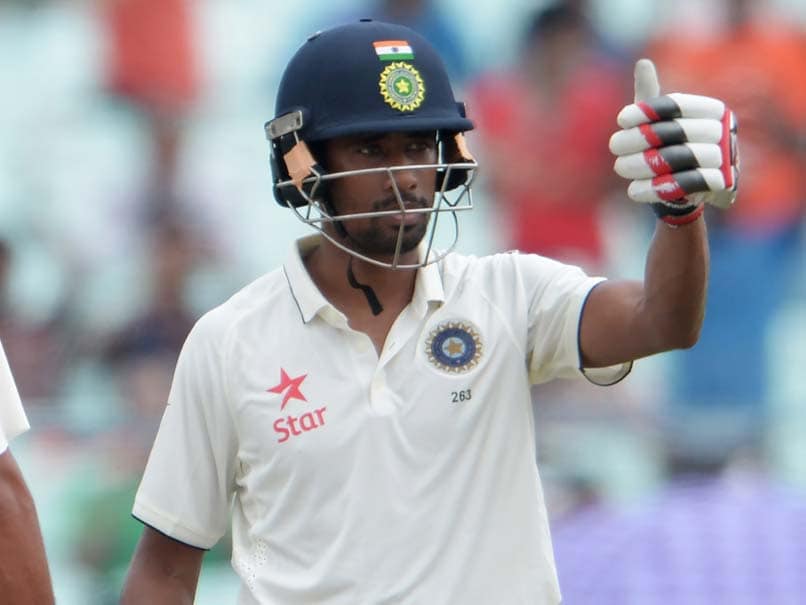 Wriddhiman Saha missed the last three Tests against England due to a thigh injury.
© AFP
Having recovered from a thigh injury that saw him miss the last three Test matches against England towards the end of 2016, wicketkeeper-batsman Wriddhiman Saha is set to return to competitive cricket later this month.
Saha has been named in the 15-member Rest of India squad for the Irani Cup, where they will take on newly-crowned Ranji Trophy champions Gujarat.
The match will be held in Mumbai from January 20-24.
The Rest of India team will be captained by Cheteshwar Pujara, and will feature Karun Nair, who scored a triple century in the fifth Test against England in Chennai.
The selection of Tamil Nadu opener Abhinav Mukund, Jharkhand keeper-batsman Ishan Kishan and tournament top-wicket taker Shahbaz Nadeem (56 wickets)shows that consistent performances in the Ranji Trophy have been rewarded.
For Wriddhiman Saha, it will also be a contest of sorts between him and opposition captain Parthiv Patel, who replaced him in the England series and did a decent job in the subsequent three Test matches. Ranji's highest run-scorer Panchal will get to play for his state side.
Mumbai opener Akhil Herwadkar (467 runs) has been preferred to teenage sensation and teammate Prithvi Shaw, who belied his age by hitting a hundred on First Class debut and that too in a Ranji Trophy semifinal followed by 71 in the final.
Bengal captain Manoj Tiwary is back in the mix with 643 runs to show for his efforts.
Himachal Pradesh's Prashant Chopra, who is the third highest run-scorer in the Ranji Trophy with 978 runs is the only player from Plate Group to make the cut.
Haryana keeper Nitin Saini, despite his 989 runs, missed out as Wriddhiman and Kishan both are in the squad.
Among pacers, Mumbai's Shardul Thakur, Tamil Nadu's Krishnamoorthy Vignesh and Punjab's Siddharth Kaul are in the squad.
Vidarbha's off-spinner Akshay Wakhare is a surprise pick with 16 wickets from 8 matches this season. Paucity of off-spinners with Jayant Yadav being injured and Parveez rasool not being considered good enough for the longer version may have prompted Wakhare's selection.
Rest of India (RoI) Team: Abhinav Mukund, Akhil Herwadkar, Cheteshwar Pujara (captain), Karun Nair, Manoj Tiwary, Wriddhiman Saha, Kuldeep Yadav, Shahbaz Nadeem, Pankaj Singh, K Vignesh, Siddarth Kaul, Shardul Thakur, Akshay Wakhare, Ishan Kishan, Prashant Chopra.
(With inputs from PTI)