Story Progress
Back to home
Would Have Protested Outside MS Dhoni's House Had He Retired: Sunil Gavaskar
Sunil Gavaskar stated that MS Dhoni will now be in position to enjoy his batting and wicketkeeping after giving up the captaincy.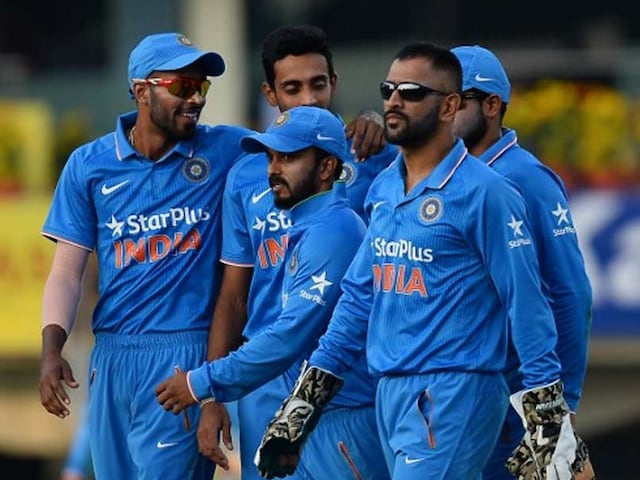 MS Dhoni gave up India's ODI and T20I captaincy on Wednesday.
© AFP
Highlights
Gavaskar feels MS Dhoni still has a lot to offer in limited-overs cricket

Dhoni gave up the limited-overs cricket captaincy on Tuesday

Virat Kohli is expected to be appointed skipper on Friday
Legendary Indian cricketer Sunil Gavaskar on Wednesday said that he was happy M S Dhoni had only quit limited overs captaincy and not retired as he felt the wicketkeeper-batsman still had a lot to offer to the Indian cricket team.
"If he had quit as a player, then I would have the been the first one outside his house, having a dharna asking him to make a comeback. As a player, he is still a destroyer. He change fortunes of the game in a single over. India needs him as a player very very badly. I am happy that he has decided to stay on as a player," Gavaskar told NDTV.
Gavaskar also stated that Dhoni will be in position to enjoy his batting and wicket-keeping after giving up the limited-overs cricket captaincy.
"Yes (it will). Virat would definitely use him at number four or five because having him further down the order doesn't make any sense. Yes, he is a finisher but he can play a big innings at four or five and still end up as a finisher.
"The wicketkeeping will be a lot easier because he will not be thinking about the bowling changes and field placements, which can sometimes distract you," felt Gavaskar.
Gavaskar also said that Dhoni and heir apparent Virat Kohli will do well together despite a change in their on-field dynamics.
"It will certainly help India because MSD's calm and composure will certainly help Virat. Often in Test cricket there is time to rectify your mistakes but in limited overs cricket, things happen fast and there is not much time so sometimes you might taken an impulsive decision which is where MSD will come in very very handy."
Gavaskar was not surprised by Dhoni's decision to step aside as it was only a matter of time.
"I don't think it really is a surprise but it has come a little bit early. I had thought that he would want to captain till the Champions Trophy where India are the defending champions. May be after that he would hand over the reins to Virat Kohli. But considering the tremendous success the Test team has had under Kohli, I am not too surprised that MSD has decided to hand over the reins to Kohli.
"The decision was bound to come sooner or later. It has come sooner that we all anticipated. Virat has shown over the last couple of years, as captain of RCB, that he is ready to take the responsibility. When we hand over captaincy, we always concerned how it will affect that individual's speciality. In Virat's case, we have seen that it doesn't affect him at all," said Gavaskar.
Asked to comment on Dhoni's habit of surprising the world, Gavaskar said: "Even in Australia it came as a surprise. One thought that he would complete the series and quit after that and stay on as a player. But he quit Test altogether. Here at least he is available as a player. So Virat will have the benefits of MSD's vast experience as a successful ODI and T20 captain.
"Again MSD's thinking has purely been for the future of Indian cricket and it is in the hands of Kohli. So he has gracefully made way for that. Therefore we need to complement MSD for that as well."
Will Dhoni continue till the 2019 World Cup?
Promoted
"Clearly, it depends on his desire and form. As of now, there doesn't seem to be too many options (after Dhoni) available but cricket is a funny game. When you think there isn't anybody after Dhoni, somebody comes out of nowhere to take his place.
"In the meanwhile, lets just enjoy MSD as he plays out his final few years in India colours. Cricketers like MSD come once in a century. He brought a lot of flair and unpredictability in Indian cricket. Team has become positive and attacking under Dhoni. It will be his biggest legacy," added Gavaskar.
Topics mentioned in this article