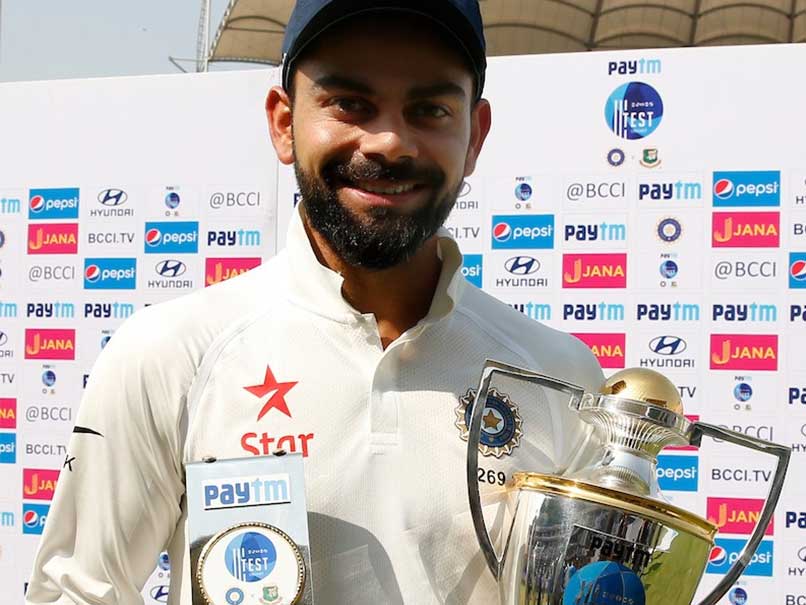 Virat Kohli will receive the Polly Umrigar Award for the third time.
© BCCI
Captain Virat Kohli, who is currently the highest-ranked Indian Test batsman in the world, is all set to receive the prestigious Polly Umrigar Award. The award is given to India's International Cricketer of the Year at the Board of Control for Cricket in India (BCCI) Annual Awards, to be held in Bengaluru on March 8. Ravichandran Ashwin, on the other hand, has been nominated for the Dilip Sardesai Award. Ashwin is the number one ranked Test bowler and holds the pole position as an all-rounder as well.
This is not the first time Kohli will receive the Polly Umrigar Award. He had also won it in 2011-12 and 2014-15 and becomes the first Indian cricketer to be bestowed the honour on three occasions. Ashwin isn't far behind either. He will hold the distinction of getting the Dilip Sardesai Award twice. The India off-spinner first got the award in 2011 for his outstanding performance with the ball against the West Indies.
The BCCI Annual Awards committee consisting of N. Ram, Ramachandra Guha and Diana Edulji had nominated Rajinder Goel and Padmakar Shivalkar for the Col. CK Nayudu Lifetime Achievement Award.
Jalaj Saxena of Madhya Pradesh will receive the Lala Amarnath Award for the best all-rounder in Ranji Trophy for the year 2015-16 while Shreyas Iyer of Mumbai will get the Madhavrao Scindra Award for being the highest scorer in last season's Ranji Trophy.
Nitin Menon has been chosen as the best umpire in domestic cricket for the past season.