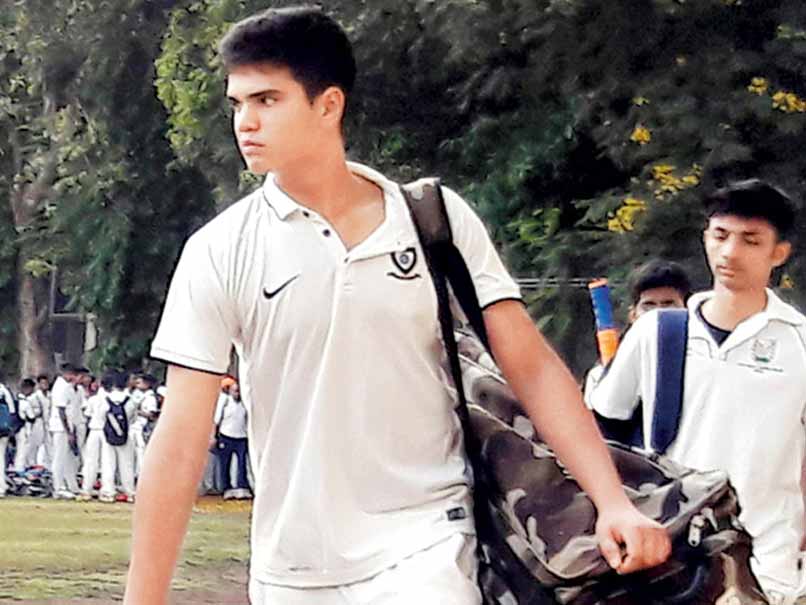 Arjun had represented Mumbai in the under-16 tournament in the 2015-16 season.
© Mid-Day
Arjun, son of legendary Indian batsman Sachin Tendulkar, is all set to make his Mumbai U-19 debut in the Vinoo Mankad Trophy starting next week. The Mumbai Cricket Association's under-19 selection committee headed by Rajesh Pawar appointed Agni Chopra to lead the team in the first two matches -- against Baroda on October 9 and against Saurashtra on October 10 in Mumbai.
The 15-member squad consists players like left-arm spinner Atharva Ankolekar, leg-spinner Yashasvi Jaiswal and Anjadeep Lad.
Pawar said he was impressed with Arjun's all-round performance in the selection trials. "He will be our main all-rounder. I saw a lot of improvement in his game. When we played in Baroda recently, he bowled well and during our two practice matches here in Mumbai, he bowled and batted well. I consider him as a bowling all-rounder of the team," Pawar told mid-day yesterday.
Arjun had represented Mumbai in the under-16 tournament in the 2015-16 season and played in the 'B' division of the just-concluded Dr HD Kanga Cricket League for Parel Cricket Club.
Pawar, who made his first-class debut at 16, is optimistic about his team's chances despite having some fresh faces. "We have a very good team. Most of these players will be playing in under-19 category for the first time. It depends on how quickly they pick up from here. I am confident they will raise the bar," he said.
The team: Agni Chopra (capt), Dhruv Brid (wk), Divyansh Saxena, Karan Shah, Yashasvi Jaiswal, Satyalaksha Jain, Tanush Kotian, Atharva Ankolekar, Saksham Jha, Anjadeep Lad, Sylvester Dsouza, Arjun Tendulkar, Abhimany Vashisht, Sagar Chhabaria, Farhan Kazi.
(This story has not been edited by NDTV staff and is auto-generated from a syndicated feed.)