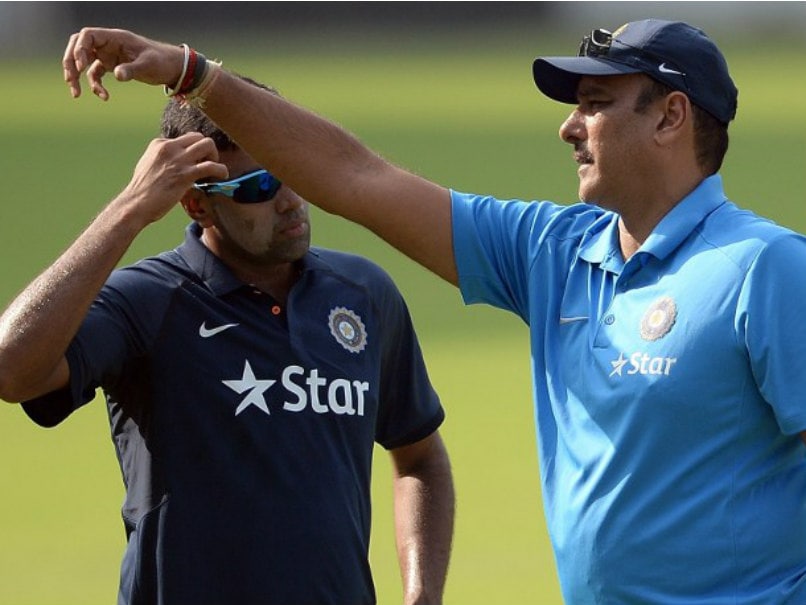 Ravi Shastri and Virat Kohli enjoy an excellent working relationship.
© AFP
Former team director Ravi Shastri on Tuesday decided to apply for the position of Indian team's head coach after former coach Anil Kumble resigned last week. Shastri had also applied for the job last year but Kumble was preferred over him. Shastri was not among the people who had applied for the post of head coach when the Board of Control for Cricket in India (BCCI) had invited applications the first time. That list included Virender Sehwag, Tom Moody, Richard Pybus and Lalchand Rajput, among others.
After news of Shastri wanting to apply for the high-profile position became public, cricket fans compared him to former Prime Minister Manmohan Singh who was accused by detractors of remaining silent on key issues during his 10-year tenure as the country's leader. Dr Singh, during his second term at the helm, was criticised for presiding over a period of 'policy paralysis' and of failing to push through pending reforms.
There is no denying that Shastri was Indian cricket captain Virat Kohli's preferred choice for coach last year. However, the BCCI's Cricket Advisory Committee (CAC) backed Kumble.
Now that the former India all-rounder has thrown his hat in the ring, fans drew comparisons between the Shastri-Kohli and Singh-Gandhi equations.
Ravi Shastri To Apply For Team India's Head Coach Position. Team India Ready To Get Its Manmohan Singh.

RT If You Don't Want Him. pic.twitter.com/wgIPRzZqAf

— Sir Ravindra Jadeja (@SirJadeja) June 27, 2017
O please not again... ??????
We don't want Manmohan singh (??) in Indian cricket..
We already have one in politics..
Ravi Shastri

— Kajol (@kajol_0714) June 27, 2017
Making Ravi Shastri head coach was Virat Kohli's wish from Day1

A Manmohan Singh to Kohli's Sonia Gandhi, Ravi Shastri is as useless as MMS

— DR SHERLOCKED (@Legen_dary___) June 27, 2017
Ravi Shastri is Manmohan Singh: for team India ??#Ravishashtri #BCCI #INDvWI

— ????? ?? !! (@SHARMA_G_) June 27, 2017
Choosing Ravi Shastri doesn't give India a coach.

It gives Kohli a servant, protection and a mouthpiece.

— Ravi Dennistri (@DennisCricket_) June 27, 2017
Ravi Shastri is interested to become the head coach of men's cricket team. Finally, Kohli to get the stooge he was demanding for so long

— Debarati Majumder (@debarati_m) June 27, 2017
It will be interesting to see whether Shastri appears for an interview with CAC or he is directly chosen for the top post.
It's no secret that Shastri and Sourav Ganguly don't get along. It was all out in the open soon after the BCCI appointed Kumble as coach of the Indian cricket team in 2016 after consulting the CAC, of which Ganguly is a part.
Shastri and Ganguly then went on to trade several blows in full public view, accusing each other of lacking professionalism.
Speaking to Wisden India, Shastri had termed Mahendra Singh Dhoni as a 'dada captain' and omitted Ganguly's name altogether from the list of the best Indian skippers.