Story Progress
Back to home
N Srinivasan Set To Represent Tamil Nadu Cricket Association At BCCI SGM
Srinivasan, former BCCI president and ICC chairman, has stepped down as the TNCA president, but continues to be a member of the association's executive committee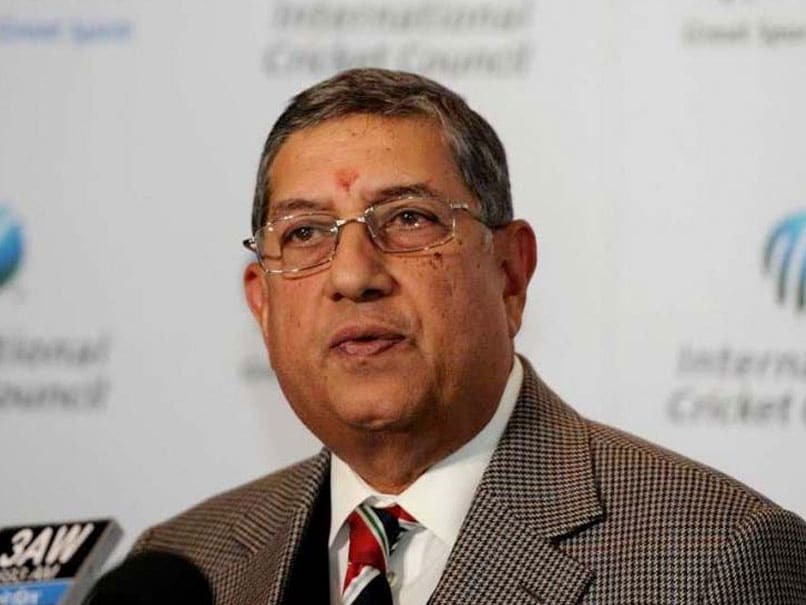 N Srinivasan will represent Tamil Nadu Cricket Association at BCCI SGM
© AFP
Highlights
Srinivasan is former BCCI president

Srinivasan is former ICC chairman

TNCA nominated Srinivasan to be the association's representative
N Srinivasan will represent Tamil Nadu Cricket Association (TNCA) at the BCCI's special general meeting to be held in Mumbai on June 26. TNCA's executive committee has nominated Srinivasan to be the association's representative at the meet, an official said. He would also attend the state associations' meetings with the Supreme Court-appointed Committee of Administrators (CoA) tomorrow.
Srinivasan, former BCCI president and ICC chairman, has stepped down as the TNCA president, but continues to be a member of the association's executive committee in his capacity as a representative of Perambalur District Cricket Association.
Though he has stopped functioning as the TNCA chief after the Supreme Court ruling on the Lodha Committee recommendations, the TNCA website still mentions him as the association president.
Srinivasan is 72 and stands disqualified to be an office-bearer as he is over the 70-year age limit recommended by the Lodha panel.
In recent press release too, Srinivasan was mentioned as "Executive Committee Member". He had a few days ago attended a function to felicitate members of the state's cricket team, which had reached the Ranji Trophy semifinal and won the Deodhar Trophy and Vijay Hazare Trophy.
However, Srinivasan continues to hold a post in the executive committee of TNCA as he was nominated by the Perambalur DCA.
Sources said by being an executive committee member, he (Srinivasan) was eligible to represent TNCA at BCCI meetings if the association chose to nominate him.
Meanwhile, sources said Srinivasan is likely to discuss the various Lodha panel recommendations.
Also, he is expected to take up the issue of allowing outstation players to participate in the second edition of Tamil Nadu Premier League (TNPL).
The BCCI had said that outstation cricketers could not be included in the League.
The state association had responded by saying it was well within rules to allow them to play as they had been playing in the city league for years.
The TNCA is hoping to get a favourable response on its plea to allow outstation cricketers to be part of TNPL.
Topics mentioned in this article