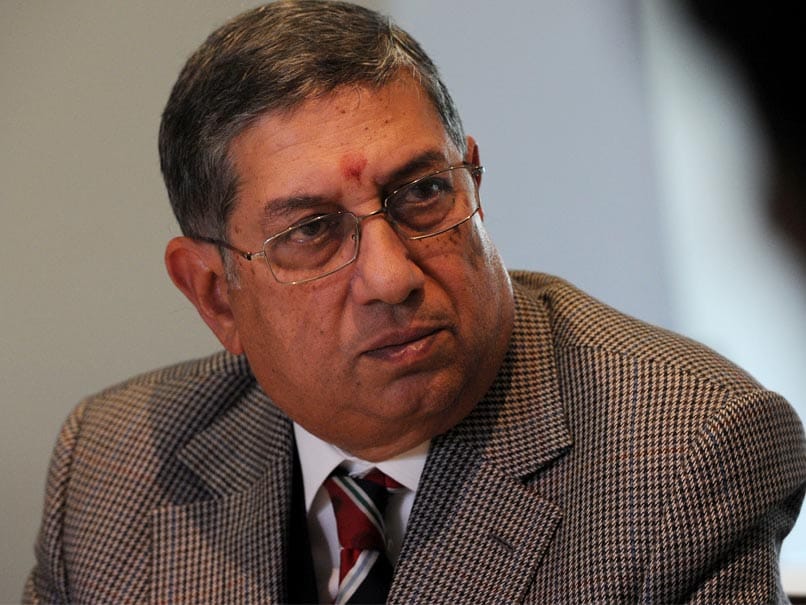 N Srinivasan will be attending the BCCI Special General Meeting on Monday as well.
© AFP
N Srinivasan, representing the Tamil Nadu Cricketing Association, on Sunday attended the Supreme Court-appointed Committee of Administrators (CoA) meet with the state of associations of BCCI. The discussion was on the feasibility of implementing Justice RM Lodha Committee's recommendations of one state one vote and age tenure cap. TNCA's Executive Committee nominated Srinivasan to be the association's representative at the meet. According to NDTV sources, the former BCCI president created a big ruckus over International Cricket Council's new revenue sharing model through which the Indian cricket board will now get USD 405 million. 
On Thursday, India's share of world cricket revenues was increased from USD 293 to USD 405 million, under a new deal agreed among other wide-ranging reforms at a meeting of the game's global governing body in London.
Meanwhile, the CoA met the zonal members and NDTV has learnt that the tenure cap, which is one of the bones of contention for the state bodies, and the one state one vote directive will be revisited by the Supreme Cout but that matter will be taken up on July 14.
According to sources, Srinivasan is vehemently against the implementation of the tenure cap of nine years and the cooling off period.
Srinivasan, former BCCI president and ICC chairman, had stepped down as the TNCA president, but continues to be a member of the association's executive committee in his capacity as a representative of Perambalur District Cricket Association.
Though he has stopped functioning as the TNCA chief after the Supreme Court ruling on the Lodha Committee recommendations, the TNCA website still mentions him as the association president.
Srinivasan is 72 and stands disqualified to be an office-bearer as he is over the 70-year age limit recommended by the Lodha panel.
When asked about Srini's presence, CoA head Vinod Rai said that it is up to the Supreme Court to take a call and that it was not their mandate to decide the eligibility or ineligibility of the people attending the meeting. Rai said that the register of attendance (for the meeting) will go to the SC.
Srinivasan is also expected to attend BCCI's Special General Meeting to be held on Monday.
(With Inputs From Rica Roy)