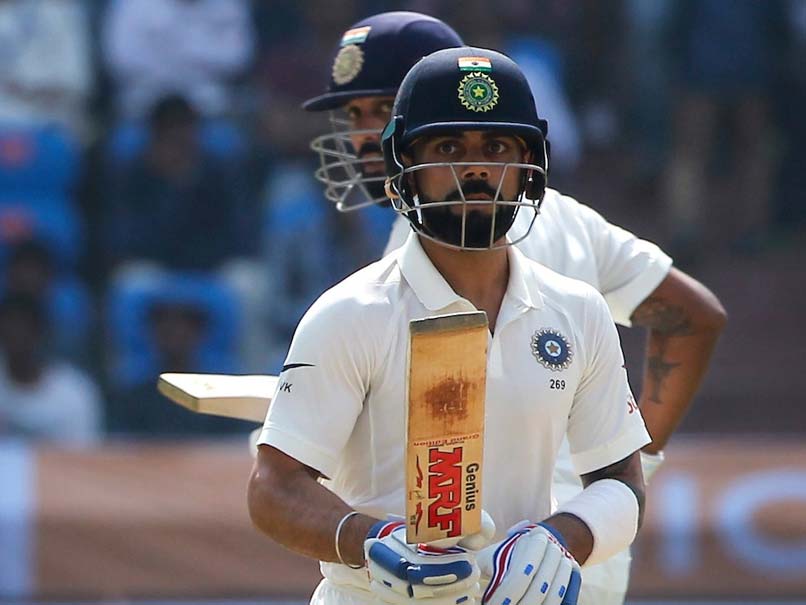 India vs Bangladesh: Virat Kohli, Murali Vijay Dent Bangladesh
© BCCI
Virat Kohli and Murali Vijay led India to a commanding position on Day 1 of the one-off Test against Bangladesh in Hyderabad as they finished on 356/3 in 90 overs. Opting to bat, the hosts lost the early wicket of KL Rahul, but Vijay with Cheteshwar Pujara added 178 runs for the second wicket. While the opener went on to score his 9th Test hundred, Pujara got out on 83. Coming in at No.4, Indian skipper Virat Kohli continued his scoring spree and notched up his 16th Test century. Ajinkya Rahane, who was selected ahead of triple centurion Karun Nair, remained not-out on 45. (Scorecard)
Catch all the highlights on India vs Bangladesh from Hyderabad, India here.
17:05 IST: India have started well and will look to pile-on the runs tomorrow by accumulating as many runs as possible and make Bangladesh struggle on a turning pitch. That's it from us, hope you enjoyed our coverage. Adios!
At Stumps on Day 1 of the one-off Test, #TeamIndia are 356/3 (Virat 111*, Rahane 45*) #INDvBAN pic.twitter.com/GTaMCEzHEH

— BCCI (@BCCI) February 9, 2017
16:54 IST: Murali Vijay after the day's play: Everything went my way during my knock. I felt really good about myself coming into this game and just wanted to play my natural game and stick to the basics. Pujara and me tried to rotate the strike and that's what we exactly did. Batting with him gives me a comfort factor because he has a solid game. We just keep things simple and not look to try anything different. We have a good rapport in the middle and a lot of things happen between us as you saw with the running. We have been speaking about our running and hopefully in the coming series we would be doing a better job. Virat finished the day in a great manner and hopefully he would carry on in the first session tomorrow.
16:43 IST: Stumps! India finish Day 1 with 356/3 in 90 overs. Virat Kohli 111*, Ajinkya Rahane 45*. They added 150 runs in the final session
16:42 IST: FOUR! Indians are dealing in boundaries now. Bangladesh players look really tired
16:41 IST: India have scored 144 runs in this session with the average nearly touching 5 an over
16:40 IST: FOUR! Another boundary for the India skipper. 350-up for the hosts
A flick through mid-wicket for four and @imVkohli brings up his 16th Test ton @Paytm Test Cricket #INDvBAN pic.twitter.com/F4NIUzeI26

— BCCI (@BCCI) February 9, 2017
Most Test 100s as Indian captain
11 Sunil Gavaskar (74 inns)
9 Mohd Azharuddin (68)/VIRAT KOHLI (36)#IndvBan

— Mohandas Menon (@mohanstatsman) February 9, 2017
16:34 IST: India have scored 55 runs in the last 41 balls. Is this really a Test match?
16:32 IST: FOUR! Ajinkya Rahane quickly reaches on 44 with back to back boundaries. Bangladesh are really struggling in this final session. 
Only Test. 86.4: M Hasan to V Kohli (100), 4 runs, 334/3 https://t.co/Ne2IQxxVKm #IndvBan @Paytm

— BCCI (@BCCI) February 9, 2017
Must be a normal day then. @imVkohli cruises to a century.

— Harsha Bhogle (@bhogleharsha) February 9, 2017
16:29 IST: FOUR! Take a bow Virat Kohli!!! He completes his 16th Test century with a boundary. India 334/3 
16:27 IST: FOUR! Mehedi Hasan bowls it short and outside off. Rahane goes back and cuts square on the off-side
16:26 IST: FOUR! Kohli hits it for another boundary. He reaches on 96. India 325/3 after 86 overs
16:20 IST: Five overs left in the day and Virat Kohli is just 11 runs away from his 16th Test century.
16:19 IST: FOUR! Now, Ajinkya Rahane plays the slog pull-shot towards the mid-on region for a four. New ball is not working for Bangladesh
16:17 IST: FOUR! Virat Kohli hammers it towards the deep mid-wicket for a boundary
16:05 IST: FOUR! Ajinkya Rahane drives it for a boundary through the extra-cover region.
16:04 IST: FOUR!  Taskin Ahmed bowls it too short. Comes nicely on to Kohli's bat, who stands tall and cuts square on the off-side.
16:01 IST: New ball taken!! And they have gone for it. Taskin Ahmed gets the new cherry
16:00 IST: The second new-ball is due and it will be interesting to see if Bangladesh go for it.
15:58 IST: FOUR! Nicely cut from the back foot by Rahane, gets a boundary
15:55 IST: Delicate late-cut by Virat Kohli and takes two from it
15:50 IST: The pitch is a bit slower but still looks good for batting. The history of this grounds says the 70 per cent of wickets are taken by the spinners.
15:45 IST: India have scored 72 runs in the session so far with the scoring rate of 3.45
15:40 IST: Kohli uses his reach to get closer to the pitch of the ball and turns around the corner for three runs
FIFTY! This is @imVkohli's 15th Test 50 #INDvBAN pic.twitter.com/cFsoljwASy

— BCCI (@BCCI) February 9, 2017
15:28 IST: FOUR! Taijul overpitches a tad and Kohli pays thanks by spanking it through the extra cover.
15:25 IST: Fifty! Virat Kohli scores his 15th half-century. India 259-3 in 73 overs 
15:20 IST: Now, Virat Kohli is nearing his 15th Test fifty. He is on 49 off 69 balls. India 258/3 after 73 overs 
15:10 IST: FOUR! Rahane times it to the perfection and hits it for a boundary. Realising the slowness of the pitch, he deliberately directed it towards the square leg with elan
1000 Test runs this season for Virat Kohli! #IndvBan

— Mohandas Menon (@mohanstatsman) February 9, 2017
15:04 IST: With that single, Virat Kohli completes 1000 runs in the current home season with an average of 83.33
15:02 IST: Ajinkya Rahane, who is the talk of the town, comes in the middle at No.5 
14:55 IST: OUT!! Murali Vijay tries to play the sweep shot and out bowled!! by Taijul Islam for 108. Good innings ends in a poor shot. Much needed breakthrough for Bangladesh
Murali Vijay....
9th Test 100
2nd v Bangladesh
6th at home
2nd at this venue
3rd this season
20th in fc cricket#IndvBan

— Mohandas Menon (@mohanstatsman) February 9, 2017
.@mvj888 celebrates as he brings up his 9th Test ton #INDvBAN @Paytm Test Cricket pic.twitter.com/vRgB9YOOfT

— BCCI (@BCCI) February 9, 2017
14:48 IST: FOUR! Vijay was eyeing a big one but ended up playing the ground shot because of the length of the delivery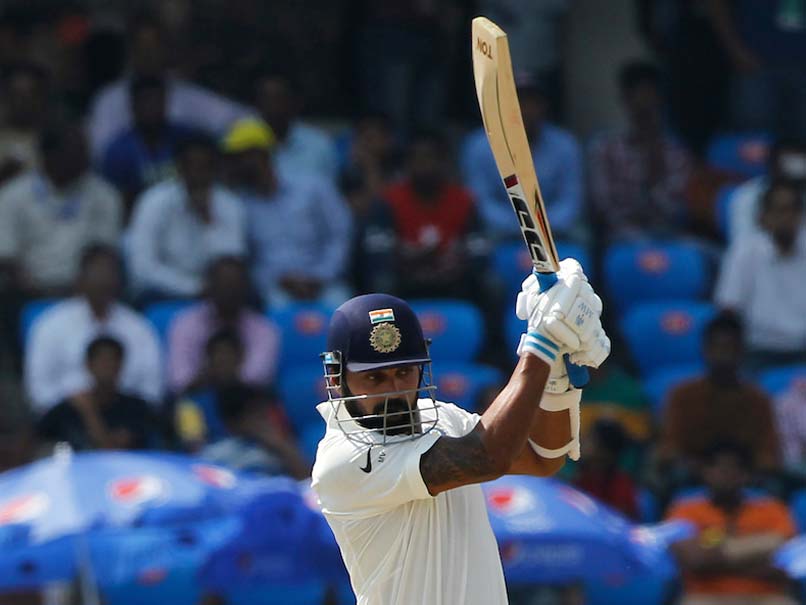 14:44 IST: That's it!!! Murali Vijay notches his 9th century. Beautifully punches it on the off-side to complete it. India 223/2 in 60.3 overs
14:39 IST: Murali Vijay takes the single and moves on to 99
14:36 IST: FOUR! Back to back boundaries for the India captain as he smashes it towards the Point area. 10 runs off the over
14:34 IST: FOUR! Virat pounces on it and showing the full face of the bat
14:32 IST: So, the final session of Day 1 underway!
14:12 IST: India will go into Tea with 206/2. Murali Vijay 98*, Virat Kohli 17*. India scored 120 runs in 31 overs in that session
14:11 IST: Virat Kohli takes the single in the second ball that brings Vijay on strike. He has four balls left.
14:10 IST: So, the last over before Tea, 117 runs were scored in 30 overs. India lost Pujara in that session
14:07 IST: Vijay was giving the charge but well bowled by Mehedi Hasan
14:04 IST:  The tea is nearing but the question is- Will Vijay get to his 100 before tea? Bangladesh are slowing down the proceedings.
14:02 IST: Taskin tries to test Kohli with a short delivery but he pulls it for a single 
13:57 IST: 200-up for India in 55th over. Murali Vijay 97*, Virat Kohli 12*. India 201/2
13:49 IST: Murali Vijay is nearing his 9th Test hundred. He is batting on 95 
13:45 IST: FOUR! Virat Kohli is charged up and hits back to back boundaries. He is on 8 from 3 balls
13:39 IST: OUT!! Mehedi Hasan gets the wicket finally!! The ball hit the outside edge of Cheteshwar Pujara's bat and Rahim takes the catch in the second attempt. Pujara out on 83 
13:36 IST: FOUR! Too easy for Cheteshwar Pujara again. Mehedi Hasan again bowling short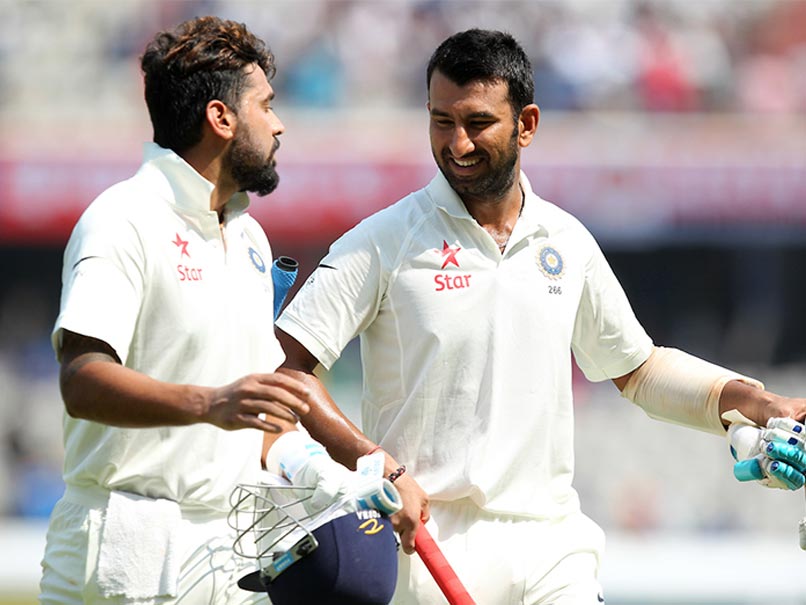 Live cricket score, India vs Bangladesh: Pujara and Vijay steadied India's ship. Photo Credit: BCCI
13:34 IST: Change of strategy by Bangladesh captain Mushfiqur Rahim. He brings Taskin Ahmed into the attack.
13:30 IST: Bangladesh bowlers need to understand the line they need to bowl here. The good-length deliveries are getting hit for the boundaries because of the slowness of the pitch. Mehedi Hasan needs to alter his line to bear the fruits
13:28 IST: FOUR! Indians are dealing in boundaries now. Poor bowling by Mehedi Hasan and Vijay angles it towards the third-man area for a four
13:22 IST: FOUR! Pujara goes down the pitch and plays it with the turn for a boundary towards the deep mid-wicket
13:19 IST: FOUR! Again a short delivery by Mehedi Hasan and Pujara gives the punishment it deserves
13:18 IST: Hesitation again in that single and rightly sent back by Vijay. 
13:11 IST: FOUR! Short delivery by Mehedi Hasan and Pujara finds no problem in hitting that ball away for a boundary. The pitch also seems to be very slow 
13:10 IST: Top-edge but lands safely. Vijay aims to sweep Mehedi Hasan but gets a top edge that lands safely. It was well over the fielder at short fine leg.
Calm and composed - @cheteshwar1 personified on that half century #INDvBAN pic.twitter.com/qqDT0xkigf

— BCCI (@BCCI) February 9, 2017
13:05 IST: Bangladesh still seek a breakthrough as India cruising on nicely.
13:02 IST: SIX! Vijay dances down the track to break the shackles and hits a straight six. A boundary and a six to finish the over
13:01 IST: FOUR! A bit of extra bounce for Shakib but Vijay makes full use of the room given to him and hits it for a boundary
13:00 IST: Shakib straying down the leg-side and Vijay glances it down the leg side for 2 runs. India in command now after losing an early wicket.
12:58 IST: India are 126/1 after 40 overs. Murali Vijay 64*, Cheteshwar Pujara 55*
12:53 IST: The ball grips and turns, that too on the first day of the match. Shakib must be happy to put doubts in batsman's mind.
Bangladesh rue missed chances in the morning session.
Read more: https://t.co/T64tm2DY4G#BANvIND pic.twitter.com/jnQyHBfqzD

— Bangladesh Cricket (@BCBtigers) February 9, 2017
Bangladesh discovering, well....rediscovering, the importance of the simple things. Fielding, throwing........

— Harsha Bhogle (@bhogleharsha) February 9, 2017
12:38 IST: India are 115/1 after 34 overs. Murali Vijay 58*, Cheteshwar Pujara 50*
12:33 IST: FIFTY! Cheteshwar Pujara notches up his 12th half-century. India look solid now 
12:29 IST: FOUR! More runs for Murali Vijay. It is from the pads though
12:27 IST: FOUR! Vijay hits that in the air but lucky again that he didn't find the any fielder. Bangladesh have been very unlucky 
FIFTY! @mvj888 brings up his 15th Test 50 #INDvBAN pic.twitter.com/RP9ZpMuwUJ

— BCCI (@BCCI) February 9, 2017
12:24 IST: FOUR! Murali Vijay completes his 15th half-century with a boundary. India 102/1 in 30.4 overs
12:20 IST: FOUR! Back of the length delivery and Pujara guides it for a four towards the square boundary
12:17 IST: Shakib Hasan to bowl from the other end. 
12:15 IST: Bangladesh will look to take wickets here and India will try to pile-on the runs. The track is flat and these two batsman are well set now. 
12:10 IST: We are back after lunch and Kamrul Islam Rabbi has bowled a no-ball straightaway
Win the toss, bat first. That's a no-brainer. But this pitch looks like one that'll easily last five days. https://t.co/dvhf2S0kVE

— Aakash Chopra (@cricketaakash) February 9, 2017
At Lunch on Day 1 of the one-off Test, #TeamIndia 86/1 (Vijay 45*, Pujara 39*). Follow the game here - https://t.co/Ne2IQxxVKm #INDvBAN pic.twitter.com/U0Kwuj3BCt

— BCCI (@BCCI) February 9, 2017
11:30 IST: Lunch! India are 86/1 after 27 overs. Murali Vijay 45*, Cheteshwar Pujara 39*. They both have accumulated 84 runs for the second wicket. Rahul getting out in the first over of the match was the only success for the visitors
11:26 IST: India are 83/1 after 26 overs. Murali Vijay 43, Cheteshwar Pujara 28
11:18 IST: FOUR! Perfect timing from Murali Vijay and hits it through the covers. Just opened the blade and caressed it for a boundary
11:14 IST: India are 76/1 after 23 overs. Murali Vijay 38*, Cheteshwar Pujara 35*
11:10 IST: On a funny note, a lot of tweets are coming in to troll Bangladesh players
Tigers to protest against Bangladeshi cricketers as they cant even catch a ball & still call themselves TIGER.#IndvsBan #INDvBAN

— #KohliJChale (@KohliJChale) February 9, 2017
11:04 IST: Nothing's going Bangladesh way so far. Edges going past fielders and now an easy run-out chance is missed. Vijay survives on 35​
10:59 IST: Ohh what a big miss by Bangladesh. Both the batsman were at the same end but Mehedi Hasan could not gather the throw and misses the opportunity of a run-out. Vijay would have been in the pavillion
10:57 IST: He starts off with a maiden. India 66/1 after 18 overs 
10:55 IST: Now, spin from the other end too. Shakib-al-Hasan comes into the attack
10:50 IST: India are 65/1 after 16 overs. Murali Vijay 34* , Cheteshwar Pujara 29*
10:49 IST: FOUR!! Vijay gets the width outside the off-stump and gives the punishment it deserves
10:46 IST: Slip should be a little wider. They have missed two opportunities and can prove expensive later-on
10:45 IST: FOUR!! Another outside edge and another chance but Vijay gets the boundary again towards the third-man. 
10:43 IST: Chance!! Outside edge and Pujara lucky again. He gets a boundary
10:40 IST: FOUR!! Juicy half-volley by Rabbi and Vijay doesn't let the opportunity go away
10:37 IST: So, India are 41/1 after 14 overs. Murali Vijay (22*) and Cheteshwar Pujara (17*)
10:34 IST: Spin now in the 13th over. Mehedi Hasan, off-spinner, comes into the attack
10:31 IST: India are 40/1 after 12 overs
10:30 IST: FOUR! Pulls it again for a boundary and Kapil Dev would be nostalgic to see this kind of a shot. He used to play the similar way during his hey days
10:28 IST: FOUR!  Vijay pulls it away with no trouble and beating the fielder with ease
Bangladesh's 1st ever international (ODI) victory came here at Hyderabad @ the Lal Bahadur Stadium:
bt Kenya on 17-5-1998 by 6 wkts#IndvBan

— Mohandas Menon (@mohanstatsman) February 9, 2017
10:24 IST: FOUR!  That's his trademark shot. Gets a friendly half-volley on the pads and flicks it away with ease.
10:15 IST: Bangladesh have played only 21 away Tests in the last 10 years 
10:11 IST: FOUR!! Short delivery and Vijay tries to hit the pull shot. Off his gloves and goes to the boundary towards the deep-fine leg. India 24/1
10:10 IST: Vijay lucky there!! Full and outside off, Vijay went hard on the drive and the resulting inside edge dribbled wide of the stumps. 
10:00 IST: FOUR! First boundary for India and Pujara as well. Kamrul Islam Rabbi bowled fuller, Pujara obliges and plays the square drive for a boundary. India 13/1
09:56 IST: Good short delivery by Taskin Ahmed. After 5 overs India are 7/1
09:52 IST: Mushfiqur Rahim and Co. had lost the last series against New Zealand but managed to beat England at home in Dhaka in 2016
09:51 IST: Lovely shot through the off-side by Murali Vijay and he gets his first runs of the day. India 6/1 after 4 overs
09:47 IST: Pujara is off the mark with a flick towards the mid-wicket. India 4/1 after 3 overs
09:42 IST: Good start for Bangladesh and pressure on India right at the start by the visitors. One more wicket here will put India under serious trouble. India 2/1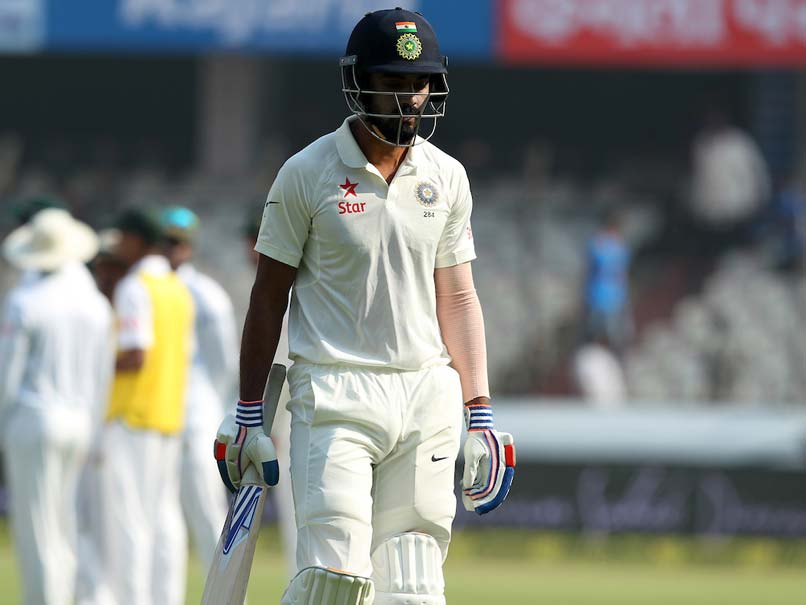 09:39 IST: Cheteshwar Pujara comes in at No.3 for India and big responsibility on his shoulders
Only Test. 0.4: WICKET! L Rahul (2) is out, b Taskin Ahmed, 2/1 https://t.co/Ne2IQxxVKm #IndvBan @Paytm

— BCCI (@BCCI) February 9, 2017
09:33 IST: OUT!! KL Rahul is bowled!! Inside edge and the ball hits the stumps. Lazy shot by the opener 
09:31 IST: KL Rahul is off the mark straightaway. First runs for India and him
09:30 IST: Taskin Ahmed to start the proceedings for Bangladesh and KL Rahul to face the first ball
The Rajiv Gandhi International Cricket Stadium at Hyderabad, the venue of the only Test between #IndvBan pic.twitter.com/5aDNQ38jmz

— Mohandas Menon (@mohanstatsman) February 9, 2017
Andrew Sandham made 325 & 50 at Kingston in April 1930, did not play again for England when Hobbs & Sutcliffe returned.#IndvBan

— Mohandas Menon (@mohanstatsman) February 9, 2017
09:25 IST: Not only Karun Nair, Jayant Yadav too has been left out after a stellar knock in his last Test. Harsh call by the management!!
09:20 IST: Bangladesh have lost their inaugural Test in all the eight host countries except West Indies where they drew the match
.@imVkohli wins the toss and elects to bat first in the one-off Test against @BCBtigers at Hyderabad #INDvBAN pic.twitter.com/6K9UesrQg4

— BCCI (@BCCI) February 9, 2017
09:12 IST: Bangladesh (Playing XI): Tamim Iqbal, Soumya Sarkar, Mominul Haque, Mahmudullah, Shakib Al Hasan, Mushfiqur Rahim (wk/c), Sabbir Rahman, Mehedi Hasan, Taijul Islam, Taskin Ahmed, Kamrul Islam Rabbi
09:11 IST: 46 Journalists have travelled from Bangladesh to cover this Test, isn't this epic!!
09:10 IST: India (Playing XI): Murali Vijay, KL Rahul, Cheteshwar Pujara, Virat Kohli(c), Ajinkya Rahane, Wriddhiman Saha (wk), Ravichandran Ashwin, Ravindra Jadeja, Bhuvneshwar Kumar, Umesh Yadav, Ishant Sharma
09:07 IST: Bangladesh captain Mushfiqur Rahim says: "A great moment for Bangladesh cricket and hopefully we would put up a good performance against the number one team in the world. We learnt a couple of things from the last match, a couple of mistakes cost us the game against NZ. We have to keep our momentum up for all five days and we learnt some key lessons out there. The wicket would be pretty good for the first two days and the bowlers will come in later. We are going in with two quicks, two spinners and seven batsmen."
09:04 IST: India captain Kohli after winning the toss says: "We would like to bat first. Hyderabad has always been a good batting wicket. It is hard and the fast bowlers do get some help out here. For us the opposition is not something we focus on, we focus on executing our skills and we would like to go ahead with the same mindset. We are playing with five bowlers and unfortunately Karun misses out."
Only Test. India win the toss and elect to bat https://t.co/Ne2IQxxVKm #IndvBan

— BCCI (@BCCI) February 9, 2017
09:03 IST: India lost eight of eleven tosses vs England in the recently concluded tour, but thank God! Virat wins it here
09:02 IST: Virat Kohli says at the toss, Karun Nair misses out and Ajinkya Rahane takes his place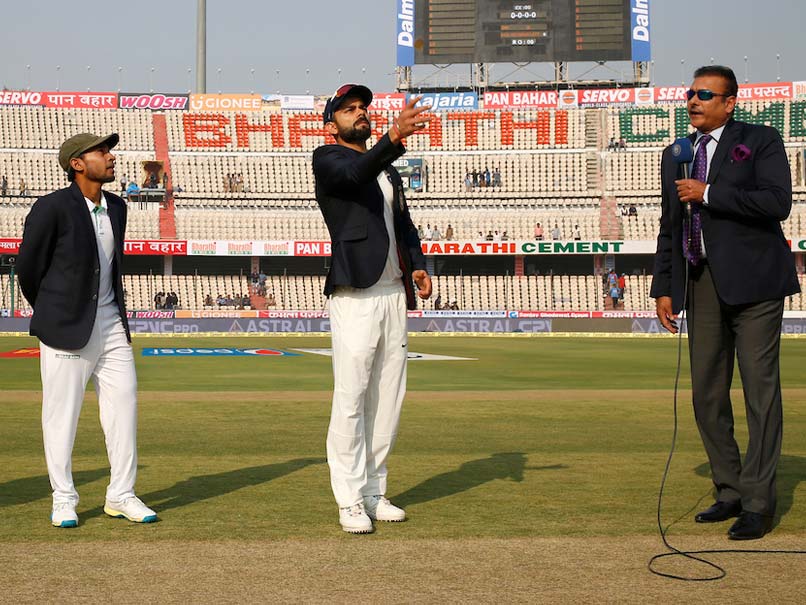 Live cricket score, India vs Bangladesh: Virat Kohli won the toss and elected to bat. Photo: BCCI
09:00 IST: TOSS Time! India win toss, elect to bat 
08:56 IST: So, Bangladesh are playing the first Test on Indian soil after 16 years of getting the Test status 
It is time for the first-ever Test on Indian soil against Bangladesh and the boys are ready. #TeamIndia #INDvBAN pic.twitter.com/vinHsMqhjN

— BCCI (@BCCI) February 9, 2017
08:55 IST: Hello and welcome to the live blog. 
India and Bangladesh have played eight Test matches till date with the former winning six games while two have ended as draws. Bangladesh have never managed a win against their giant opponents.
Interestingly, all eight matches were played in Bangladesh and the Hyderabad match will be their first Test in India.
While key batsman Imrul Kayes has been ruled out of the Bangladesh squad, India skipper Kohli has backed Ajinkya Rahane over Karun Nair, who recently became only the second Indian batsman to score a triple century after Virender Sehwag.