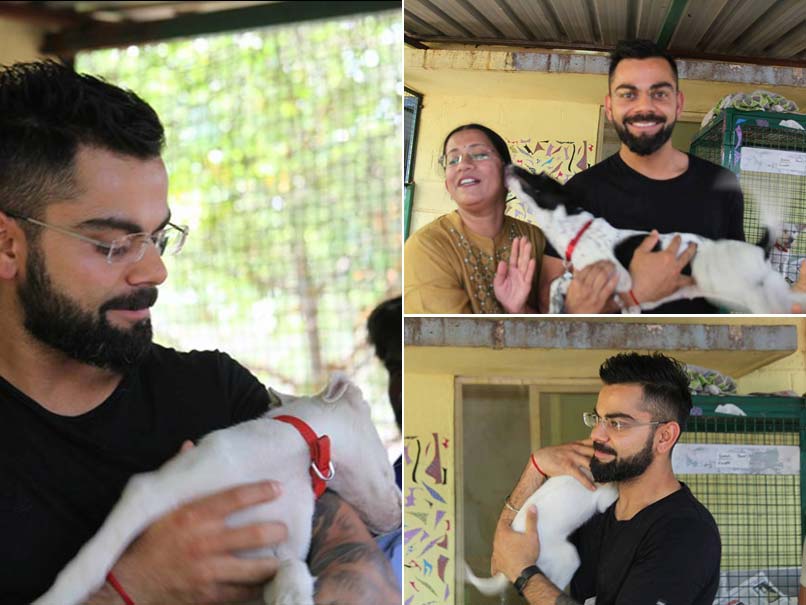 Virat Kohli is like a child in dreamland, where he is surrounded by these adoring canines
© Facebook
Virat Kohli isn't the easiest person to deal with, be it on the cricket field, or in a face-off with rival players or media. The India and Royal Challengers Bangalore captain will not take even one step back. But when it comes to dogs, he just melts. He is like a child in dreamland, where he is surrounded by these adoring canines, his favourite people. The smile said it all, especially when he stepped into a dog orphanage in Bengaluru, much to the delight of the caregivers and dogs alike.
Kohli's visit to CARE -- Charlie's Animal Rescue CentrE - came as a surprise to the people who run the place.
"It was simply unbelievable this morning to see Virat Kohli's car pulling up inside the gates of CARE," the centre says in a post on Facebook, above a collage of pictures showing Kohli in the centre.
"His love for dogs is common knowledge, and the fact that we happened to witness it in its purest form was a wonderful, indescribable feeling. He met Dash at the reception, said hello to Captain, walked around the entire place, keenly listening to our Founder trustee Miss Sudha Narayanan and Dr Lohith talk about CARE.
"He met our adoption pups George and Snowy and said in no uncertain terms that rescued is his favourite breed," they added.
The centre also said that he had passively adopted 15 dogs at CARE and "expressed that we choose those 15 that have special needs, that are paraplegic, blind and chronically ill," CARE added.
"We wish the man with a golden heart, Virat Kohli loads of luck on all his endeavours and thank him for making the world a better place for animals."
Evidently, the tough Mr. Kohli's heart is at the right place.