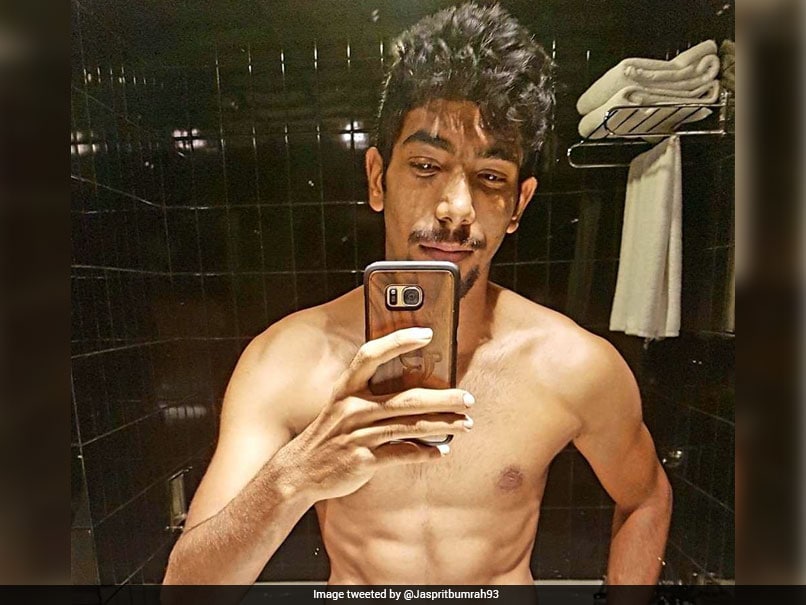 Jasprit Bumrah uploaded a picture of his toned body on Twitter
© Twitter
India's death over specialist Jasprit Bumrah on Friday took to Twitter and uploaded a picture of his toned body and captioned it, "It takes dedication and hard work to consistently improve yourself. #stayfit #RaiseTheBar". No sooner did he upload the photo, Twitterati, in awe of his transformation, flooded his comments section and hailed the Indian pacer's new avatar. The Indian cricket team's trainer Shankar Basu, shortly after making his way back in the team, raised the fitness levels, courtesy his brain-child, the Yo-Yo test. With the 2019 World Cup already in mind, the Indian selectors have made fitness mandatory other than good form to make ones place in the team.
While most of his fans were awestruck, one of the users rechristened Bumrah 'Absprit'.
Ohhhhh my Goodness!!! I will be sensless

— Subhankari Mallick (@Subhankari777) November 17, 2017
wooo bumrah you are looking damn luv you more

— Sangavi (@itssanga977) November 17, 2017
With captain Virat Kohli paving the way for fitness and agility on-field, other cricketers have also started to spend more time in the gym to keep their fitness level in prime condition.
Prior to this, Bumrah had also uploaded a video of him lifting weights and captioned it, "Strength grows in the moments when you think you can't go on but you keep going anyway. Good session at the gym today. #stayfit #RaiseTheBar".
India is currently hosting Sri Lanka for a three-Test series with the first rain-hit match being played at the Eden Gardens in Kolkata.
After only 21 overs of play possible on the second day of the first Test at Eden Gardens, India will look to build momentum on the third.
India's fielding coach R Sridhar, in a post-match conversation, said that the Indian team is considered a supremely confident fielding side and all of its credit goes to players', who put in a lot of hard work.
"We are not doing any magic trick. As far as fielding goes, the formula is very simple, the more you practice the better you get. You can see the results because it's a controllable skill of the game, unlike bowling and batting which one cannot control.
"So we work hard on the things we can control and I may sound like a broken record here but the only way to get better is to practice a lot and that's what this team does," he said.
"The fitter the player, the better the result on the field. You are more agile," Sridhar added.